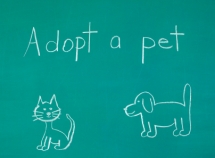 DialMyCalls provides a mass notification system that allows animal shelters to send citizens looking to adopt a pet new text message alerts as they receive new animals.
Are you an Animal Shelter with an overwhelming amount of cats and dogs that need to find a happy home? The amount of pet adoptions that occur on a daily basis is pretty amazing and here at DialMyCalls we can offer a way to increase it even more. Pet adoption alerts would utilize our voice broadcasting system and send out text message alerts every time a new puppy, kitten, cat or dog was in search of a new loving home.
An animal shelter can sign up DialMyCalls with a few simple steps and start sending out pet adoption alerts instantly. Once your account is created, you can set up a text message campaign within your members area. You will pick a keyword such as  "ADOPTNOW" and then an SMS shortcode (80123) which best suits your needs. Upon creation, you are now ready to start collecting the phone numbers of people interesting in receiving your pet adoption text message alerts.
Animal shelters can start advertising their alerts on billboards, commercials, fliers, websites and social media sites with the message: "Text 'ADOPTNOW' to 80123 to receive alerts when new pets become available for adoption." You could even go as far as setting up to separate ones for those who prefer to adopt either a cat or dog. ("ADOPTCATNOW" or "ADOPTDOGNOW") Everyone who opts in to receive these pet adoption alerts will now be added to the shelters contact list within their DialMyCalls control panel.
These contact lists can now be used by the shelters to send out the actual pet adoption alerts. You will create a new text message that reads something like the following: "DMC Shelter has a brand new black lab puppy that is in need of a home – call (800) 928-2086 for adoption info." Once the custom message is created, you can send the text message out to everyone in your contact list, instantly.
Animal shelters across the country should start using DialMyCalls and our pet adoption alerts to find those cute little kittens and puppies a nice home to live in!
← Previous Article
Next Article →
Sign up now and try our services for free!
Use the promo code DMCBLOG and get 25 free extra credits