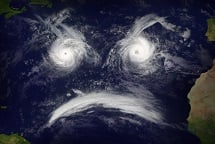 DialMyCalls.com offers automated weather alerts for its members to prepare for hurricane season 2013.
The 2013 Atlantic hurricane season will officially begin on June 1, 2013 and according to experts, it's going to be an "above average" season this year. Philip Klotzbach and William Gray, meteorologists at Colorado State University, predict 18 storms, nine of which will strengthen into hurricanes. (Source: ibtimes.com)
Residents living in areas of the United States that must prepare for hurricane season 2013 can sign up for an account with DialMyCalls and begin setting up their own automated weather alerts. Our system offers families, businesses, churches, and even entire cities an extremely easy and effective way to send out important messages via phone and text.
Let's say that during the 2013 Atlantic hurricane season, a storm is projected to hit your city and you must evacuate. DialMyCalls would allow cities to send out an evacuation message to every single resident in a matter of minutes. Families can use our weather alert system to quickly communicate with their friends and fellow family members, alerting them that they are safe once the storm has passed. Small business owners and large corporations can use our system to send out messages to their staff, alerting them of office closures and updated work schedules.
June 1, 2013 is right around the corner and with 18 storms projected, it is time to start preparing early for the Atlantic hurricane season – sign up for a DialMyCalls account today to begin setting up your own personal weather alerts.
← Previous Article
Next Article →
Sign up now and try our services for free!
Use the promo code DMCBLOG and get 25 free extra credits