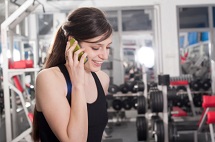 Gyms and fitness clubs using mass member notifications for anything sales-related are required to follow all the FCC and your state laws regarding sending automated phone calls or texts. Your gym members, both new and old, are required to opt in to receive any kind of message from you, and you must never send any kind of unsolicited message. For texting you can have your customers opt-in to a list via text message, for example text COMPANY NAME to 80123 (our short code), which will opt them in to texts from you. For phone calls you need expressed written consent from them agreeing to receive your messages.
DialMyCalls provides automated calling and SMS services that allow gym and fitness clubs to alert all of their members instantly.
Managing a gym, fitness of health club can be a daunting task and keeping your members in the loop just adds even more stress to the equation. DialMyCalls can help your fitness club maintain a healthy relationship with your members via our automated calling and text message service.
Current members and potential prospects of any gym are looking for a pleasant experience as well as professional tips and tricks regarding their health. Our automated calling and texting service can not only help fitness club owners with membership dues, it can also help them stay engaged with their loyal members.
Let's take a quick look at how DialMyCalls can be used for your Gym, Health Club or Fitness Center:
Notify members of upcoming bills, renewals or late fees via voice or text message
Send reminder calls or text messages to members who have signed up for special classes or events
Follow-up with gym members who have not been attending your facility – keep them engaged!
Have your members opt-in to receive fitness and health tips + tricks via SMS
Lessen the stress of maintaining a successful gym by letting DialMyCalls send out all of your membership notifications for you!
Take advantage of our extremely easy-to-use web-based mass notification service today by signing up for a free account.
← Previous Article
Next Article →
Sign up now and try our services for free!
Use the promo code DMCBLOG and get 25 free extra credits