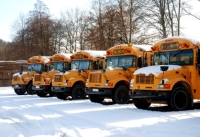 Prepare for winter 2011 by setting up a blizzard preparation voice broadcasting service to send out snow day calls for school closings and community emergencies.
A blizzard is a serious force of nature and this winter we here at DialMyCalls want everyone to be prepared. Our snow day call system will allow communities and schools to send out notifications to thousands of people in an instant. The last thing anybody wants is to get trapped in a terrible snow storm – be prepared with DialMyCalls!
Schools across the country in areas that could potentially be hit by blizzards should really invest in an emergency broadcasting system such as DialMyCalls. Alert parents, faculty and students of school closings via our Snow Day calling service. Quickly spread the message via voice message and/or text message that there will be no school in session due to the extreme winter weather conditions outside.
Apart from schools using snow day calls, small towns and municipalities as well as entire states can use our services as an emergency alert system. Send out thousands of voice and text message warnings to your entire city/state, notifying its citizens of blizzards and extreme snowfall.
When it comes to winter time and the weather, don't be caught off guard. Sign up for DialMyCalls' snow day calling service today!
← Previous Article
Next Article →
Sign up now and try our services for free!
Use the promo code DMCBLOG and get 25 free extra credits