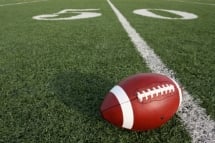 Are you ready for some Football!? Gear up for the upcoming 2011 NFL season with our party planning tips and tricks.
Today (July 25, 2011), the NFL lockout should finally be lifted as fans rejoice and prepare for the official 2011 football season. DialMyCalls is here to offer some party planning tricks so you are able to host the best football bash on the block!
With the NFL lockout officially ending today, its time to prepare for the 2011 football season. DialMyCalls has three simple steps to help you throw one hell of a football party every Sunday. The first thing you need is food and a lot of it. If you don't own a grill, now is the time to go out and invest in one; nothing says football like hot dogs and hamburgers fresh off the grill. Another key feature to any great football party is a nice big TV. There's nothing like 20 people trying to watch a heated NFL game on a 10″ black and white television; don't be cheap, it's worth it in the long run. Last and most importantly is inviting your fellow NFL fans to come to your party; they aren't going read your mind and just show up. This is where DialMyCalls can help you out with our automated 2011 NFL season party planner.
All you need to do is sign up for an account on our website to get started. Once you are signed up, add the phone numbers of all the people that you want to invite and impress with your football party each Sunday. From that point on you can create a customized voice / text message each week and send it out to everyone; instantly inviting them to your Football party week after week.
Get ready for the NFL lockout to end and the 2011 football season to begin by signing up for DialMyCalls and following our party tips and tricks today!
← Previous Article
Next Article →
Sign up now and try our services for free!
Use the promo code DMCBLOG and get 25 free extra credits