DialMyCalls offers a few different methods of adding in your phone number contacts into our voice message / text message notification system.
Are you all signed up for DialMyCalls and are now looking for a way to add your contacts? Our mass notification system offers quite a few different methods to get your phone number list ready to receive voice / text messages. Let's take a quick look at the different options available so that you can start sending out calls today!
The first option available is to add in your contacts manually. Only have one or two people that you will be calling? This is the option for you!
Add Contacts Manually: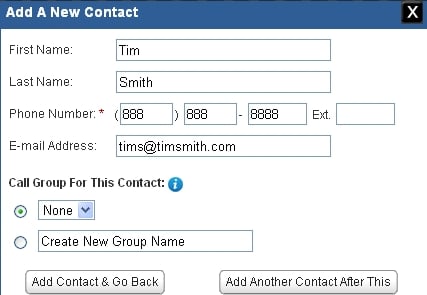 The next option available is our Quick Add which allows you to enter phone numbers only. This is for those of you that will not be adding additional information to your contacts such as first name, last name and email address.
Quick Add Contacts: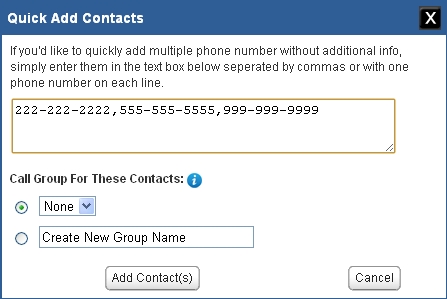 Last but not least is the ability to import an excel spreadsheet or phone number database directly into the DialMyCalls system. Are you a decent sized organizations with thousands of contacts? Using this method is the easiest option for you. After all, you don't want to enter 1,000 contacts individually, do you? (keep in mind that the files you import with this option must be .xls or .csv)
Import Your Contacts:

Example Excel File (.xls or .csv format)

Import Numbers After File Upload: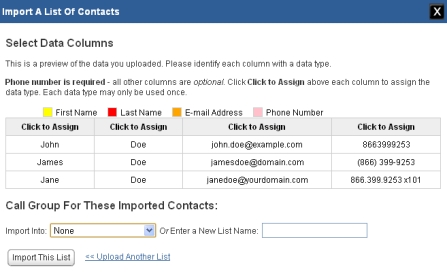 We pride ourselves in offering the easiest and most efficient method of sending out mass voice messages and text messages. If you have any suggestions for importing contacts into our automated calling system please feel free to contact us today!
← Previous Article
Next Article →
Sign up now and try our services for free!
Use the promo code DMCBLOG and get 25 free extra credits