We absolutely love Halloween at DialMyCalls and have decided to offer a great promotion to all of our users – both new and existing members!
In honor of the upcoming Halloween holiday, we have decided to offer to record a spooky Halloween voice message to use as a party invitation. Our extremely talented voice actors (male/female) will take the information that you submit and turn it into a horrific Halloween party invite, filled with scary sounds that will make you cringe!
How hard is it to get one of our custom Halloween party invites made? It's extremely easy and below I will walk you through the steps so that you can be the talk of the town with your spooky party invites.
Step 1: Head on over to our DialMyCalls Halloween 2011 promotion page and listen to the samples of our spooky messages. After choosing either the male or female spooky voice actor, you must then sign up for an account with DialMyCalls and verify your phone number. (members you can go ahead and log in)
Step 2: Upon logging in to your account, locate the Free Custom Halloween Recording! box, located at the bottom of the page on the Home tab. Click "Get Your Recording Now".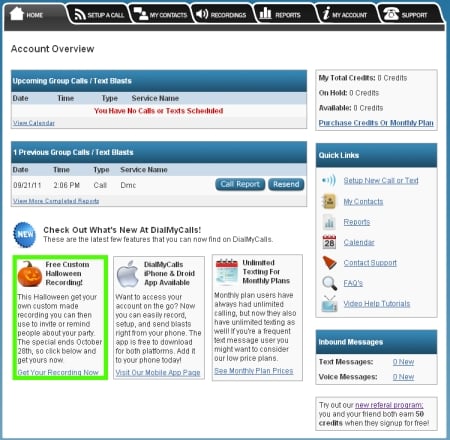 Step 3: Once you have click the "Get Your Recording Now" link you will now be at the order form for your custom Halloween party invitation. Simply fill out the form and we will have our professional voice talent record your message.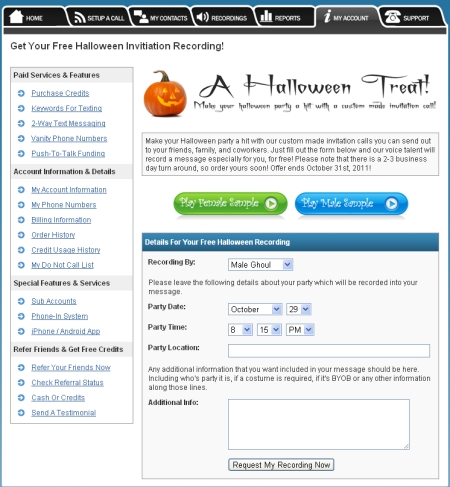 Step 4: We will contact you once the recording is finished. The Halloween voice message will be uploaded to your account and will be ready for you to send it out to your contacts!
Happy Halloween from everyone here at DialMyCalls!
← Previous Article
Next Article →
Sign up now and try our services for free!
Use the promo code DMCBLOG and get 25 free extra credits