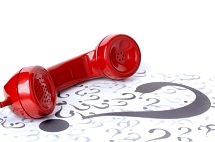 Members of our voice broadcasting service have the option to set up a unique local vanity phone number that will show up on the caller id when they place their calls.
Are you ready to send out hundreds to hundreds of thousands of calls using DialMyCalls but don't want to use your own phone number? We have the perfect solution for you – local vanity phone numbers! Members can now easily search through our database and select the perfect number to show up on their recipients' caller ids.
Enter a local area code or zip code and DialMyCalls will display all of the vanity phone numbers that are available. On top of showing up on caller ids, you can set up the message that is played when people call back your vanity number – set it to the last message sent from your account or a personalized voicemail greeting. If that wasn't enough, you can also set your personalized number with the ability to record a message, push to opt-out, push to opt-in, push to repeat, and push to transfer to another phone number – wow that is a lot of custom options!
Now that we have discussed how great the DialMyCalls vanity phone numbers are, you are all probably wondering how much they will cost you. You can have a vanity number set up and ready for use immediately for $5.99 per month which includes 100 inbound minutes every single month. (Additional call minutes cost 5 cents per minute)
Remain anonymous when you send out calls using DialMyCalls by creating a local vanity phone number – it's extremely easy to set up and not to mention it's cost efficient!
Sign up for a free DialMyCalls account today and login to set up your unique vanity phone number!
*Once logged in to DialMyCalls, navigate to the "My Account" tab and then click on the "Vanity Phone Numbers" link on the left hand side.
← Previous Article
Next Article →
Sign up now and try our services for free!
Use the promo code DMCBLOG and get 25 free extra credits