Let's take a look at one of the services we offer to our premium customers here at DialMyCalls, the phone-in system.
While creating and sending mass notifications from any web browser is extremely convenient, DialMyCalls realizes that not everyone has access to the internet 24/7. Yesterday we covered the three main options in which you can record a custom voice message on our website and briefly touched on the fourth option which is the phone-in system. Let's take some time and elaborate on how you can record your message if internet connectivity is not an option.
DialMyCalls' phone-in system allows premium users to access their account and record a custom voice message via any touch-tone phone. What is a premium user? It is someone who purchases either credits or a monthly plan; users of our "free" service do not qualify for the phone-in system. Once you become a premium user then you will receive a pin #. This pin number will allow you to call in to our phone-in system number (1-877-419-4445) which is where you can record your custom voice message. From that point, you can call in and access your contact numbers and send out your mass notification; no computer or internet required.
Once you have created an account with DialMyCalls and logged in, you may access our phone-in system. Below are two screenshots, one shows a "free" user on the Phone-In System page and the other shows a "premium" user:
Free DialMyCalls User: (Phone-In System Unavailable)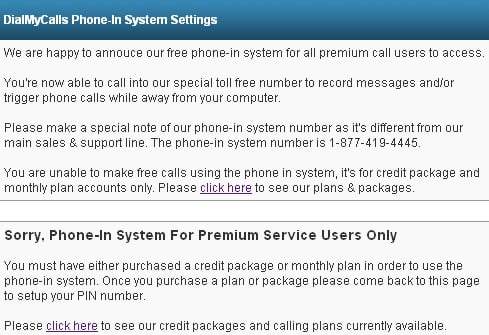 Premium DialMyCalls User (Phone-In System Available)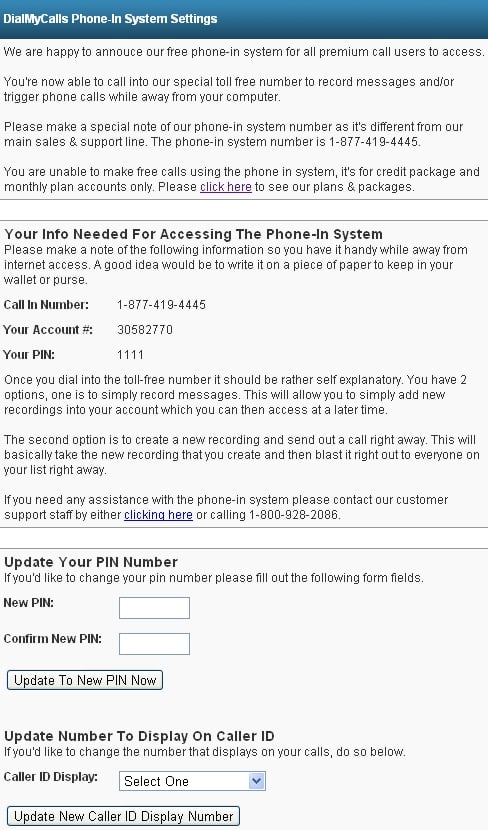 ← Previous Article
Next Article →
Sign up now and try our services for free!
Use the promo code DMCBLOG and get 25 free extra credits