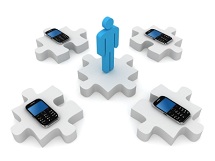 DialMyCalls.com is proud to announce the release of our brand new voice API and SMS API.
Start growing your new or existing web applications by using our brand new voice API and SMS API. Easily integrate our mass notification system into your web app and start reaping the benefits of our extensive voice/text message capabilities.
Upon release of the DialMyCalls API the functions that are being supported are the following: voice broadcast, text message, polling, advanced call features, contact list / recording management, detailed call reporting, and two-way SMS.
Signing up for the new Voice and SMS API is extremely easy and we are offering $100 in free calls and text messages to help you start building your web application. Complete the following steps to sign up for DialMyCalls, access your API key, receive your free credits and start building your web application today:
Create a DialMyCalls account, it's free and only takes a couple of minutes.
Login to your newly created account and locate the "My Account Tab" from your user control panel.
Now click "My Account Information"? on the left side of the page.
Located at the bottom of the page will be your API key.
To receive for your free voice message and text message credits, email api@ontimetelecom.com with your API key – we will add the credits directly to your account.
For more information regarding the brand new voice API and SMS API, please read over the official DialMyCalls API documentation.
← Previous Article
Next Article →
Sign up now and try our services for free!
Use the promo code DMCBLOG and get 25 free extra credits