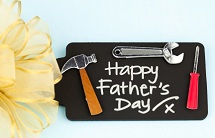 Father's Day is right around the corner and DialMyCalls offers a free service to send your dad a funny and/or loving message on his big day.
Father's Day 2012 will be celebrated on June 17th and what better way to kick it off than with a funny personalized message sent from you to your old man. DialMyCalls offers a free voice broadcasting service that will allow you to record your own message and then send it to your father at absolutely no cost.
Why would you use DialMyCalls to record and send a Father's Day message instead of just calling pops up on June 17? Let's be honest, we all forget dates and we would hate for you to miss Father's Day – the old man would be devastated in most cases. Our voice broadcasting service will allow you to record your own message today and then schedule it to be sent on Father's Day.
You will be recording the message so it can be funny, loving, obnoxious or whatever you choose it to be. Regardless of what type of message you choose to send your dad, the key here is that you will recognize him on Father's Day – to him that will mean the world.
Sign up for a free DialMyCalls account today and schedule your own personalized Father's Day phone call to be sent out – signing up is quick, easy and there are absolutely no hidden fees or charges.
*The DialMyCalls "free" service allows members to send one 30-second message to up to 25 people per week.
← Previous Article
Next Article →
Sign up now and try our services for free!
Use the promo code DMCBLOG and get 25 free extra credits