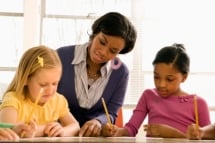 DialMyCalls offers a quick and easy solution for parents and schools to keep in close contact when it comes to their children.
Do you sit and wonder what exactly your kids are doing while they are at school, hoping that they are not getting into any trouble? DialMyCalls offers parent notifications which allow school teachers to keep in contact with both their students as well as their parents. With the power of our mass notification system, schools can now send out a voice / text message to an entire school within a matter of seconds.
Parent Notifications for Your School
Are you a teacher trying to go on a field trip but rely heavily on the students getting that permission slip home to their parents? With DialMyCalls teachers can send out a custom text / voice message to their students' parents, alerting them that a permission slip is coming home. Schools may also use parent notifications when they close due to extreme weather conditions, bus routes change, report cards come home or any other school related function such as charities, proms, pep rallies, etc.
God forbid life-threatening situations happen at school, such as fires, gas leaks, or violence (such as a school shootings), parent notifications would be extremely effective in these instances. Teachers could instantly send out a message to all of the parents, letting them know of the events that occurred at their child's school; it's better than them finding out via the news.
DialMyCalls hopes to help bridge the gap between parents and teachers with our school notifications.
← Previous Article
Next Article →
Sign up now and try our services for free!
Use the promo code DMCBLOG and get 25 free extra credits