Version 2.0 of DialMyCalls has implemented an all new system that allows our loyal members to earn free credits or cash.
Our members are extremely important to us and we continue to add loyal users to our service each and every day. Word of mouth is still by far the best promotional tool for any business which is why we have created incentives for our customers to earn free credits – simply promote DialMyCalls and you can earn broadcast credits or cash!
How exactly do you earn credits for your DialMyCalls account? You will need to log in or if you are a new member, create an account and log in to get started. From there, click on the "Earn Credits" button pictured below: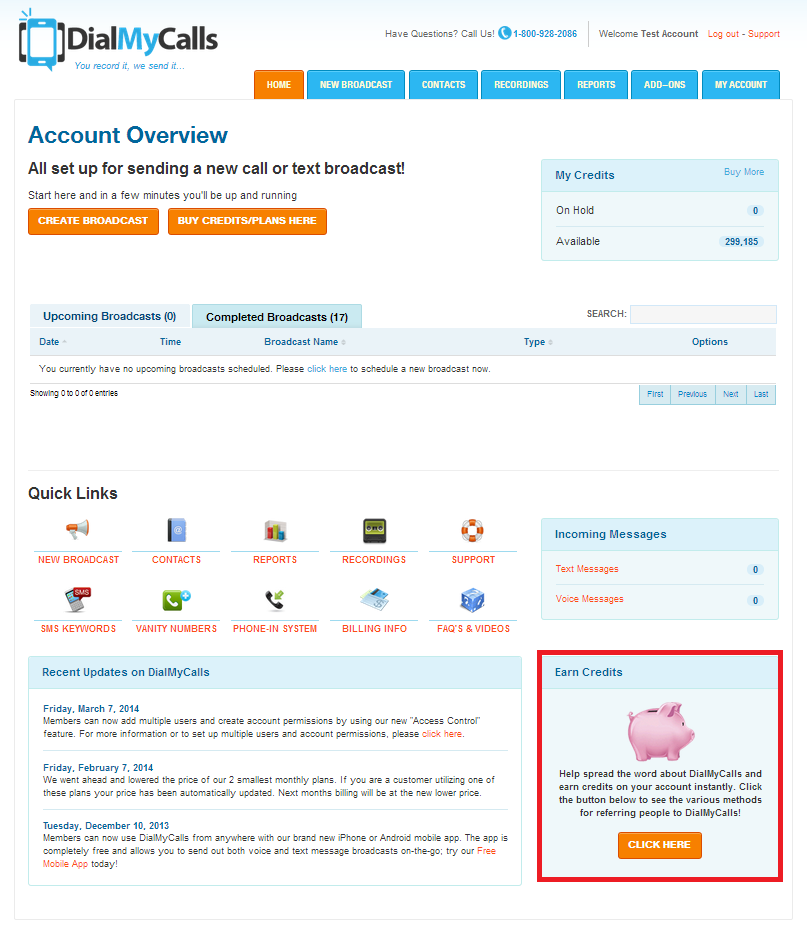 All you have to do now is complete one or all of the following promotions to earn credits on DialMyCalls:
Method One – Make A Post On Facebook
Social media has taken over the internet and DialMyCalls has an amazing community of members on our Facebook page. Help promote our mass notification service by posting a message on your Facebook wall and you will be instantly earn 25 credits.
Method Two – Refer Friends
Tell all of your friends and family about DialMyCalls and how useful the service is to you. For each friend that joins based off of your referral link, we will add 50 credits to both of your accounts!
Method Three – Cash Or Credits Program
Members can earn cash by creating a unique DialMyCalls coupon code and promoting our site. Utilizing this method, members can earn $1.00 for every person that signs up for an account and verifies a phone number – if they buy credits you will receive another $5.00. Your cash or credits balance can be used to purchase broadcasting credits or you can cash out and we will mail you a check.
Method Four – Submit A Testimonial
Share your DialMyCalls experience with us and we will reward you by adding 25 credits into your account. All testimonials are reviewed and approved or denied by our staff – all approved submissions will receive the free credits.
Log in to your account to help promote DialMyCalls and start earning free credits today! Don't worry, if you have not signed up for a DialMyCalls account yet, please visit the sign-up form to get started.
← Previous Article
Next Article →
Sign up now and try our services for free!
Use the promo code DMCBLOG and get 25 free extra credits