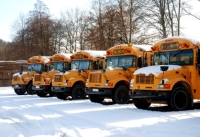 Prepare for winter 2011 by setting up a blizzard preparation voice broadcasting service to send out snow day calls for school closings and community emergencies.
A blizzard is a serious force of nature and this winter we here at DialMyCalls want everyone to be prepared. Our snow day call system will allow communities and schools to send out notifications to thousands of people in an instant. The last thing anybody wants is to get trapped in a terrible snow storm - be prepared with DialMyCalls!
[click to continue...]
Sign up now and try our services for free!
Use the promo code DMCBLOG and get 25 free extra credits