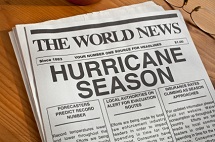 The 2012 hurricane season doesn't begin until June 1st but Tropical Storm Alberto seems to have arrived a little early to the party.
On Saturday March 19, 2012, the first named storm of the 2012 hurricane season became a reality as tropical storm Alberto loomed off of the coast of South Carolina. While the storm only had maximum sustained winds of 45mph yesterday at 5pm EST and posed no threat to the United States, it has people on edge and getting prepared early.
With a year that has already brought several different forms (deadly tornadoes & blizzards) of severe weather to the states, you have to wonder if tropical storm Alberto forming prior to the official June 1st start date of Hurricane Season 2012 is a sign of things to come. (As of Monday, May 21, 2012, tropical storm Alberto poses no threat to the United States as it is headed back out to sea.
Will hurricane season 2012 be chock full of severe storms that wreak havoc on the United States? Hopefully we have a quiet summer with no deadly storms but just in case there is a hurricane that is going to make landfall in America, it is always good to be prepared.
DialMyCalls offers a severe weather alert system that will prepare you for the 2012 hurricane season. Setting up automated weather alerts + emergency notifications allows you to quickly and efficiently communicate with your entire community in the event of a natural disaster.
Our voice broadcasting service allows you to set up automated weather alerts + emergency notifications so that your city, town or state is prepared for hurricane season 2012. You can simply import a list of all of the contact information for the citizens of your town or have a special opt-in option on your website (users into their phone number + name to be added to your contact list within DialMyCalls). When your city is in danger of being hit by a hurricane, you can then send out a voice message, text message and email, alerting citizens to take shelter or evacuate.
Sign up for an account today with DialMyCalls and set up automated weather alerts + emergency notifications for your city in time for hurricane season 2012.
← Previous Article
Next Article →
Sign up now and try our services for free!
Use the promo code DMCBLOG and get 25 free extra credits