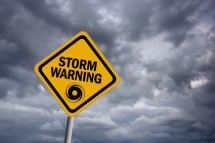 Tropical Storm Debby formed in the Gulf of Mexico over the weekend and has been slamming Florida with tons of rain and extreme weather.
Amidst the massive amount of rainfall that Tropical Storm Debby is producing, the extreme force of nature is also creating deadly tornadoes. It is said that at least one person has died due to the tornadoes that were spawned by the slow moving storm off the coast of Florida. With sustained winds now at 50 mph, Debby could quite possibly move ashore near the panhandle of Florida. What are Tropical Storm Debby Text Message Alerts and how could they help your community?
Weather is quite unpredictable and even though professionals spend their lives studying tropical storms and other various forces of nature, sometimes their predictions and forecasts are wrong – don't be caught off guard in these situations.
DialMyCalls offers an emergency notification service that allows individuals, families, small towns, and entire states to set up an extremely effective early warning system. In the case of Tropical Storm Debby, our services could send out hundreds to hundreds of thousands of text message alerts in a matter of seconds. Alert your family, friends or citizens of storm warnings, flood watches, mandatory evacuations and disaster relief plans.
Our emergency notification service is extremely easy to set up and there is absolutely no hardware installation necessary – all text messages are sent via online web browser. Keep everyone up to date with the latest weather news by setting up and sending out Tropical Storm Debby Text Message Alerts.
← Previous Article
Next Article →
Sign up now and try our services for free!
Use the promo code DMCBLOG and get 25 free extra credits