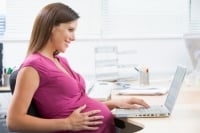 What if you were able to send out a text / voice message to all of your friends and family instantly, notifying them of the birth of your new baby?
In life there are some moments that should be celebrated and the birth of a baby is most likely at the top of everyone's list. DialMyCalls is using our technological advances in mass messaging to notify your friends and families instantly upon the birth of your baby. Let everyone know the baby's name, weight, size, sex and time of birth via our pregnancy alert / newborn baby text and voice message notifications.
[click to continue...]
Sign up now and try our services for free!
Use the promo code DMCBLOG and get 25 free extra credits