How Does Voice Broadcasting Work? (Video)
Here, we'll take a look at all of these topics and more to help you understand voice broadcasts.
What Is a Voice Broadcasting Service?
Voice broadcasting is a tool that allows you to send recorded voice messages to multiple phone numbers simultaneously. The sender can record messages in advance and use a centralized interface to send them all from a phone number.
Most companies, like DialMyCalls, allow you to send out thousands of messages at once. This ensures that your message reaches everyone who needs to hear it as soon as possible. Most platforms also compile and analyze response rates and other information about your audience's reception to the call.
Top 5 Most Common Uses of Voice Broadcasting
Now, you understand what voice broadcasting is. But let's talk about some of the ways that groups like businesses and schools can use voice broadcast services.
1. Emergency Notifications
Systems that send mass phone calls are a great way to contact many people at once during an emergency.
For example, a school could use a voice broadcast service to inform parents about a cancellation due to severe weather. A utility company could announce a service outage to all of their customers. An event planner could inform all event attendees of the proper protocol for a specific emergency situation.
2. Surveys and Feedback
One common use for voice broadcasting services is to gather feedback. This can be done using polls or providing the option for recipients to speak to a live representative.
For example, a nonprofit could send surveys to past volunteers to gain insight on ways to improve the volunteer experience.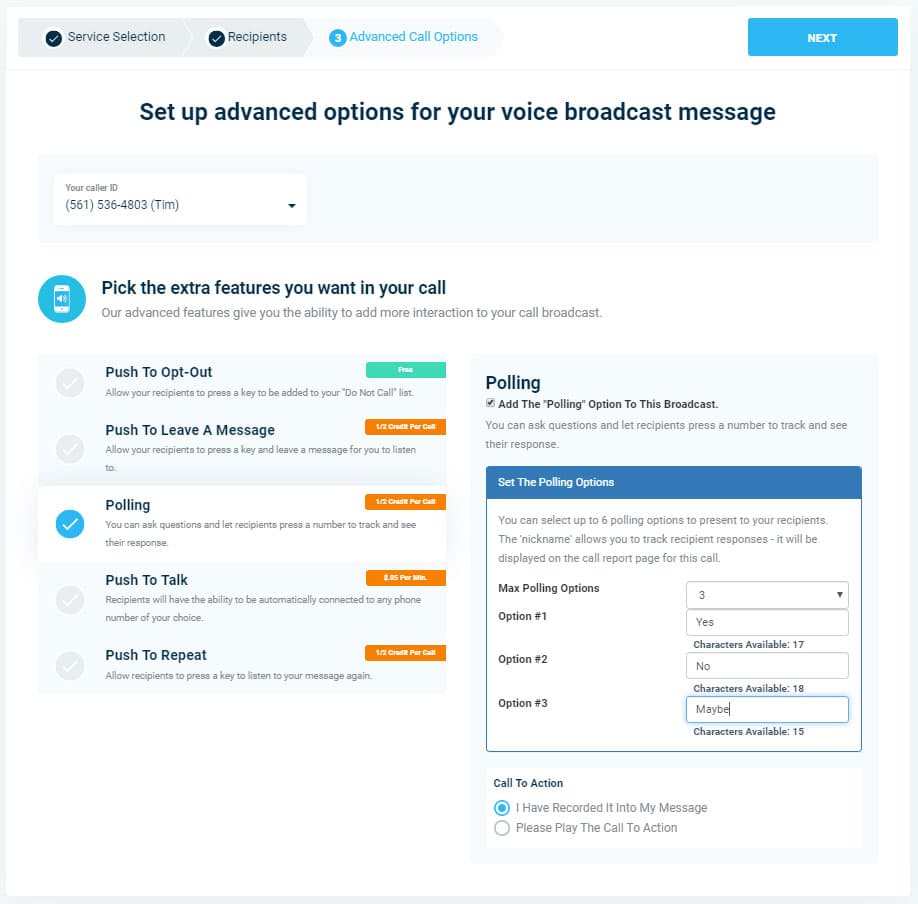 Above Image: Send out a telephone poll through DialMyCalls.
3. Appointment Reminders and Updates
This is a common use for voice broadcasting among medical offices and companies that provide landscaping, plumbing, and other on-site services.
The sender can remind a client or customer about the service they've scheduled, ensuring that no one forgets and saving everyone's time.
4. Employee Communication
Voice broadcast services are a great way to send corporate announcements, particularly when paired with other methods of communication such as emails and text messages.
For example, a business could send a voice call to all employees reminding them of casual Friday, an upcoming staff meeting, or the closing of a particular parking lot for construction.
5. Promotions and Special Deals
Automated calls can be used to broadcast information about your company to current customers and provide them with coupons, discounts, or other benefits.
All customers who have opted in to messages from you, for example, could receive a discount code for use on a specific day, which could drive traffic on an otherwise slow business day.
The Benefits of Voice Broadcasting
Sending a voice broadcast has a number of benefits. Voice broadcasting is:
Affordable. Modern platforms like DialMyCalls allow for hundreds – or even thousands – of calls to be placed for a low fee and without a long-term contract.
Convenient. You can simply use an online interface to create, schedule, and make automated phone calls – without ever having to speak to anyone yourself and without being free and available in the moment your audience receives the message.
Flexible and Customizable. You can easily create different lists of people and send personalized messages to each one. You can send them at any time, and they can include any information that can be conveyed via audio.
Not Time Sensitive. Voice broadcasting allows you to reach customers when they pick up their phone – but can also leave a message on their voicemail, ensuring that they hear your message even if they aren't free when you call.
Tips for Getting Started
Even if you've already decided that voice broadcasting could benefit you, you may be wondering where to start.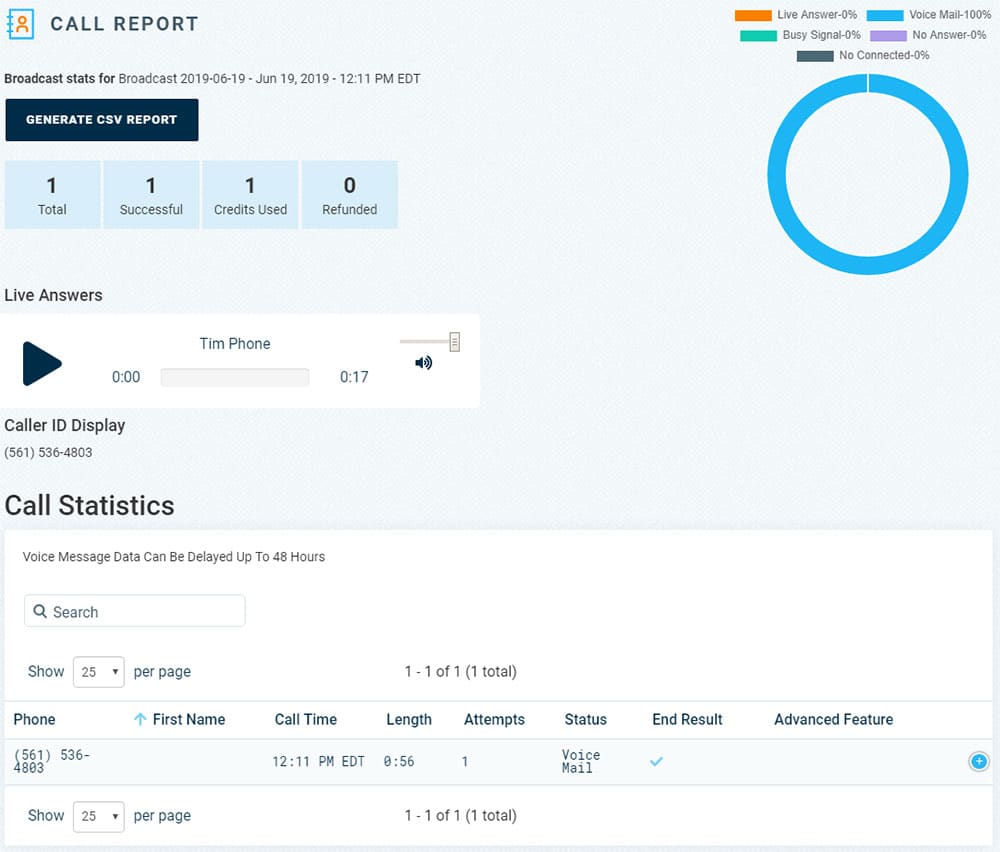 Above Image: Example of a voice broadcast report in DialMyCalls.
If you are planning to send a voice broadcast for the first time, though, consider these three tips:
1. Get Your Contacts in Order
In order for voice calls (or other communication types) to be useful, the contact information you have for customers, employees, or other audience members must be correct. While contact information can be uploaded to DialMyCalls from your existing CRM, it's also easy to edit these contacts straight from the web.
2. Pre-Record Messages
Save yourself a lot of time in the future by front-loading your service with voice messages you may have to use frequently. If you send reminder calls every Thursday about meetings or sales on a Friday, record this in advance and reuse the recording. If your area is prone to tornadoes, record the emergency procedures once and have them on hand in case of emergency.
3. Familiarize All Parties with the Platform or Service
Most likely, more than one person will need access to whichever program you choose to send voice broadcasts. Before you make voice broadcasting a consistent part of your strategy, make sure that everyone who will need to use it knows how. Additionally, make sure customers or other audience members are prepared to receive voice calls from you. Generally, these audience members need to opt in to receive this kind of message.
Why Is Voice Broadcasting Important?
It may seem that tools such as mass text messaging and email blasts make voice broadcasting obsolete. But in reality, a combination of these tools is best if we want to reach a broad audience. Voice broadcasting will always have a part to play.
Phone calls continue to be the only way to consistently relay a personal, human voice to our audience. Generally, this makes it the best way to express emotion.
What's more, research points to many different learning styles. These learning styles mean that different people learn and retain information best when it's presented in different styles. Some people are more prone to remember something they saw written; others are more likely to remember something they hear.
These learning styles mean that different communication methods have different parts to play in conveying information to other parties, whether they're employees or customers.
Voice broadcasting services play an important part in mass communication – sign up for a free DialMyCalls account today to try it out!