Notify Everyone Via Phone Call & Text Message In Seconds!
See why DialMyCalls is the easiest to use mass notification system you've ever seen.
01

Record a phone message or type a text message to be sent out. You can also use previously created messages stored within your account.

02

Create the list of phone numbers you will be sending your message(s) to. You can easily import information from any existing Excel or CSV file.

03

Now you'll select a few options, such as the Caller ID display info and when to send your broadcast. We'll send it out and give you a detailed report.
From your "My Contacts" tab, you can easily add, remove, and modify your contacts. Our contact grouping lets you easily manage and organize multiple groups of people from within your organization.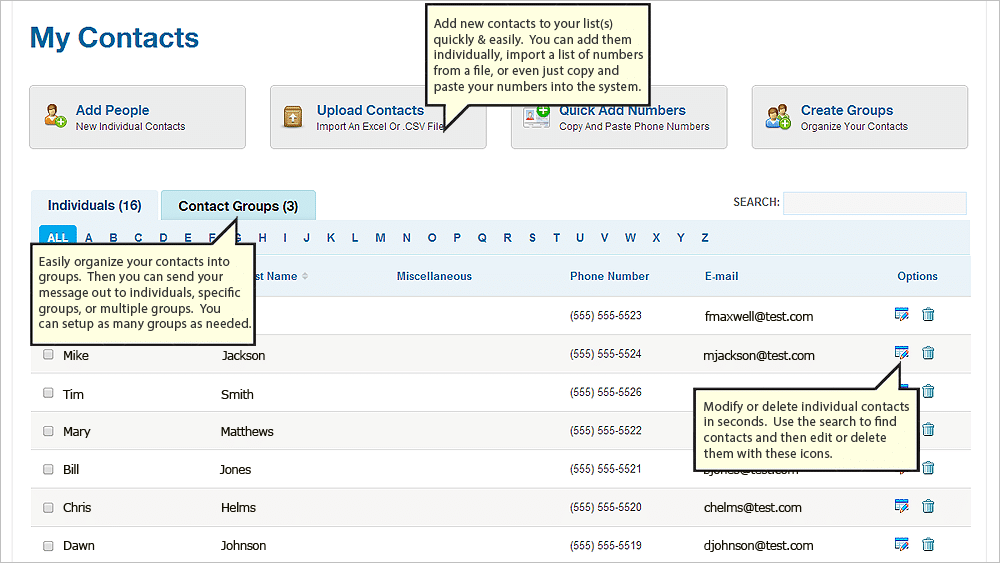 Organize Contacts Into Groups
Organize your contacts into different contact groups to give you more flexibility. This lets you send a broadcast to individuals, specific groups, or to all of your contacts at one time.
Easily Add / Import Contacts
Add new contacts to your lists quickly and easily! You can add them individually or copy/paste a group of phone numbers. Importing contacts from an Excel or CSV File is also available.
Manage Contacts With Ease
Modify, add or delete contact information with the click on a button. Our contact management system lets you login and update your contacts any time you need to.
Recordings are messages or greetings that you create that are played for your call recipients. You can add, modify or delete all your recordings at any time. There are 3 different options for creating recordings: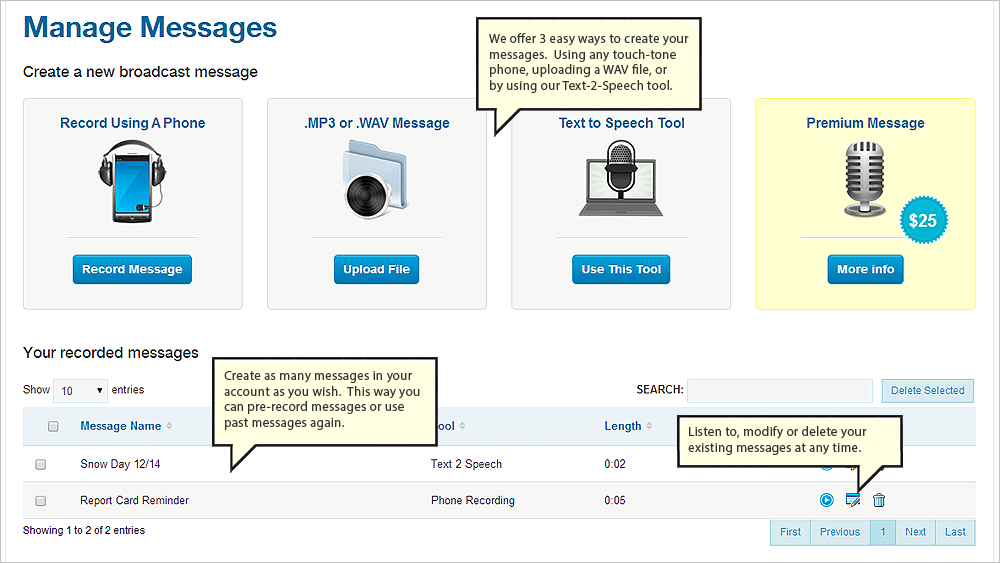 Record Over Your Phone
Put in a phone number and our automated system will call you and let you record your message right over the phone! You can preview and re-record until you're satisfied with your greeting. This is by far our most popular method.
Upload An MP3 or WAV File
This method is usually the choice of larger organizations or people that have professionally recorded messages. Using the web interface, you can upload any MP3 or WAV file and use it for the message to be played to your call recipients.
Use Our Text-to-Speech Tool
Our Text-to-Speech engine is a voice synthesis tool that will allow you to type a message and have it converted to a male or female voice. This is a great solution when you don't have time to record a message but need to send a call out quickly.
After your SMS or call broadcast has been sent you'll get a complete report of what happened on every individual phone call or text message. You'll be able to see which calls were answered, which went to voicemail and if there were any invalid or bad numbers in your list. SMS broadcast reports will show if text messages were received and if there were any bad or landline numbers. You can also download these reports in Excel format to save and use by your organization at a later date.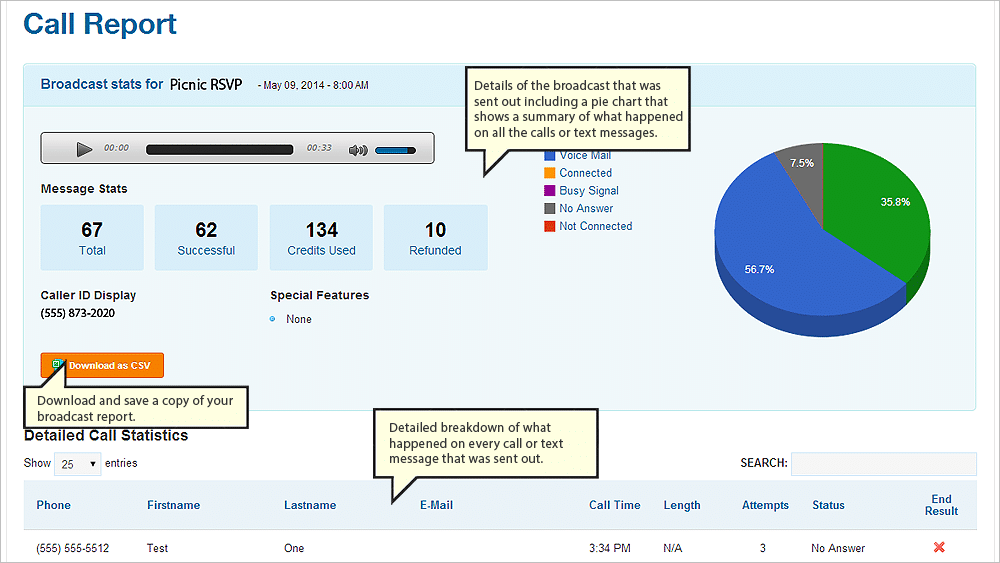 Broadcast Reports
Our call report page gives you detailed information on all of your calls, including the result of every individual call. SMS reports will show the status of your text messages sent.
Detailed Charts
Pie charts give you a great visual breakdown about live answers, voicemails and other call results. SMS broadcast reports will show your results in a similar format.
Downloadable Reports
Every report can be downloaded to your computer in Excel / CSV database format. This makes it easy for your organization to keep this data stored for later use or record keeping.
Still wondering why 1000´s of people and organizations rely on DialMyCalls?