How To Send Mass Texts To Employees
Wondering how to send mass texts to employees? With DialMyCalls, the process is simple. Simply follow these five steps to quality employee communication with DialMyCalls.
Create your free DialMyCalls account. Your DialMyCalls account can be shared by multiple people, so that different employees have access when they need it.
Import or manually enter your contacts into the DialMyCalls platform. Once you've compiled your contacts, you can split them into separate lists of employees who may need to receive distinct messages. For example, contact lists could be based on geographic location, project teams, or schedule.
Write or record your message. If you'd like to send out a mass text to employees, type it out. If you'd prefer a voice call, record your own voice or type it out and use DialMyCalls' text-to-speech option.
Send mass text messages to employees. You can choose to send out a message directly after creating it, or you can schedule it to be sent at a later time. Scheduling a message in advance could be particularly useful if you need to send out time-sensitive information but won't be working or on duty in the moment it needs to be sent.
Watch your online dashboard to track your message. The DialMyCalls online dashboard tells senders what messages have been received and which numbers were invalid. This way, the sender can always know which employees have received the message and who might require communication in a different form. What's more, any replies to your message will all be compiled in in our 2-way texting platform easy access.
Why Use DialMyCalls For Employee Mass Texting?
Why is a staff text service so important? And why is DialMyCalls the best choice for an employee text messaging system or staff call system?
DialMyCalls allows users to send out thousands of identical text messages automatically within minutes. The same program then tracks the sent messages to see which have been received or returned.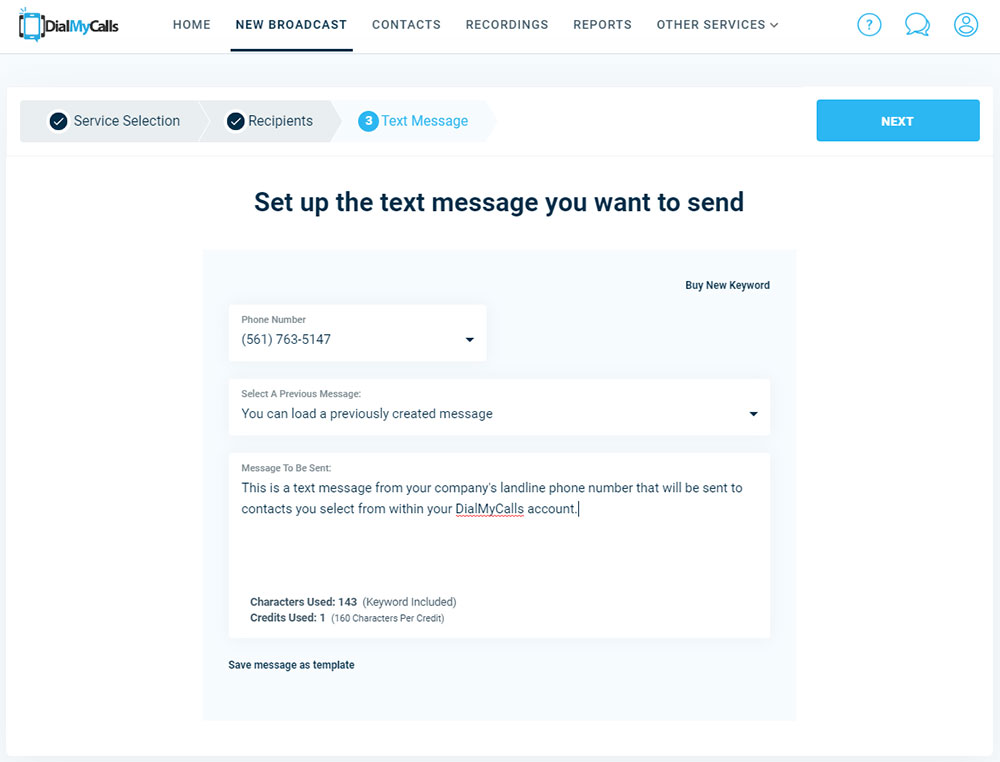 What's more, DialMyCalls offers flexible pricing options to accommodate the needs of small or large businesses. If you're only communicating with a handful of employees, you'll only pay to communicate with a handful of employees. DialMyCalls is not a monthly subscription, so you're not wasting money by not sending out messages constantly.
The combination of versatile and useful features, an easy-to-learn interface, and flexible pricing plans makes DialMyCalls the obvious choice for those who are serious about high-quality and effective employee communication.
Send Thousands of Messages Per Minute
Traditional staff call systems such as phone trees can be huge time wasters for companies with a lot of employees. They can also lead to miscommunication, as tiny discrepancies between messages can make a big difference.
DialMyCalls allows users to send out thousands of identical messages in just minutes. In the time it would take to make a single phone call or send a single text message, the sender can communicate with everyone on their contact list.
These messages appear directly on the recipients' cell phones, making the information accessible no matter where the employees are.
Automate Employee Text Alerts
Our staffing notification system can send out employee text alerts regarding available shifts, scheduling changes, important event reminders and closure notices due to extreme weather or maintenance.
The best part is that this communication is completely automated. Senders simply record or write a message, select a contact list, and specify when the message should be sent. At the specified date and date, the message goes out to everyone who needs it.
An automated system like this means that senders can focus on other, more important parts of the organization and not have to focus solely on communication.
Reach Employees Directly Via SMS Texts
One important benefit of DialMyCalls is the ability to send SMS text messages to employees. These messages are succinct, clear, and user-friendly, making them an ideal form for shorter messages.
Nearly everyone knows how to send and receive text messages. This is great news for employee texts, because senders don't have to worry about most recipients' ability to access the message.
The shorter form of text messages also means that information must be conveyed succinctly, which allows senders and recipients alike to focus on the core of each message. With such brief bits of information, it's easier for recipients to remember key points of the message and act on it accordingly.
Types Of Employee Mass Texts Sent By DialMyCalls Customers
SMS alerts for employees are important in every industry and versatile in their uses. Whether you're communicating with employees in the same room as you or across the country, a mass text to employees can help keep staff safe, happy, and on task.
Consider the many uses for an employee text alert system. It can also be helpful to brainstorm specific ways that mass texting could benefit your employees within your line of work⁠—after all, you know your company and your company's communication needs best.
Office Notifications
Need to spread the word about workplace news? Office notifications are an ideal way to quickly get everyone in the building on the same page.
Consider using DialMyCall's text alert system to remind employees about casual days, parking restrictions, upcoming staff meetings, a closed bathroom, or break room courtesy.
Automating the good news and the bad means that no matter the circumstances, employees know what's going on and what they can or should do about it. When everyone knows what's going on, your office can run more smoothly and efficiently.
Event Reminders
A lot of time and effort can be wasted if employees aren't in the right place at the right time. DialMyCalls text message alerts can be used to schedule events and then remind attendees before they occur.
Because DialMyCalls facilitates two-way communication, event organizers can send out polls to determine when team members or attendees are available. Then, these senders can analyze their results and organize events with optimum attendance.
These same messages can be used to remind attendees of the date, time, and location of an event or meeting. Organizers can also send out dress code information or requested materials. Before or during an event, attendees can reply to texts with questions to reach an organizer directly.
After an event, texts can be used to send out surveys or collect feedback on how an event was organized or run.
Inbound Complaint Line
Getting feedback from your employees can be difficult, but gathering and responding to this feedback is vital to a healthy organizational culture.
An inbound complaint line can allow employees to easily and anonymously provide feedback on supervisors, coworkers, working conditions, or even safety regulations. This way, you know what your employees are feeling before it becomes problematic.
Responding to employees' concerns and suggestions quickly can increase employee satisfaction and decrease turnover, saving you money and time and helping you hold onto the experts and best workers.
Motivational Calls
DialMyCalls's employee text notification system isn't just for emergencies and schedule updates. These same avenues of communication can be used to remind your employees just how much they mean to you and just how important their work is.
Motivational calls or texts can go a long way in helping employees feel valued. When they know why their work matters and enjoy doing it, they'll work harder and better. It's always worth it to value your employees.
Recognition of employees' talents goes a long way in encouraging those same employees to stick with you, leaving you with better staff and lower turnover rates.
SMS Schedule Reminders
Companies with employees on rotating or flexible schedules can embrace the power of a staff notification system to notify staff of schedule and shift modifications.
Need someone to pick up an extra shift over the weekend? Want to remind employees that the office will be closed for a holiday? Trying to prepare employees for changed hours during football season? Send a mass text to employees to get everyone on the same page.
With mass texts, extra shifts can be made available to everyone simultaneously, and you can ensure that everyone is getting the same information at the same time. There's no room for miscommunications between various messengers.
Staffing Notifications
Keep potential job candidates informed of new positions that open up. Many staffing agencies now rely on our service for keeping job seekers in the loop.
These agencies can save time and money by reaching out to all potential staff members simultaneously and fielding responses just as quickly. This way, openings are filled in as little time as possible with a single call or text message.
Weather Alerts
DialMyCalls' text alert system can also be used to keep employees safe. If storms or dangerous weather is on the way, a mass text to employees can warn them of the incoming danger and remind them of important safety protocols.
Weather alert messages can be recorded or written in advance so that when disaster strikes, it's easy to keep employees informed. These messages can also be used before there's a threat, to send regular reminders to employees about ways to stay safe.
Keeping employees safe means protecting your most important asset and making your business a great place to work.