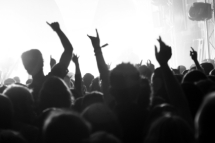 Even rockstars in the music industry that utilize mass notifications for promotional use are required to follow all the FCC and your state laws regarding sending automated phone calls or texts. Your fans are required to opt in to receive any kind of message from you, and you must never send any kind of unsolicited message. For texting you can have your customers opt-in to a list via text message, for example text COMPANY NAME to 80123 (our short code), which will opt them in to receive exclusive content and alerts from you. For phone calls you need expressed written consent from them agreeing to receive your messages.
Music artists can use the power of our text message alerts to allow their fans to keep track of their upcoming tour dates, new albums and concerts.
DialMyCalls.com is proud to offer the ability for music artists to keep their fans in the loop. With our text message notifications, artists can allow fans to sign up and receive alerts with information regarding tour dates, concerts and new albums that are being released. It's time to keep your loyal followers happy by offering them with up-to-date information regarding their favorite band or artist.
Signing up for DialMyCalls text message alerts is quite simple and requires little to no effort. Once a band or artist has signed up for our service they can instantly start reaching out to their fans. The first thing you will want to do is set up your own keyword and SMS shortcode. For example, the band named DMC Rockers would want their keyword to be "DMCROCKERS." The band/artist would then choose their own personal SMS shortcode, such as 80123. From that point on, they could tell fans at their shows to: "Text 'DMCROCKERS' to 80123 to receive tour dates and other exciting news regarding new albums and band contests."
All of the fans that text messaged the keyword ("DMCROCKERS") to the custom SMS shortcode (80123) will now be added to the bands/artists contact list within the DialMyCalls control panel. Let's say that DMC Rockers has a brand new album coming out next month. All they would need to do is login to their account, create a new text message that says: "DMC Rockers will release their brand new album 'Rock Party Mix' on October 10th, 2011. Keep a look out for it in stores!" Once the text message is created, they can instantly send it out to all of their fans that signed up to receive alerts from them; it's that simple!
Are you a band/artist who does not use text message alerts? Sign up for DialMyCalls.com today and help your fans track tour dates, concerts and new albums.
← Previous Article
Next Article →
Sign up now and try our services for free!
Use the promo code DMCBLOG and get 25 free extra credits