SMS Event Marketing
If you want a specific audience to hear about your event immediately and clearly, SMS event marketing may be the way to go. Texts sent to segmented contact lists providing information about an upcoming event can be a great way to get recipients interested and provide them with ways to learn more.
Timeliness in SMS Event Marketing
Traditional event marketing methods include flyers, print mail, and emails. While all of these methods may still be somewhat effective, none are as likely as texting to reach and be seen by the recipient right when they're sent.
For an SMS text message to be seen, all someone has to do is look at their cell phone — and for most Americans, that happens many, many times throughout the day.
Clarity in SMS Event Marketing
Text messages hold a unique place in a lineup of marketing methods. There is a limit on how much can be said, but whatever is said doesn't go away without being intentionally deleted. This allows the senders of these messages the opportunity to be clear in what they're saying — and it works particularly well for event marketing.
The brevity of the message means you have to get right to the details of the event. At the same time, the recipient can use the message for reference. The event details will be there, and able to be referenced, as long as necessary.
Follow-Up in SMS Event Marketing
SMS messages also allow the recipient to request or seek more information. This can be done by replying to the text, clicking a link, or even pressing an address to get directions. Regardless of how they get more information, the conversation doesn't just stop.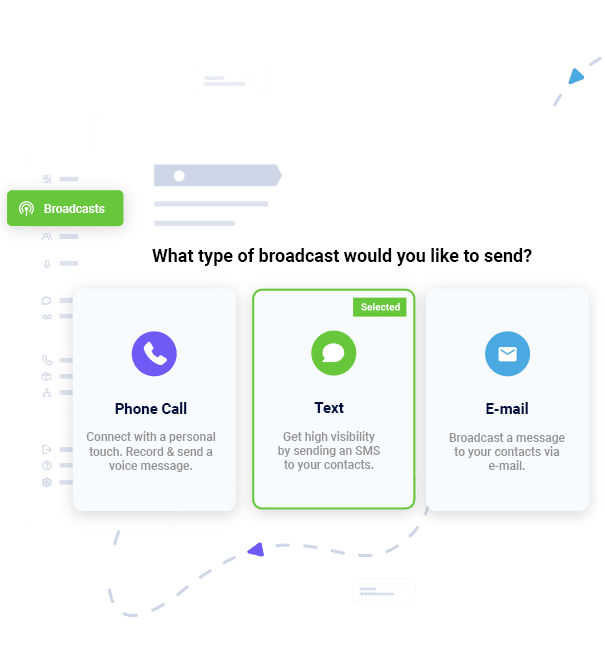 In addition to this, SMS text messages are a particularly easy way to track and analyze responses. Using DialMyCalls, you can see how many of the messages were sent, delivered, or opened, and even how many people opted in for more information or clicked a link.
Examples of SMS Event Marketing
Keep these guidelines in mind for any event marketing messages:
Contact lists can be segmented. So, not all messages have to go to all contacts. Presumably, if someone is receiving marketing about a specific event, there's a reason to believe that they'd be interested in attending.
Text messages are limited to 160 characters, making it extremely important to keep messages short and sweet. However, there is always the opportunity to provide a link that includes more information.
There are laws governing who can receive mass text messages. Make sure your recipients have all opted in to receive this kind of communication form you before sending.
SMS Event Marketing Sample
Grand opening of our new Grayson Hwy Happy Pet Clinic 5/17. Balloons, tours, discounts.
More here: tinyurl.com/info
Send Thousands Of Phone Calls, Text Messages, or Emails Per Minute!