Phone Tree Software for Churches
Our automated church phone calling system can be a great asset to your church or religious organization to keep it growing and active. Send church call announcements and notifications using DialMyCalls' Phone Messaging service.
What Is Phone Tree Software?
Phone tree software automates the process of traditional calling trees. Using automated phone tree software for your church allows you to send out a phone call or text message to a list of contacts in an instant – the tedious task of manually dialing hundreds of phone numbers is no more.
Why Use DialMyCalls' Phone Tree Software for Your Church?
Automate Phone Calls & Text Messages
Trusted By 10,000+ Churches
Over 45 Million Messages Sent
How Do You Set Up Automated Phone Tree Software?
Our phone tree software is completely web-based and all you need to do to set it up is create an account, add your list of contacts, create a recording and then send out your message. Manual phone trees would have a list of individuals responsible for contacting a certain set of phone numbers – DialMyCalls offers the ability to send a phone call or text message to a few or thousands of people with the click of a button.
Contact Management – All Church Members You Will Contact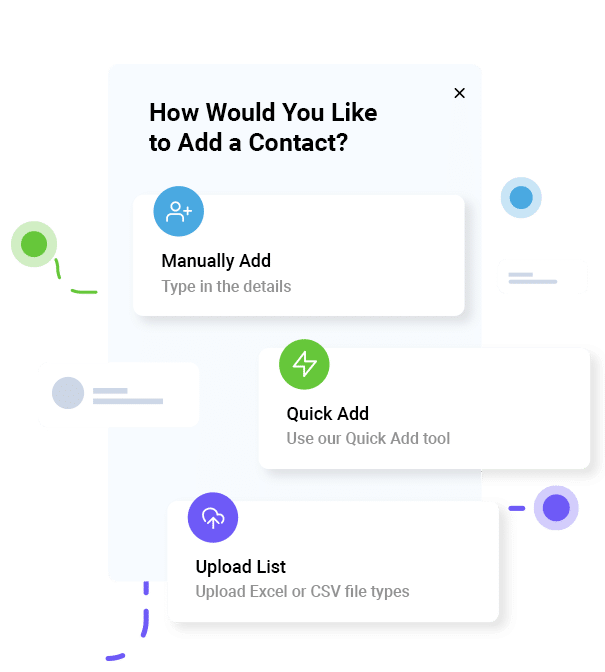 Church Phone Number Lists
Create your list of phone numbers and email addresses of every member at your church.
Create Contact Groups
Use contact groups to keep contacts organized — send messages to church staff or members of your congregation.
Import Church Member Contact Information
Manually add contacts or easily import a whole list from any CSV or Excel file.
Create Personalized Recordings to Be Sent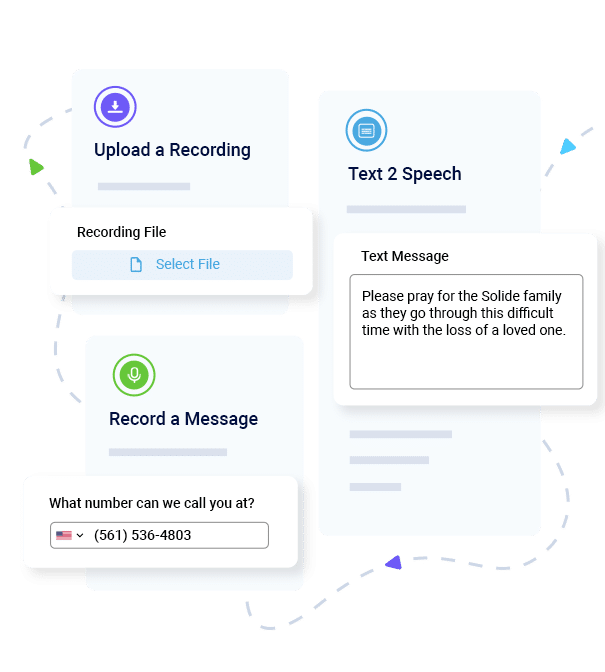 Create Unique Church Recordings
Create messages in seconds by recording over your phone, uploading a sound file, or using our text-to-speech system.
Weekly Service Reminders
Send out weekly service reminders via phone call or text message with your newly set up church phone tree system.
Custom Prayer Hotline
Beyond voice messages you can also set up a custom prayer hotline using a local vanity number — have members of your church call in for special prayer requests and community updates.
Detailed Call and Text Message Reporting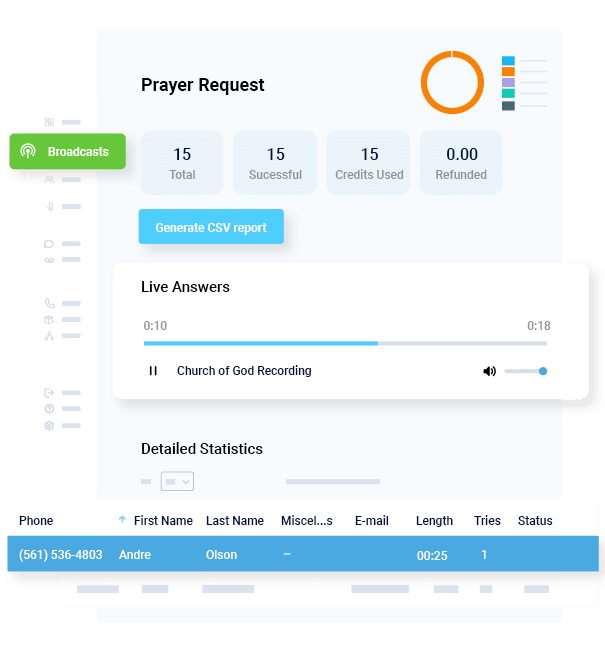 Fast Report Generation
View a detailed report after every church call or text is sent out.
Individual Church Member Contact Analysis
Check each individual church contact to ensure they received your message.
In-depth Call Reporting
Reports will show which recipients picked up the phone and listened to your message as well as those that received the message on their voicemail.
Church Phone Calling Tree Automates Religious Announcements
For decades your church has been relying on unreliable calling trees and handwritten phone tree templates to spread important news or to initiate prayers for ailing congregates. DialMyCalls will let you reach out to your entire church community with one phone call, making it a more efficient method of getting your message across.
Without any need for complicated installations and bulky hardware devices, you can easily access an account that is customized to fit your church's needs. Store all of your members' phone numbers in one convenient place and in just a matter of minutes you can broadcast your message to your entire church community.
Why Do You Need Automated Church Phone Tree Software?
Emergencies arise in your church all of the time, which is the reason why you had set up that phone calling tree in the first place. But you know that it is an unreliable system that depends entirely on everyone answering the phone and then making the necessary follow-up calls. Whole lines of communication are broken if one person is unavailable to continue the chain.
Those problems are eliminated with the automated calling system for churches that DialMyCalls offers. Without any complications you simply record a message that is sent immediately to all of the contacts that you choose. Organize your contacts into convenient lists that will help you when a message only needs to be sent to a particular group of people. Categorize your lists into a way that makes the most sense for your church.
Your church is a busy organization with many programs running at the same time. This type of church notification system will make last-minute youth group or bible study class cancellations a breeze to deal with. You send the message to the specific members and they are alerted on their cell phone, either as an SMS text message or a recorded voice message letting them know of the cancellation and when the program will reconvene.
Church Phone Call and Text Messaging Automation Saves Precious Time
What used take up to thirty minutes or more with a phone tree is now accomplished in only minutes, thanks to the help of your DialMyCalls account.
All of this technology is available without having to make any changes in the software or hardware of your computer. Simply sign up and DialMyCalls will store all of your information in its own database. You can even pre-record messages to be saved there for those times when an emergency arises and you want a clear and concise message to be sent. This is particularly helpful in a weather-related crisis such as a blizzard or hurricane.
You have a lot of responsibility as the leader of a large church community. DialMyCalls absorbs some of that burden for you by keeping track of the calls it makes and letting you know who did not receive your message. This feature of DialMyCalls allows you to either resend the message to the members who may have not gotten it the first time, or follow up personally yourself.
You may have tried other systems in the past that complicated matters with installations and uploads. There is no need for that with DialMyCalls. This system allows you full access to an innovative church messaging service without all the hassle.
Send Thousands Of Phone Calls, Text Messages, or Emails Per Minute!