SMS Text Messages & Phone Calls for Youth Ministry
With every kid carrying around a cell phone, being able to keep them engaged can actually be easier than ever. By sending inspirational quotes and messages via phone call or text message, you can make youth group more fun than ever.
Engaging With a Strong Church Youth Group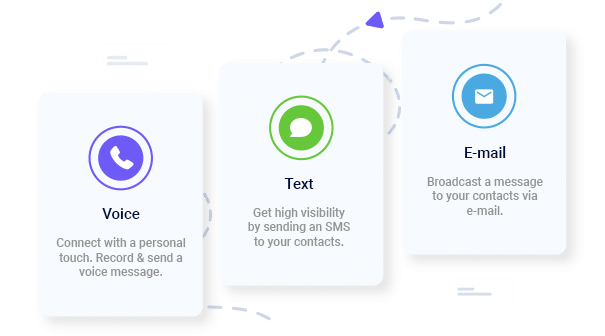 If your church lacks an engaging youth group, then you are not looking out for the future of your congregation.
Nurturing spiritual growth in the young ensures that they will seek comfort within the walls of your church.
Get busy now making solid connections with the kids in your community and you are building a strong foundation for your church's continued success.
Your church's youth group is an extension of your congregation. Teenagers have needs that are entirely different than that of that parents or the pre-adolescent sector of your church body. You need to give these kids special attention in order to retain their interest in your church and spiritual beliefs.
Here are two ways to reach students and young people in your youth ministry.
Reach Youth In Church Services Each Week
Kids today have schedules that can be just as busy as their parents'. Don't cram youth group meetings into every free moment of the month. Once a week for a couple of hours is all your kids will need. If you notice signs that the teenagers may want to engage more, look for ways they can help the community as a group.
Social media has opened the eyes of many young people to the struggles of our neediest community members. This has made many of today's teenagers strong advocates against social injustices.
Think outside of your church basement box and plan trips to help out at local food banks and shelters, or bring them to a nearby nursing home once a week to read to the patients there. They don't need the Bible in their hand to help receive and then spread the message of your church, they only need guidance to show them how to accomplish that.
Send Encouraging Messages Daily To Your Youth Group
There is no way you are going to beat it, so you may as well accept technology in your church and learn how to use it to your advantage.
The Internet is full of information about the history of Christianity and its power in the modern world. Hold small contests that encourage kids to look up this information and find out the details of the life of a saint, or other church figure. The teenager who is able to give the best short presentation on St. Jerome's contribution to modern-day Christianity wins a coupon for a free burger and fries.
You will find a cell phone in the back pocket or purse of almost every teenager in your group. Send a daily text message to those phones reminding them of how valued they are with words taken from the Bible. Kids today are being inundated with knowledge and images that can easily push them to stray out of your grasp. Offset that negativity with daily positive messages to remind them of your presence in their lives.
This does not need to be a time consuming part of your daily ritual. Set up an automated text messaging service with DialMyCalls and have the numbers for your youth group kids stored as their own category. All you have to do is create the uplifting message and direct it to that contact list and your entire youth group starts their hectic day on a positive note.
To run a successful youth group you need to learn to be adaptable and adjust your methods to fit the times. Kids today want to be active members of the community just as they want to be communicated with in ways that are familiar to them. Once you show respect for their needs and that you take their desires seriously, they will start to take your youth ministry seriously.
Send Thousands Of Phone Calls, Text Messages, or Emails Per Minute!