How to Create a Prayer Line for Your Church
We've found an increasing number of customers creating a prayer line for their church. Create your own unique phone number that lets people call in and request prayer for themselves and loved ones.
What Is a Prayer Line?
A prayer line allows churches to give congregation members the ability to call in to a local number or toll-free hotline in order to submit a prayer request or to hear weekly announcements. Churches are able to reach a broader audience of followers by offering a free prayer line for community members that are unable to attend church in person.
Why Use DialMyCalls For Your Prayer Line?
Reliable Vanity Phone Numbers
Trusted By 10,000+ Churches
Over 45 Million Messages Sent
How to Start a Prayer Line
DialMyCalls offers a vanity phone number system that allows churches to quickly and easily set up a prayer line for current and new members. Your church can simply sign up for an account with DialMyCalls, purchase a local vanity number or toll-free number for your prayer hotline and be ready to go in a matter of minutes — follow these steps below to create a prayer line for your church today:
1) Purchase Your Own Local or Toll-Free Prayer Line
Two options are available when it comes to setting up a prayer line for your church through DialMyCalls:
Local Vanity Prayer Line Number ($5.99/month) – Allows you to choose a phone number with your churches local area code.
Toll-Free Vanity Prayer Line Number ($9.99/month) – Allows you to set up a toll-free number for your church instead of having a local number.
Both vanity number options will include 100 minutes which will be used when your members call your prayer line — once 100 minutes are reached, it will cost 5 cents per minute which will be billed at the end of the month.
2) Set up an Agenda for Your Prayer Line
Your church prayer line is easily customizable through DialMyCalls' web-based interface. After purchasing your vanity number you will want to go in and set it up by going through the different settings that we offer. The first thing you will want to do is set the function which as a prayer line, you will want to choose "Play A Specific Recording That I Will Select" — you will need to go to the "Recordings" tab to create the message that you would like to be played when your church members call into your prayer line. (Read More On Recording Messages In DialMyCalls Here)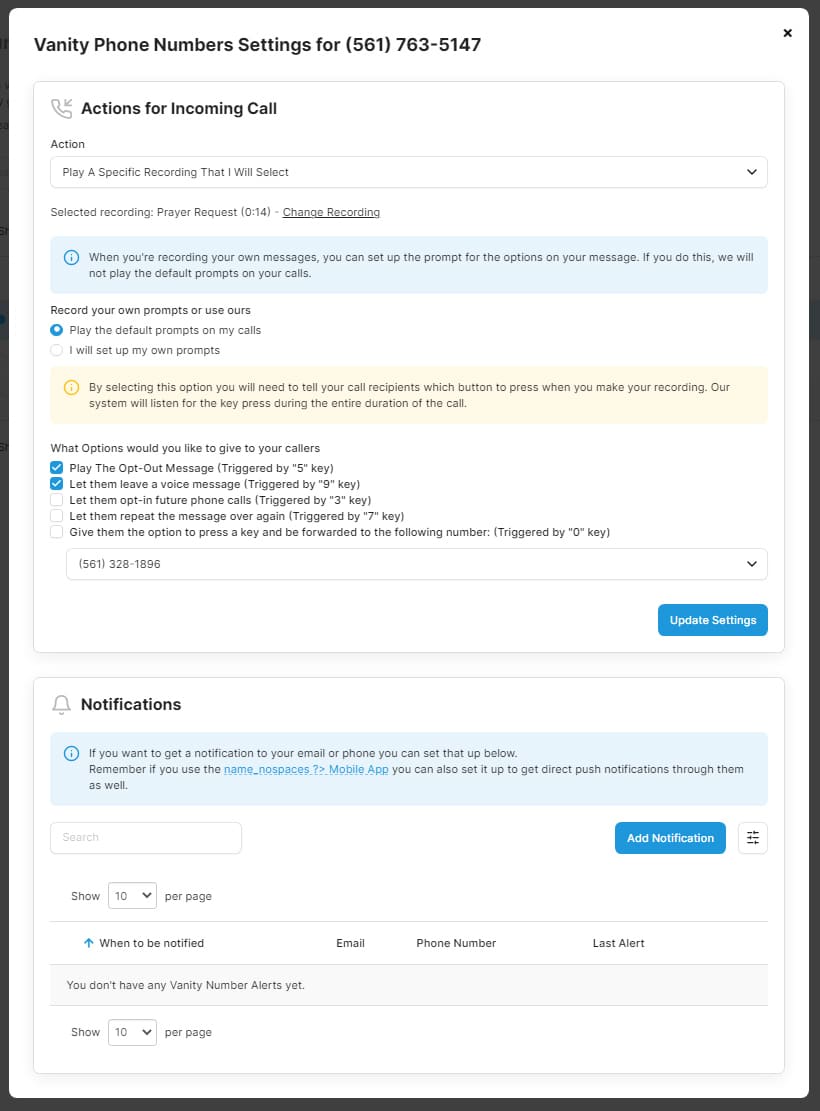 Once the initial set up is complete, you will have a few different options that you can enable/disable on your churches prayer line. Take a look at the different options below to decide whether or not you will be using them for your church:
"Play The Opt-Out Message" – This is on by default for all vanity numbers purchased through DialMyCalls and only matters if you are sending out voice broadcasts through our system.
"Let Them Leave A Voice Message" – You will want to check off this box if you are using your prayer line to allow church members to call in and leave you a message such as a prayer request – when they call in they will be prompted to hit "9" on their phone to leave you a message.
"Let Them Opt-in To Future Calls" – This option will allow you to build a contact list of church members that call in and would like to receive automated church calls from your prayer hotline – they will be prompted to hit "3" on their phone to opt-in.
"Let Them Repeat The Message Over Again" – If you have a recording that you want your church members call in to listen to, this option will allow them to listen to the message one additional time but hitting "7" on their phone.
"Give Them The Option To Press A Key To Be Forwarded To The Following Number" – Utilize our "Push-To-Talk" feature in conjunction with your prayer line to give members the ability to reach your personal number in an emergency. *Please read up on our "Push-To-Talk" feature before utilizing this option.
3) Invite Attendees to Your Prayer Line
Once you have given out your newly created church prayer line, log into your DialMyCalls account to listen to all messages left by your members. Church members that are unable to attend service in person are able to call in and leave you prayer requests — prayer line administrators will be able to see the phone number of the member that left the voicemail, the date/time it was left, and the duration of the message.
Toll-Free Hotline For Church Updates
It is not easy to keep an entire congregation up-to-date on your church's special events and activities. Busy work and school schedules have most members running from here to there on a daily basis, making it difficult to get in touch with them. DialMyCalls can help you set up a system that will allow them to listen to your special notices at their convenience. This will go a long way in helping to ensure that all of your church members still feel like part of your community.
Setting up a prayer hotline can be easy if you use the DialMyCalls vanity number feature. This allows you to set up a phone number for your congregates to call into at their convenience and hear a personalized message from you. The number can be local or toll free, whichever you prefer.
You know that everyone can't make it to weekend services, but you can still record the highlights from your weekly bulletin and invite your congregation to listen in. In this way, even if a soccer practice kept them from your service, they can still feel like an active part of your church.
Register a Personal Vanity Number for Your Church
Use the vanity number to record the details of special announcements that church members may have missed during the service. Dates, times, and addresses are not often registered when heard only one time. Reiterate the important details of a fundraising event or church social in a recorded message so that your members can call in to your prayer hotline and listen when they are ready to take down notes.
DialMyCalls can assist you in making the many messages you need to relay to your church members in a way that will help to save you time. Wedding and birth announcements can be made, funeral service arrangements can be relayed, or you can even use it as a way to send a daily spiritual message to help inspire your church members.
With the abundance of online activity that your church members are involved in, it would be uplifting to hear your actual voice showing you care by creating these personal messages for them. This type of reaching out and staying connected is the best thing you can do as a church leader in establishing a strong foundation for your church.
In providing these types of communication solutions that DialMyCalls offers, you are adapting to your members' changing needs while still holding true to the values that are instilled by your organization. Once you find ways that help keep all of your church members connected, you are going to see that they will look for ways to become more active in your church activities.
Send Thousands Of Phone Calls, Text Messages, or Emails Per Minute!