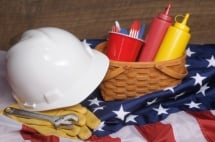 Invite all of your friends and family to your Labor Day party by sending them all an event reminder with our text message alert system.
What day is Labor Day 2011? Every year Labor Day falls on the first Monday in September and this year it will be celebrated on September 5th. Labor Day weekend is a great time for friends and families to come together and have a party, picnic or BBQ as most of the country will have Monday off from work. DialMyCalls can help you plan activities for your party with our text message event reminders.
[click to continue...]
How can DialMyCalls help plan the perfect party, picnic or social gathering by using its mass notification system?
Event reminders play an integral part in making sure your upcoming party goes off without a hitch. Planning a picnic at the church on Saturday? How about a car wash at the local school to help raise money? DialMyCalls offers a great mass notification system that allows users to reach thousands of recipients via voice / text message, instantly. How hard is it to send out a customized event reminder?
Sending out event reminders via DialMyCalls is extremely simple and only takes four steps to complete:
[click to continue...]
Sign up now and try our services for free!
Use the promo code DMCBLOG and get 25 free extra credits