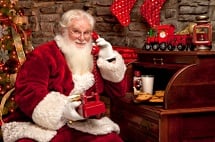 DialMyCalls is proud to announce that our free Santa Calls will be returning for the 2012 Christmas season.
The holiday season has officially started and with that comes the return of our extremely popular Santa Calls. Last year DialMyCalls launched our free personalized calls from Santa Claus which were amazingly successful. Parents all across the country expressed to us how much they appreciated our partnership with Santa and their kids were thrilled when good ole' Saint Nick called them with a personalized message.
Beginning today, November 14, 2012, our Santa Calls are officially available to schedule. Keep in mind that while you can schedule a time for Santa Claus to call your children today, the first wave of calls will not begin until December 1, 2012.
Spread a ton of holiday cheer this Christmas season by having Santa Claus call your children using our free Santa Calls service!
Share our personalized calls from Santa with all of your friends and family by tweeting #SantaCalls on Twitter – let every child across the country experience the joy of receiving a personal call from Santa Claus!
← Previous Article
Next Article →
Sign up now and try our services for free!
Use the promo code DMCBLOG and get 25 free extra credits