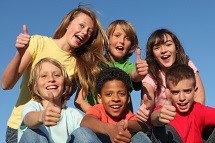 DialMyCalls helps Summer camp counselors keep in touch with the parents of the children attending via an automated alert system.
Summer is just around the corner and all across America parents are making last minute preparations for their kids' summer camps. Counselors and staff are also eagerly awaiting to entertain all of the children who have signed up for camp which in the United States is over 10 million per year – that is a lot of kids!
Kids who attend Summer camp will learn all about the outdoors via various physical and athletic activities as well as learn about being a team player. Of course most children who attend a camp during the Summer will be away from their parents for the first time which at first might be difficult.
To help ease the anxiety that some parents might feel while their child is away at Summer camp, DialMyCalls has set up a brand new alert system. Camp counselors and parents can keep in constant contact by using our automated web-based notifications.
Summer camp counselors can use DialMyCalls' voice + SMS broadcasts to send out parent notifications, emergency alerts, event reminders and much more. Once signed up for a free account, counselors are then able to add the names and numbers of the parents for all of the kids that signed up to attend their Summer camp. Within minutes a message can be broadcast to every single contact via voice message, text message and email – don't waste time individually calling hundreds of numbers when it can accomplish instantly with the click of a button.
Prepare your Summer camp for the 2013 season by setting up automated parent notifications today using DialMyCalls!
← Previous Article
Next Article →
Sign up now and try our services for free!
Use the promo code DMCBLOG and get 25 free extra credits