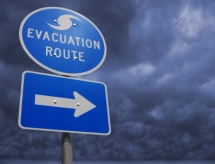 Hurricane season 2011 is well underway and DialMyCalls recommends you use our service as a weather alert system.
From tropical depression to tropical storm to hurricane, the enormous storm systems are an extreme force of nature. With hurricane season 2011 well underway (ends November 30th), DialMyCalls recommends that you have a severe weather system in place. Using our mass notification system, families and communities can have a well-oiled plan, should a hurricane threaten their neighborhood. How exactly can you use DialMyCalls as a severe weather alert system?
Families and communities can sign up for DialMyCalls and set up a personal weather alert system for hurricane season 2011. Users can import a list of phone numbers and then set up a customized voice / text message to send them all, instantly. The goal here is to have a message in place, should a hurricane threaten to hit the area in which you live. On your recorded message you can send an evacuation route or give the location of a place to seek shelter. Friends/family can send a text message blast to all of their close relatives, alerting them they are alright, post-hurricane.
If you are in a place that hurricane season 2011 is affects, use DialMyCalls as a severe weather alert system today!
← Previous Article
Next Article →
Sign up now and try our services for free!
Use the promo code DMCBLOG and get 25 free extra credits