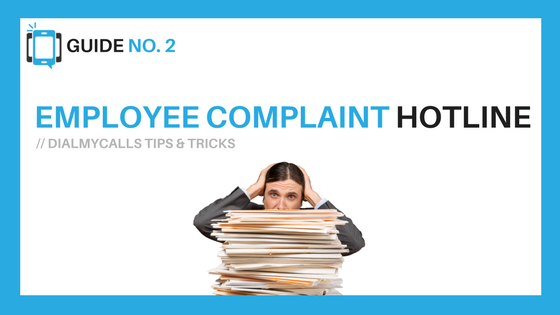 Running a business effectively can be very difficult. If your organization is large, chances are that your employees won't always have the opportunities that they need to express their opinions, concerns, complaints, and new ideas regarding your organization.
This is an unfortunate consequence of growth – as the size and the complexity of a company increases, it becomes more difficult to establish effective lines of communication through which lower-ranking employees can contact managers, executives, and other people who control corporate decision-making and policy.
Even in smaller companies, employees often don't feel comfortable talking to their superiors about problems they may have with other employees, customers, or their work environment. Often, an employee will be afraid of being punished by a superior for bringing problems to their attention – even if the information they have could be important and helpful.
Some companies use email to allow their employees to report issues to HR or to other relevant persons, but this can be lacking in anonymity – people don't like being identified when they are reporting information of a sensitive nature, especially if it is related to specific employees or corporate misconduct.
Anonymous employee complaint hotlines are a great solution to these issues. You can grant your employees total anonymity, allow them to speak about what's on their mind with no fear of punishment, and gain valuable insight into the overall health of your organization.
For all of these reasons, setting up an employee complaint hotline with DialMyCalls can be extremely valuable. Doing so allows you to get a better understanding of the work conditions of your average employee, listen to their complaints, and aid you as you strive to make your business a better place to work.
Here's a step-by-step guide on how to set up an anonymous inbound complaint line for your employees.

Setting up Your Anonymous Employee Complaint Hotline
Begin by setting up an account with DialMyCalls and then register a vanity number for your complaint line. Ideally, this will be a number that's easy for employees to identify and remember so that they can call in whenever necessary.
You must have access to a phone with this number, as it will be called by our automated system to complete setup. A four-digit PIN will be read to you, and after you enter it into your DialMyCalls system, you'll be able to use it as a caller ID for your messages and broadcasts.
[click to continue...]
Sign up now and try our services for free!
Use the promo code DMCBLOG and get 25 free extra credits