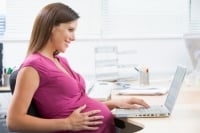 What if you were able to send out a text / voice message to all of your friends and family instantly, notifying them of the birth of your new baby?
In life there are some moments that should be celebrated and the birth of a baby is most likely at the top of everyone's list. DialMyCalls is using our technological advances in mass messaging to notify your friends and families instantly upon the birth of your baby. Let everyone know the baby's name, weight, size, sex and time of birth via our pregnancy alert / newborn baby text and voice message notifications.
Giving birth is probably one of the most stressful (and painful) things in the world that a woman can endure. Keep in mind that the father is also feeling emotionally drained as well and DialMyCalls hopes to alleviate some stress with their pregnancy alerts. The couple expecting the newborn baby can set up a predetermined list of phone numbers and record a message when the baby is born. Instead of having to call every single individual friend / family member, we make it so that you can send a voice / text message out to everyone on your phone list in a matter of seconds.
Currently awaiting those long nine months until childbirth? DialMyCalls hopes to help spread the word on your special day with our pregnancy alerts and newborn baby text and voice message notifications.
← Previous Article
Next Article →
Sign up now and try our services for free!
Use the promo code DMCBLOG and get 25 free extra credits