Conference Call Services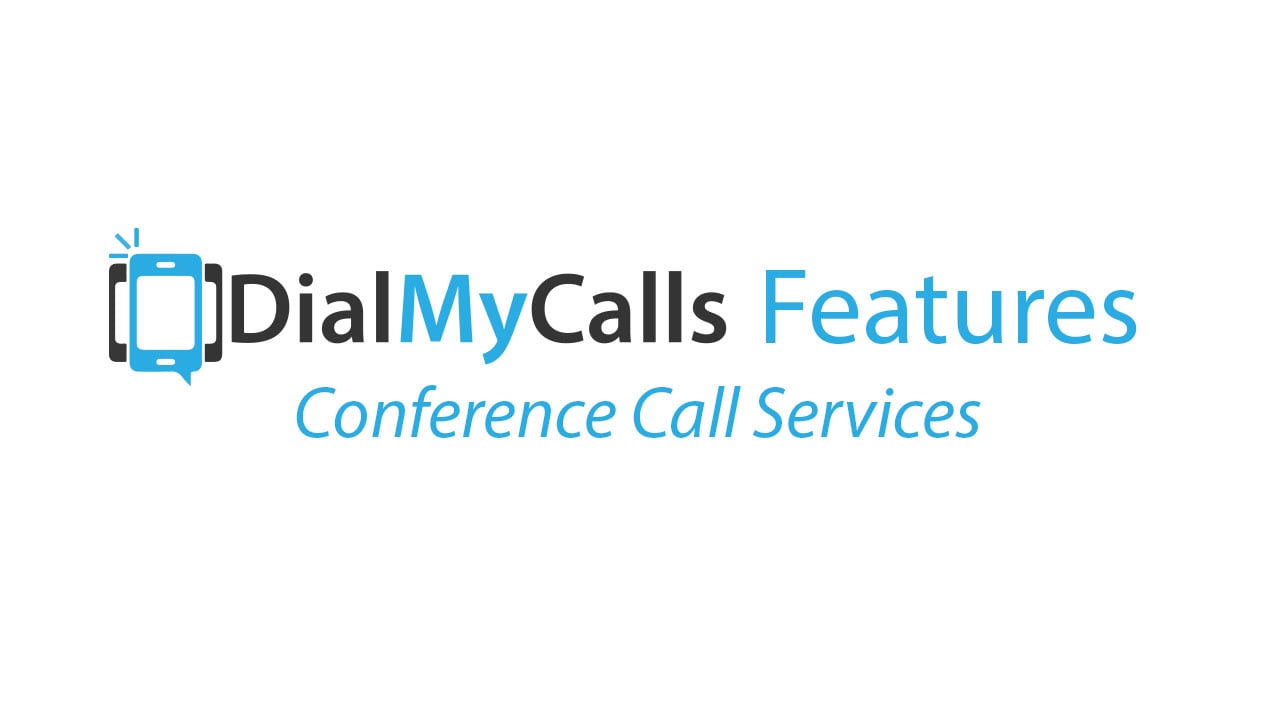 Conference calling services have been a staple in business communication for many years. Far from being an outdated or old-fashioned tool, conference calls remain an important part of clear and consistent communication between groups who aren't always in the same physical location.
DialMyCalls offers conference call system capabilities with each DialMyCalls account, making it simple to use the same set of contacts in all your communications.
The DialMyCalls conference call system isn't just convenient, but an important part of a solid communication plan. Conference calls can bring geographically distant team members closer together, helping you and those you work with tackle problems and keep your business goals moving forward.
Below, we dive into the why and how of conference calls to help you start out on the right foot and make the most of DialMyCalls' conference call service.
We'll discuss what conference calls entail, why they're important, how to start or participate in one yourself, and the conference call system features specific to the DialMyCalls platform.
If you don't already have a DialMyCalls account, you can establish one for free today. This account will give you access to DialMyCalls conference calling system, mass text message and voice broadcast capabilities, and other communication solutions for business, organizations, and teams.
Communication is key to the success of any business, and DialMyCalls makes conference calls easy, accessible and affordable.
What is a Conference Call?
A conference call is essentially a meeting conducted over the phone between several people who are in different physical locations. Each connects via a phone or other device and can hear all the others speaking during a group conversation.
Usually, each participant dials a conference call number that connects them to the shared call. Some conference call apps and conference calling services require participants to enter a code before joining the call. Most also allow individual callers to mute themselves so as not to disrupt others who are speaking.
Once all participants have joined the call, a conference call functions more or less like an in-person meeting. However, the participants can be in vastly different locations including various offices, at home, or even on vacation.
Sometimes, conference calls are used to help teams that are permanently based in different locations communicate. Other times, conference calls can facilitate communications when some individuals are traveling, sick, otherwise engaged.
In a nutshell, a conference calling service offers an easy way for groups to meet about the important things despite physical distance and schedule differences.
DialMyCalls Conference Calling System
With so many avenues for modern communication, why is a conference call app so important?
Group conference calls offer a host of benefits to any organization, group, or business looking to improve communication among their people.
The greatest benefit of a conference call is the ability to bring entire teams together for collaborative conversations. While voice and text broadcasts can send information to a large group, they don't allow for the group to respond to each other in real time.
These conversations mean that teams and administration can receive feedback immediately from experts and teams. Groups can troubleshoot, problem solve, and keep work moving even when team members are working on different schedules or from different locations.
Conference calls are more efficient than individual phone calls, making them more cost-effective and time-effective. An announcement can be made to several people at once, and conversations can be had in a fraction of the time it would take to call several team members or wait for an email to make the rounds.
DialMyCalls' conference call meeting app aims to make conference calls simple, so that setting up and hosting one doesn't waste your valuable time or energy. These calls can be hosted from the very same platform where you send out other communication.
Conference calls are just one more tool in the DialMyCalls toolbox.
Conferencing Call Platform Features
There are many specific aspects of conference calls that make them important for businesses. Not knowing the options and abilities available to you limits the effectiveness of your calls.
Online conference calls, call management, and apps can supply an overwhelming number of features and options for those new to conference call services. However, if you know what these features offer, you'll be ready to handle each decision that comes your way.
Knowledge about the various features included with the DialMyCalls conference call service helps you better plan for how your business can best make use of this tool and platform.
After you set up a conference call, you'll be ready to put together your meeting agenda. It can be useful to share this agenda to all participants prior to the call so that everyone can gather needed information, come up with questions, and put together some thoughts. By doing so, the conference call is much more efficient for everyone.
Call Management
If you're wondering how to set up a conference call in DialMyCalls, it's very easy. Once you are logged into your account, you can use the conference call service to invite individuals, schedule calls or cancel calls easily.
DialMyCalls provides a call-in number with a PIN access code so that participants can easily call into a single line. Hold weekly updates or monthly staff meetings via conference calls to keep everyone on the same page. Having all your conference call information stored in one spot, along with your other contact and communication tools, can help you streamline your regular communication with employees, team members, participants, or members.
Unlimited Conference Calling
Once you start using conference calling services, you will probably realize the benefits quickly. DialMyCalls makes it easy to stay in touch with important stakeholders in your organization. We understand how critical communication can be to the success of any business or organization, and that's why we offer unlimited online conference calls to our customers.
How much is conference calling? DialMyCalls offers three tiers of our unlimited conference call service for you to choose from.
Conference Call Pricing:
25 Participants – $9.95 / month
50 Participants – $14.95 / month
200 Participants – $24.95 / month
Each pricing plan is billed every 30 days and allows users to host unlimited conference calls to their allotted amount of participants each billing cycle – you can upgrade to a larger tier at any time.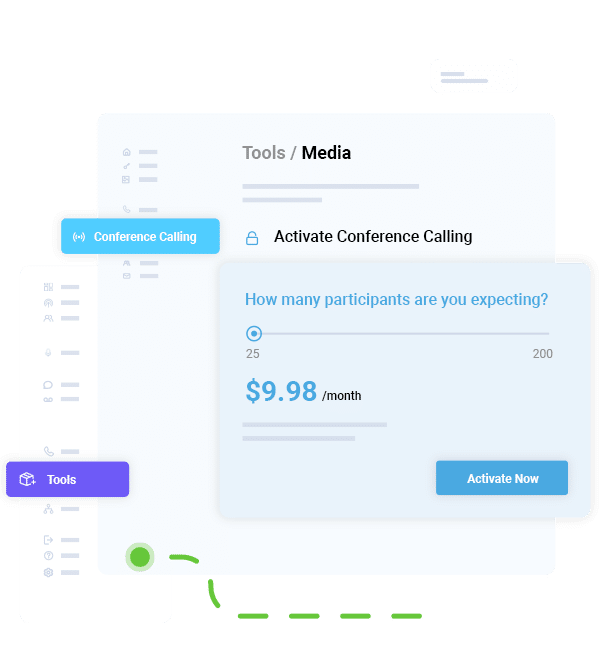 Whether you want to schedule a meeting with two other people or a dozen, DialMyCalls makes it easy and affordable to do so. Simply log into your account, select the contacts you wish to invite and send them a voice broadcast message, and schedule your conference call. Our conference call service is simply ready and waiting whenever you need to pull your team together for a brainstorming session, a check-in meeting, or a quick question-and-answer gathering.
How to Set Up a Conference Call
Setting up a conference call is simple. DialMyCalls provides a dial-in number to the conference call line. Once the host of the call dials in, enters the PIN code, and begins the call, other participants can dial in with their PIN codes as well.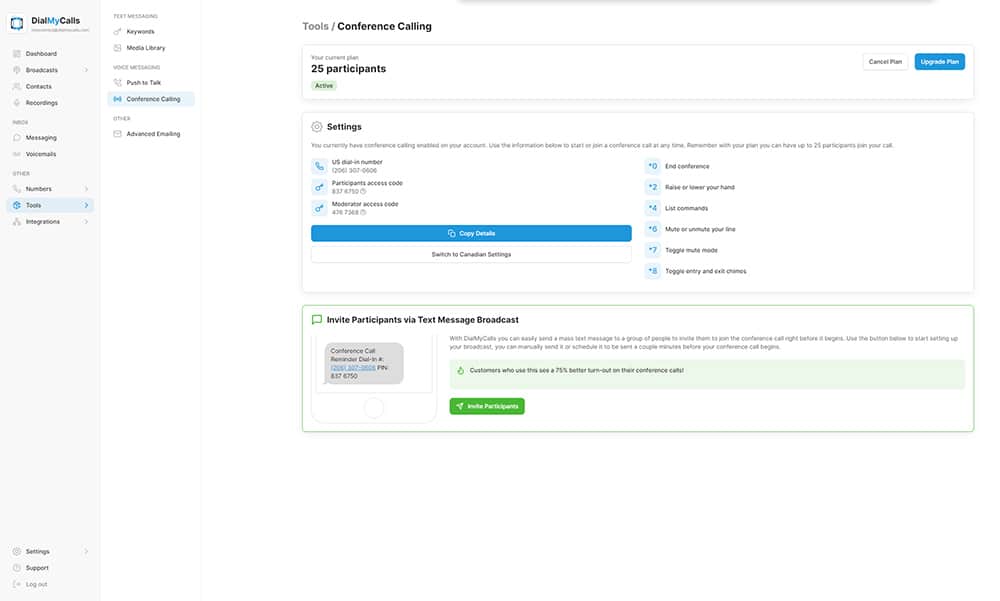 During the call, participants can key certain numbers to do things like "raise their hand" or "mute their voice" while the host has the ability to start and end the call, toggle entry and exit chimes, and toggle mute availability.
Before the call, you can send out a text broadcast to invite or remind participants to dial into the online conference call number. In addition, you will be able to view a history of the call to see who participated as well as communicate by email in order to share a call summary or action item list as well.
Using the DialMyCalls App for Group Calls
If you have a DialMyCalls account, it's easy to use the conference call app to hold conference calls with your employees, team members, customers, suppliers, or any other important group within your organization.
Signing up for a DialMyCalls account is free and easy, and it provides you access to a wealth of tools to help you improve communications with your key audiences.
The conference call service is simple and free to set up. Simply schedule a call, and inform all participants to call into the conference call line with an assigned PIN code. Your organization will have the ability to hold an unlimited number of calls for as long as each meeting requires. In addition, the management and history features make the conference call service a valuable addition to your communication toolbox.