Text Variable Messaging
By using variables, you can customize and personalize text messages sent to your customers or contact list. Learn how and get started for free today!
Text variable messaging has frequently been requested by customers of DialMyCalls and is now available through our mass texting platform.
What is Variable Messaging?
Variable text messaging allows customers of DialMyCalls to auto-generate personalized text messages without having to send one text message at a time. When setting up a mass text, simply utilize the variables available to create a custom message – you no longer have to send out a single message with a contact's name – instead you can send out a message with the variables "@First Name" & "@Last Name" to your entire list of contacts and it will be personalized for each recipient with their name.
Text Variable Messaging (Video)
The overall goal of setting up a variable text message is to make mass texting even more customizable and easier to use.
SMS Variable Messaging Features
At DialMyCalls, we pride ourselves on being the easiest mass texting platform on the market, which is why we have made our phone message variable feature extremely simple to use. Below you will find the message variables that can be included in your mass text message – these variables offer the ability to customize a text message for individual recipients while sending it to all of your contacts or a select portion at once.
@Phone – Customize your text message by adding in your contact's phone number variable which will display their full number.
@E-mail – Do you have an email address associated with your DialMyCalls contacts? Ask your contacts in a custom text if the e-mail you have on file is correct.
@Miscellaneous – The miscellaneous variable opens up the possibility to include any combination of letters, numbers or special characters into your text message. As an example you can use this field if you want to add dates to a text message for appointment reminders or add in apartment numbers for residents of your neighborhood.
@First Name – Specify the first name of every contact in your DialMyCalls account and create a mass text that is personal to each and everyone.
@Last Name – While you do not have to add the last name to a text message, taking a more formal approach with both the first name and last name of your contacts will add  an extra personalized touch to your mass text.
You no longer have to send an individual text message to make it personal – variable messaging alleviates that tedious task and simplifies mass texting!
How to Set Up and Use Variable Messaging
When setting up a text message you will now see the message variables below the text message dialog box. Use one of the variables or all of them to create a custom text message for each individual contact you have selected for your broadcast. The data from the variables will be pulled directly from your contacts within DialMyCalls – if there is no "@First Name" for a contact you've selected then that will be blank on the text message that recipient receives.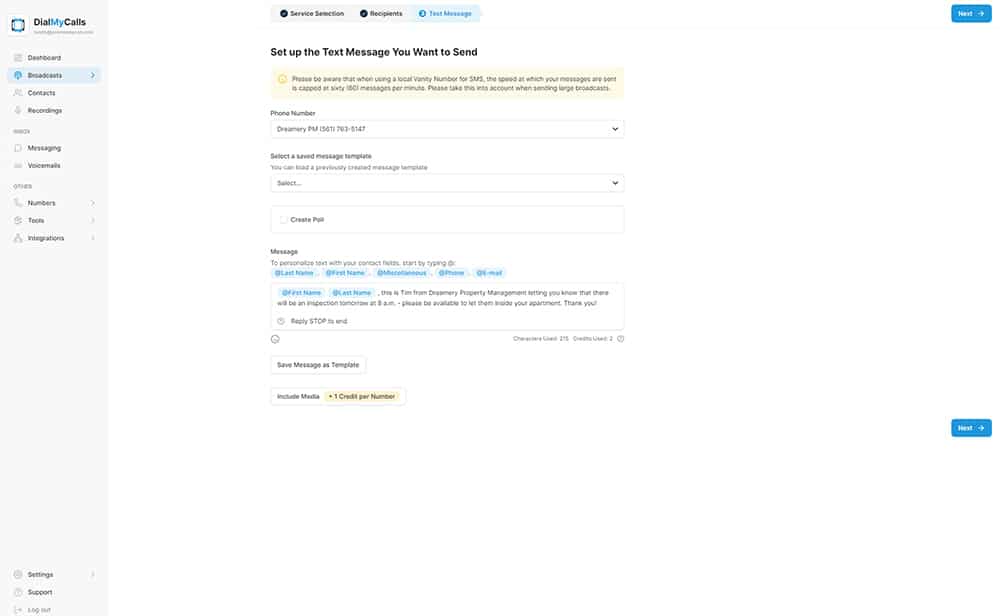 Please make sure all of your contact information is correct before setting up a variable text message. Your broadcast confirmation will show you the text message being sent to your contacts with the variables displayed: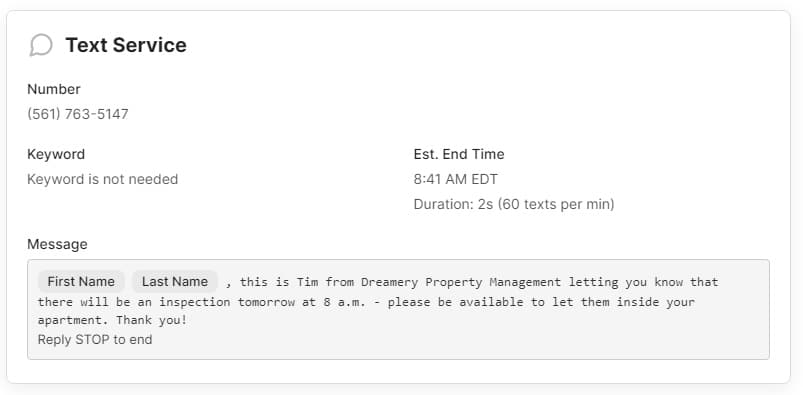 While setting up your text message in DialMyCalls it will contain the variables or tags, for example:
"Hello, @First Name @Last Name, we wanted to let you know that we are proud to have you on our @Miscellaneous team and look forward to our meeting on Thursday!"
Once the text broadcasts is sent out, the text message your recipients will receive to their phone will display a personalized message:
Hello, Tim Smith, we wanted to let you know that we are proud to have you on our Marketing team and look forward to our meeting on Thursday! Reply STOP to end
Ways To Use Our Text Variable Messaging Service
How can variable messaging be used? DialMyCalls has put together our top four ways in which our new text variable messaging can be utilized:
Appointment Reminders: Create a personalized appointment reminder for your auto repair shop or dental practice – add in the @First Name and @Last Name variables to your text message to personalize a text that can go out to all of your appointments for a single day.
Absentee Notifications: Parents will want to know when their child (student) is absent from school and with our variable messaging teachers no longer have to individually send out a text message for each student. Simply add in the @First Name and @Last Name variable and select every student that was absent for the day from your contact list – DialMyCalls will then send a custom text message to each parent with their child's name.
Real Estate Listings: Make the most of your time as a real estate agent by separating your property listings into contact groups from within DialMyCalls. When you have a potential buyer interested, they can opt into that certain property or you can add them manually to the contact group.
Event Reminders – Are you a wedding planner or event planner with an epic party coming up? Using DialMyCalls' mass texting and SMS variable messaging you can alert all of your wedding/party guests with the click of a button. Create a custom text by using the @First Name and @Last Name variables and then use our @Miscellaneous field to have the name of the event that you are reminding them about. Don't go through the hassle of notifying hundreds or even thousands of guests one by one – DialMyCalls makes sending event reminders a breeze!
This is where the SMS variable messaging feature will come in clutch – send out a mass text to every single person interested in a certain property but use the @First Name and @Last Name variables to personalize each text message.
Who Can Use Our Variable Messaging Service?
Below are a few of the different businesses/organizations that can take advantage of text variable messaging. The uses of our new text messaging tags are endless when it comes to adding text variables to create and send a custom message to your contacts.
How to Get Started
How can you add text variable messaging to your DialMyCalls account? Simply log into your account or create a new account and then once you've added in your contacts, click on "New Broadcast".
From there, select the text message option and after selecting your contacts you will see the variables below: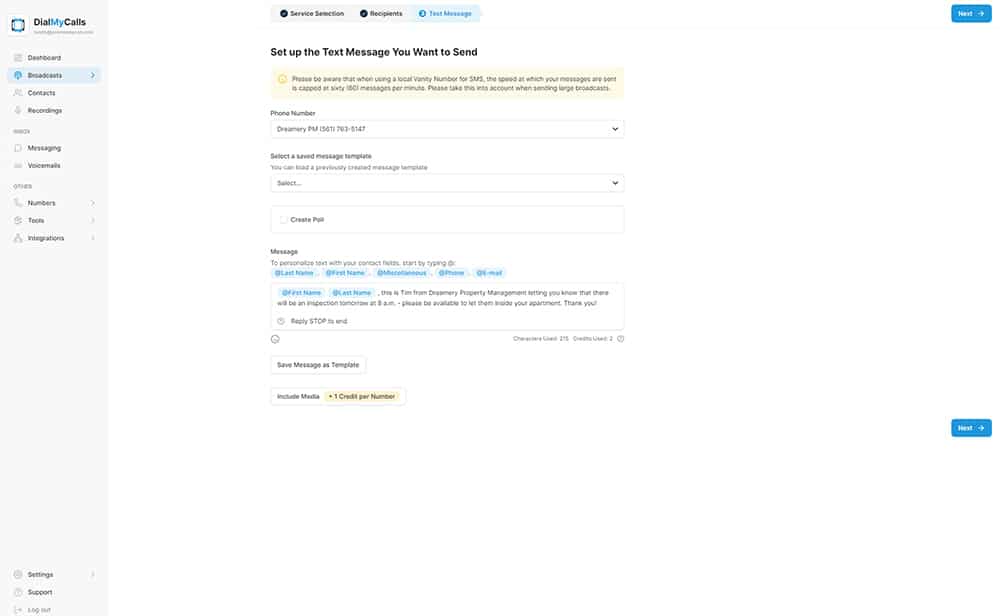 Sign up for a free account today to try out DialMyCalls' variable SMS messaging and see why we have one of the best mass texting systems in the industry – if you have any questions please contact us and our support team will gladly help you out.