Advanced Mass Email Service
Our Advanced Mass Email Service allows businesses of all sizes and industries to effortlessly stay in touch with their contacts and provide automated updates and alerts that are sent from your own domain.
What is a Mass Email Service?
A mass email service allows users to send an email message to an entire list of contacts all at once with the click of a button. DialMyCalls' new advanced bulk email service is the perfect solution for businesses or organizations that are looking for an all-in-one communication platform. Our advanced emailing allows you to customize emails, including the ability to add your own branding, file attachments, and send from your own domain!
How Does Our Advanced Mass Email Service Work?
Before you purchase our advanced emailing, please make sure that you have your own domain to utilize. You will NOT be able to use our advanced emailing service if you do not have your own email on your own domain.
You will need to create a free account with DialMyCalls to begin using our advanced mass email service. Once you have an account, you can purchase a standard monthly plan, premium monthly plan or pay-as-you-go* credits, as well as one of our advanced emailing plans.
*If you choose to purchase pay-as-you-go credits, then you will need to set up auto-replenish to be able to purchase our advanced emailing feature.
From there, you can now add in all your contacts with their emails.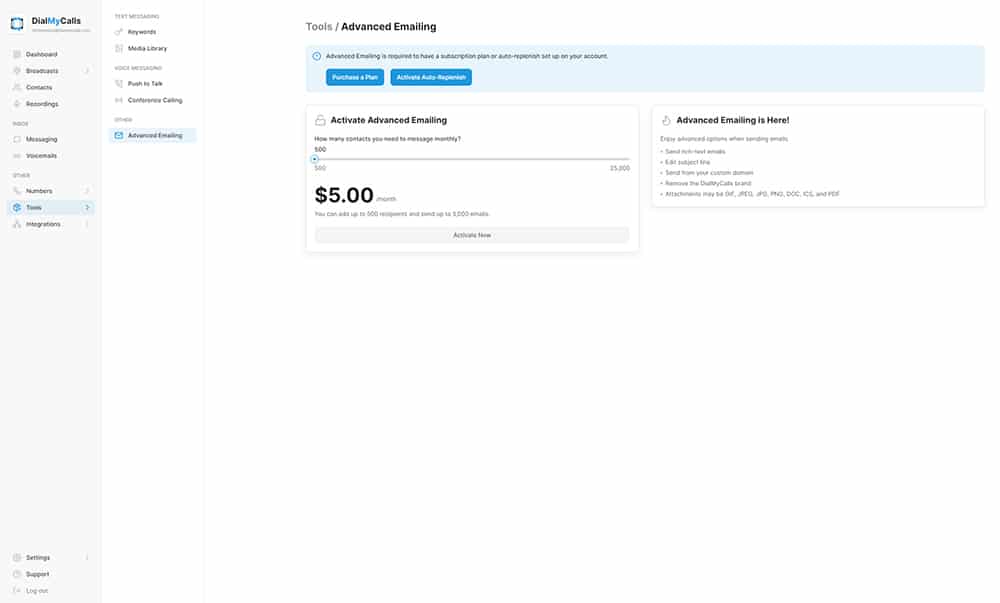 Next, you will need to set up your sender email. This step requires adding in records to your own email provider and verifying it within DialMyCalls.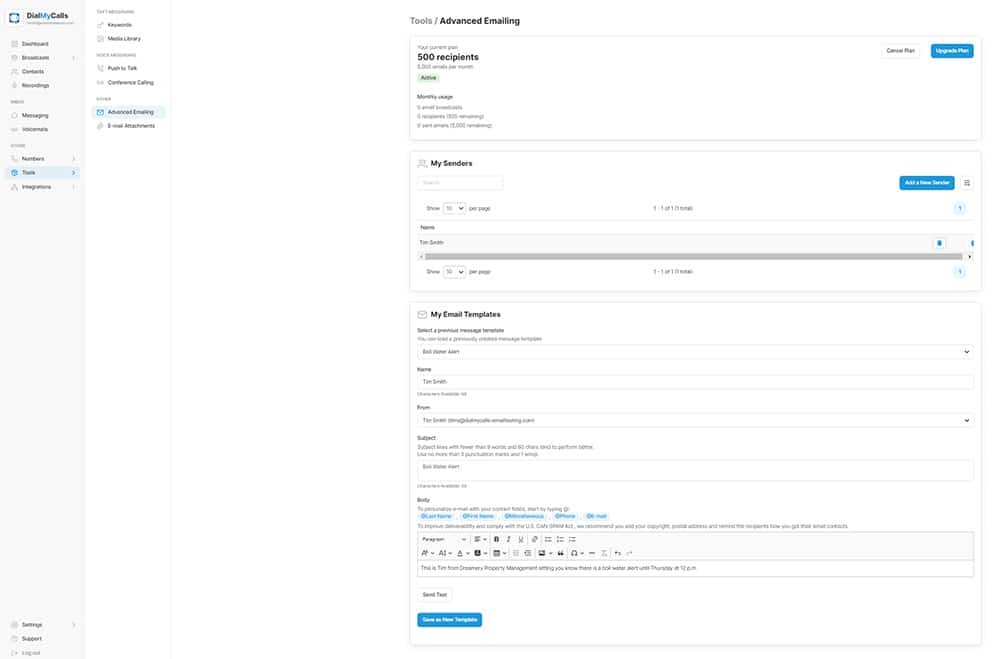 Once your "sender" email is activated, you will now be able to send out custom bulk emails from within DialMyCalls using your own email address. Create a custom html email and add attachments (up to 50mb) if you'd like. Once you have selected your contacts and created your email draft you can now send your bulk email, instantly!
What are the Benefits of the DialMyCalls Advanced Mass Email Service?
DialMyCalls is an industry-leading voice broadcasting and mass texting platform, which becomes even more robust by adding in an advanced mass email service. Customers can log into DialMyCalls and have an all-in-one bulk communication solution.
Add in all of your contacts and send them an automated call, text message and custom email with ease. We do recommend utilizing our automated calls and mass texting for your communication needs but you can send an advanced email all on its own. (A monthly plan or auto-replenish credits are required to purchase advanced emailing.)
DialMyCalls has simplified its user interface over the years, so we make it easy to manage your bulk emails with a mobile app, attachment management, html emails with variable messaging, and an email template management system.
Use Custom Email Domains
Instead of an email coming from support@dialmycalls.com you can now use custom email domains for bulk emailing. To utilize the custom email domain, you will need to verify the domain's DNS records with your provider with the information below:
DKIM Record
SPF Record
MX Record
TXT Record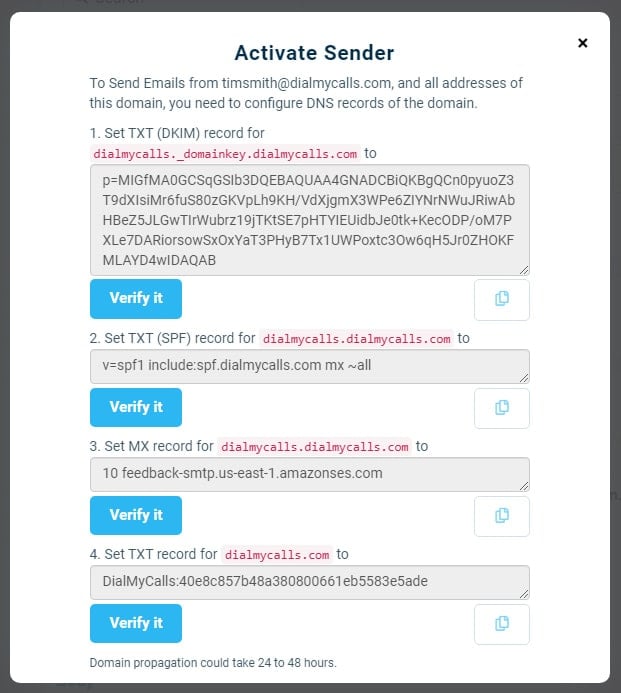 Domain propagation could take 24-48 hours. Once active, you will be able to send bulk emails through DialMyCalls from your own email.
Once the domain propagation occurs, your custom sender email will be marked as "Active" in your DialMyCalls account.
Send Advanced HTML Emails
Are you tired of generic emails? Using our advanced email automation software will allow you to send feature-rich emails with ease using an integrated WYSIWYG editor. Send recurring emails by utilizing DialMyCalls' bulk email templates in conjunction with our scheduling option to send out mass emails daily, weekly or monthly.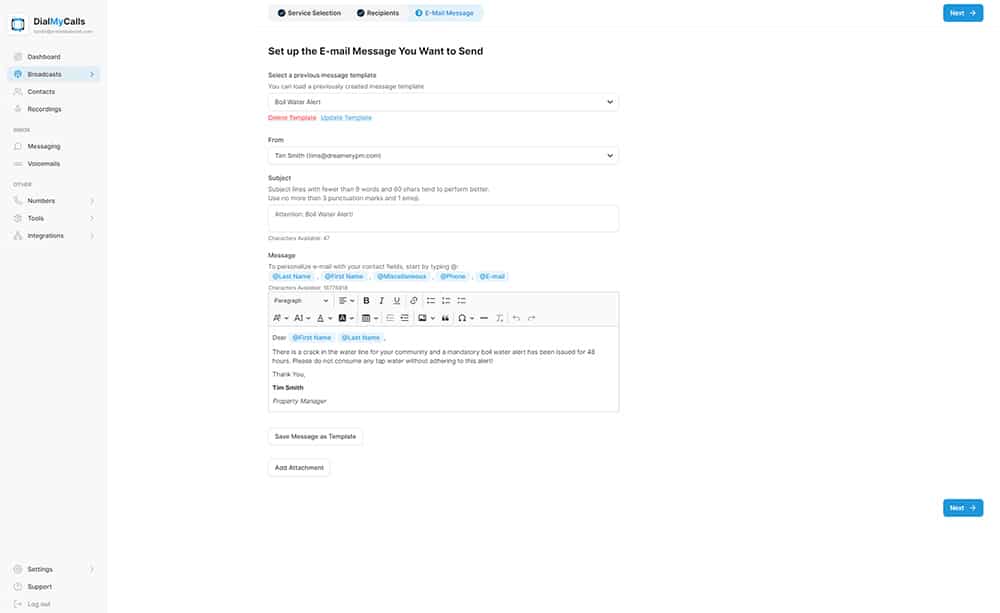 In addition to the WYSIWYG editor, DialMyCalls offers variable messaging which allows you to populate data from your contacts using several different variables from within your account.
Include Branding & File Attachments
Create unique email templates that include your company or organization's logo within the email. Send photos and documents by using the bulk email attachment option. Please note the file size limit is 25MB per email.

DialMyCalls has a separate section from within your account to manage your past email attachments. Spice up those email marketing campaigns by adding in branded images, documents and much more!
How to Send Advanced Mass Emails With DialMyCalls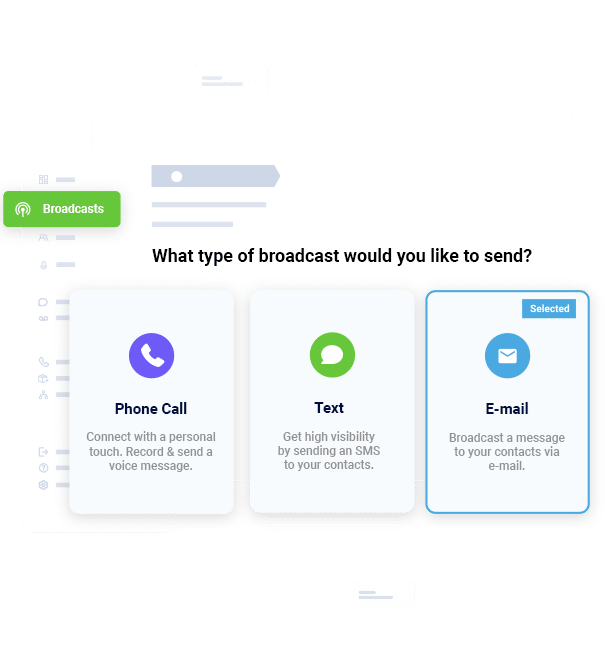 Once you have purchased one of the advanced emailing plans and verified your own custom domain for emails, you can follow the steps below to quickly and easily send your contacts a bulk email message.
Advanced Mass Email Service (Video)
Who Can Use Our Mass Email Service?
DialMyCalls' advanced emailing service can be utilized by a wide variety of organizations and businesses. From churches sending out updates to their congregation, to small businesses sending out marketing emails — the possibilities are endless when it comes to sending bulk emails.
Below are a few examples of how our new service can be used:
Setting Up a Mass Email Service for Updates
Our email automation software can be used to send updates to customers, employees, community members, and many more. Use DialMyCalls' bulk email to send out an important update via email in a matter of seconds — ensure nobody misses vital information by sending out a mass email in addition to an automated call and SMS text message.
Furthermore, you can personalize these update emails by using variable messaging in your message. The days of sending out important emails one by one are over. Start using DialMyCalls' advanced emailing today!
Using a Mass Email Service for Alerts and Reminders
Quickly and easily set up our bulk email service to send out appointment reminders, emergency alerts, and many more. Dentists can create a custom email template to send out automated appointment reminders while property managers can send out emergency alerts in regards to weather or boil water alerts.
Automate communicating with your patients, community, and many more by using DialMyCalls' brand new bulk email solution. Alerts and reminders can also be sent out via automated phone call and mass text message!
Setting Up Mass Email Marketing for Small Businesses
Small business email marketing can increase sales tremendously when adding it to your marketing arsenal. Utilizing DialMyCalls will make it easy for businesses to quickly send out an email to every customer regarding upcoming promotions or to simply thank them for being a loyal customer.
With our new mass email service, businesses can create personalized emails in bulk using our variable messaging feature. Create an email template using message variables such as "First Name" and "Last Name" to send a personalized email to all of your contacts at once.
Contact Us to Set Up Your Mass Email Service Today
Are you ready to try out our advanced mass email service? Create an account with DialMyCalls today and start using our bulk email sender to help simplify all of your communication efforts!
If you have any questions regarding our new email campaign services, please contact us and our support team will be more than happy to assist you!