Mass MMS Messaging to Send Images and Videos
Mass MMS messaging is an important tool for businesses in the modern age. The multimedia aspect of mass MMS text messages allows users to send pictures, videos, gifs, and sound files—which makes bulk MMS messages a vital tool in marketing, staff communication, and other business operations.
Web-Based MMS Service – Send MMS Online
DialMyCalls' mass MMS texting service is easy to learn and easy to use. If sending pictures or videos could make your marketing efforts more efficient or more effective, then DialMyCalls is for you.
DialMyCalls is available from any web browser or as an iPhone and Android app.
From this platform, users can send MMS text messages to anyone or everyone on their contact list. These contact lists can be added to or edited straight from the browser or app or imported from elsewhere. DialMyCalls' broadcast reporting allows users to see who has and hasn't received their messages and even engage in 2-way conversations with their audience.
Below, we detail some of the many uses for MMS messages, the difference between MMS and SMS, the specifics of multimedia messaging, and much more. If you like what you read, consider creating a DialMyCalls account to start using MMS today.
What is Bulk MMS Messaging?
Multimedia messaging is regular texting taken to the next level.
If you want to send a picture text, MMS text messages are the tool for you. They allow a user to send videos, images, or other multimedia files using the same cellular network that you would use to send normal SMS messages.
Because they're sent using a cellular network, recipients don't need to have access to the internet to access and view these files. Additionally, the limits imposed on the length or size of traditional SMS text messages don't apply to MMS messages.
Those without access to multimedia messaging services have a much harder time sending multimedia files or attachments. For example, an MMS message can include a picture. An SMS message could only convey a picture if it's hosted on a photo hosting site and the text message only contains a link to the content.
Eliminating this extra step makes the picture or content more accessible to recipients, allowing them to see attachments with minimal effort. This visibility is important when trying to get your recipients' attention quickly—for example, when sending out an MMS marketing message for business.
So in a nutshell, multimedia messaging is the process of sending pictures, video, or other multimedia attachments via text message. This is distinctly different from SMS messaging. Next, we'll jump into the explanation of SMS vs MMS messages.
Mass MMS Messaging vs SMS Messaging
If you've ever wondered how to send SMS picture messages, you may not understand the difference between SMS and MMS. In fact, what you want to send are MMS picture messages.
The difference between SMS and MMS messages is simple: SMS messages include only words or text. MMS messages include other multimedia content. Essentially, any message with a video, picture, gif, sound clip, or phone contact attached is an MMS text message.
Of course, MMS messages also allow the sender to send words. This is because SMS text messages tend to be limited to 160 characters. MMS messages do not have these limitations, so longer messages can be sent as one instead of being broken up and sent consecutively.
While SMS and MMS messaging are distinctly different, they also have aspects in common. For example, both are sent via cellular network. This makes them accessible anywhere in which there is a strong enough cell phone signal.
Examples of SMS messages include:
A text-only reminder message from a dentist about an upcoming appointment
A message from a friend that simply reads, "on my way."
A text message from a local boutique stating a discount code to be used online.
Examples of MMS messages include:
A message from the local animal shelter that includes a picture of a litter of kittens available for adoption.
A text from a doctor that includes a thirty second video about the importance of a flu shot
A reminder from a restaurant about the grand opening of their new location, accompanied by a map showing where it is.
An MMS Text is Technically Not a Text
Because of the very nature of MMS messages, referring to them as MMS text messages is actually incorrect. Text, by definition, refers to words. Instead of words, MMS messages include multimedia content such as pictures, videos, and gifs.
However, it's common to refer to MMS messages as MMS texts. This likely stems from the fact that the process of sending or receiving SMS and MMS messages is very similar. Many people use the term "texting" to describe all communication done in that way.
Understanding what an MMS message is, though, means understanding that at their core, MMS messages are not truly texts at all.
What Can You Send in an MMS Message?
DialMyCalls' MMS service provides users with the ability to send a variety of multimedia content to their audience. These include:
Images
Animated GIFs
PNG files
Additionally, any unsupported file types can be hosted externally and sent as links. Because of this, there are few limits on what can be sent via MMS messages.
How Mass MMS Messaging Software Can Improve Your Marketing
MMS marketing is a particularly useful tool for marketing teams. MMS marketing services can allow businesses to showcase their products and services even when they can't do so in person.
The visual aspect of pictures and videos sent via MMS messages can grab an audience's attention quickly and stand out from the usual barrage of marketing texts.
Pictures and videos can also increase a marketing campaign's reach if they're enticing enough. Audience members who are particularly impressed may choose to share these pictures or videos with others, allowing the marketing news to reach farther than the existing contact list.
Our Multimedia Messaging Service Lets You Send Messages in Bulk
DialMyCalls is a bulk MMS provider. That means that DialMyCalls users can send MMS messages to large groups of people simultaneously. MMS mass texts can be used to send a multimedia message to one person or one thousand people. Either way, the audience will receive the message within seconds.
Whether you're using DialMyCalls for MMS business messaging, school notifications, or sports team communication, it can be handy to get your message out to a long list of people all at once. This means that the entire audience, whether customers, employees, or others, stays on the same page and gets information as soon as it's available.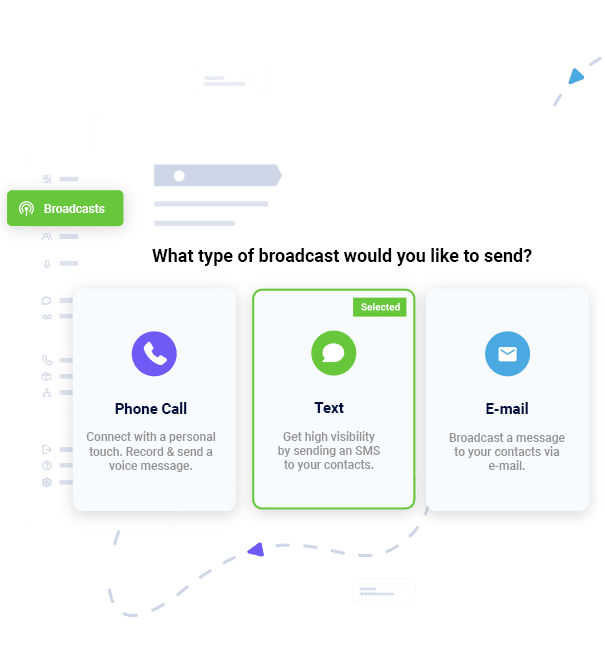 Sending MMS messages in bulk is just as simple as sending a single message. Instead of choosing one recipient, though, you can pick and choose from any pre-established contact lists. In situations where multiple people need to receive the same information, this can save hours of work for the sender.
Worried that bulk MMS messaging may harm your connection with your audience? Thankfully, two-way conversations can still be initiated and maintained via the DialMyCalls online dashboard.
What's more, even when you don't hear directly from an audience member, you can use your account to track whether or not they've received a message. This helps keep contact lists updated and relevant as time goes on.
Benefits of Using a Mass MMS Messaging Service
Mass multimedia messaging can benefit almost any group's communication. If you were wondering how to send an SMS picture, now you can be asking yourself how else MMS messages could benefit your organization.
Consider these various uses for an MMS message service.
Business MMS messaging can be used for customer communication or staff communication. For example:
Sending a business MMS to staff with a diagram of where new parking areas will be constructed
Using MMS marketing software to send out pictures of a new product design
Sports leagues or teams can also benefit from a multimedia messaging service by sending out:
Schools can use multimedia messaging too. Teachers, administrators, counselors, and other faculty members can send:
Pictures of students throughout the day
Churches, religious organizations, and nonprofits can use MMS messaging for marketing and member upkeep. Many use MMS messages to:
Send pictures that spur donations, offerings, or other financial contributions
Share scenes from outreach events
Organizations that use multimedia messaging for daily operations can also use them to communicate during times of crisis. MMS emergency notifications could include:
Audio clips warning of an approaching hazard
Pictures of damaged locations to avoid
Files detailing emergency procedures by location or group
How Does DialMyCalls' MMS Work?
Customers of DialMyCalls will need to purchase a Premium Monthly Package which start at $9.99 per month for 150 credits, pay-as-you-go credits or a monthly plan*.  Once enabled, customers can send the following attachment types vis MMS message broadcast (MMS messages are sent at 1 message per second and new file types are available by request):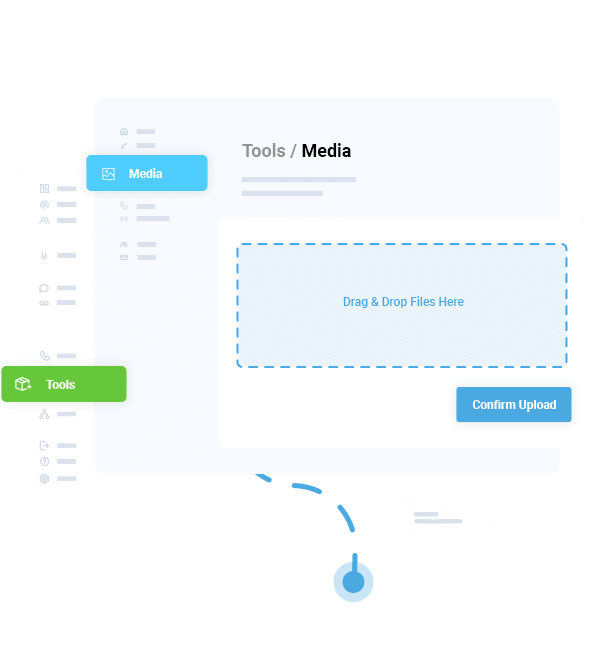 File Types Currently Supported (600KB Max File Size):
*MMS requires 2 credits per message, per contact to send out a broadcast through DialMyCalls when using pay-as-you-go credits or a premium monthly plan – MMS messages sent through a monthly plan will cost 4.5 cents per message, per recipient.
Learn How to Get Started With Mass MMS Today!
DialMyCalls' MMS service must be added by your account representative – for more information regarding how to get started sending out MMS messages through DialMyCalls, please contact us today!