Long Code SMS From Vanity Phone Numbers
SMS long codes provide the ability to utilize a vanity phone number for both text messages as well as phone calls. Setting up your own SMS long code is quick and cost-effective with DialMyCalls' mass notification platform.
Whether you are setting up a customer support ticketing system or automating event invitations for your church, long code SMS is your perfect solution.
What is Long Code SMS?
Long Code SMS allows you to send a text message from a local 10-digit phone number of your choice, rather than having to use a short code and SMS keyword. Simply purchase a Vanity Phone Number and you will then be able to send out text messages from that local number.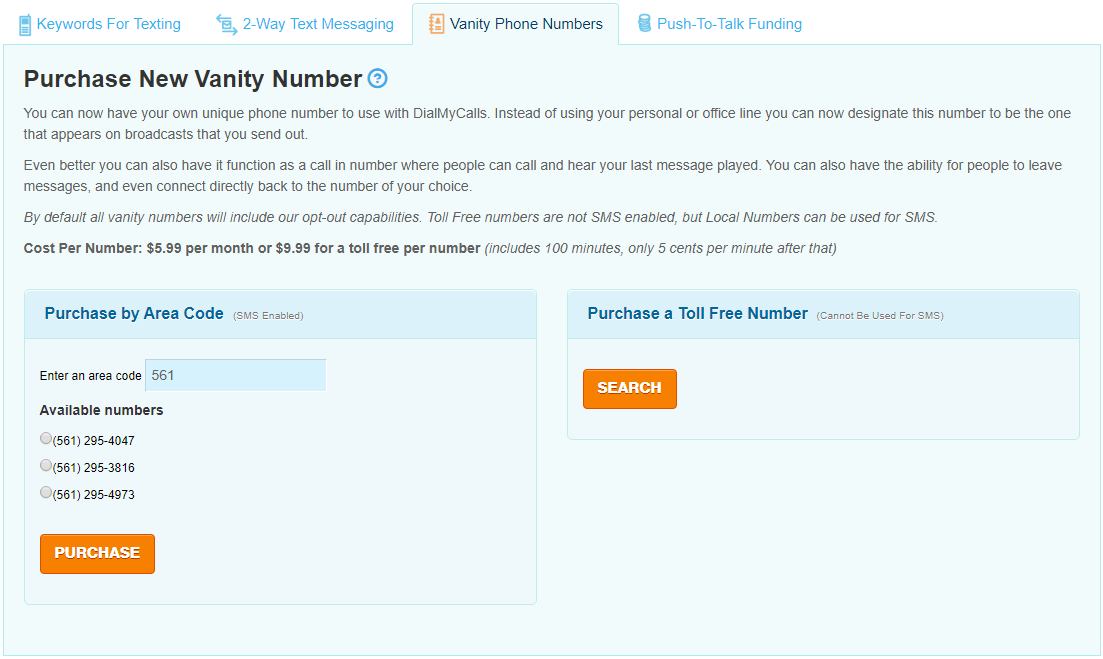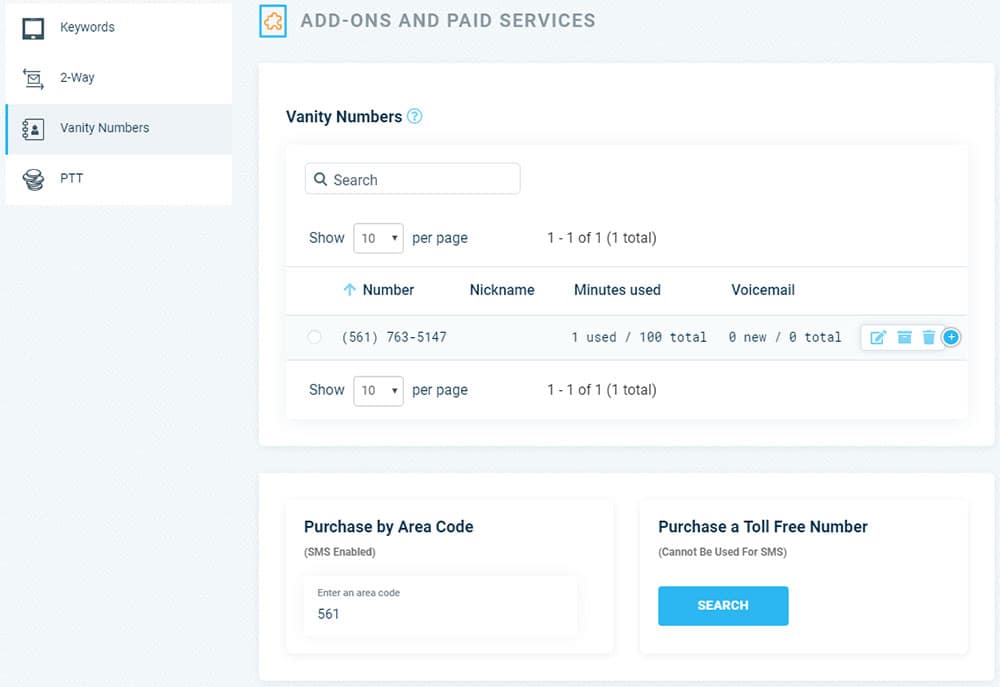 Business SMS Solution – Long Code SMS + Two-Way Text Messaging
How can you set up the perfect Business SMS solution? Companies can purchase a vanity phone number to use for text messaging. In addition to a vanity phone number, 2-way text messaging will allow for companies to communicate 1-on-1 with their customers, instantly. For example, a company can use Long Code SMS + Two-Way Texting to set up a customer support ticketing system — customers can text your long code and by using DialMyCalls' 2-way Texting, you will be able to start real-time chat session with them via text message.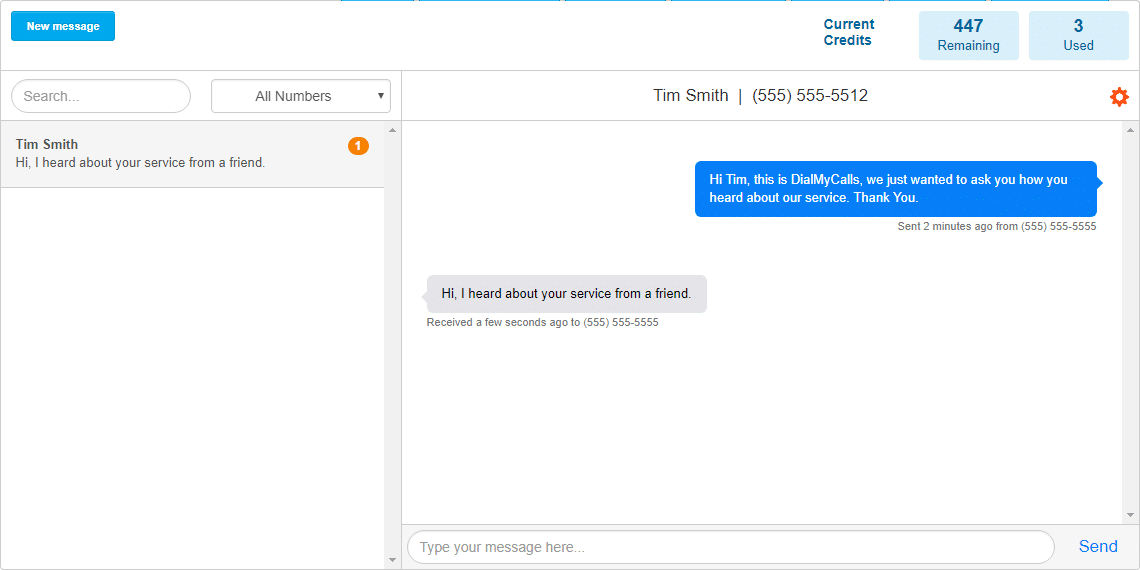 How Much Does Long Code SMS Cost?
Purchasing a vanity phone number to use for text messaging to set up a complete Business SMS solution will also include Two-Way Text Messaging — the package price is $19.99 per month. By combining the two, you will have the perfect text messaging solution for your business or organization. Send out text messages and instantly see the replies from within your DialMyCalls account. Below you will find the complete pricing breakdown of our Long Code SMS number and Two-Way Texting platform:
Business SMS Pricing
Monthly Fee: $19.99 every 30 days
Free Inbound Messages
Texts Included: 450 SMS Replies
Additional SMS Replies: 4.5/c per message
(Pricing Displayed Includes One (1) Long Code SMS Local Vanity Number and Two-Way Texting)
Long Code SMS Features
When purchasing a vanity number to use for text message broadcasts, you will receive a few new features that would not be available using our traditional short code SMS broadcasting system. Check out a list of the key features that are included when you purchase a long code SMS number:
Send Text Messages From a Vanity Number
When you purchase a vanity number for long code SMS you will then be able to send out a text message broadcast from that vanity number. Your recipients will see your vanity phone number as the sender instead of our short code, 80123. *When using a vanity number to send out text messages, texts are limited to one message per second (60 messages per minute).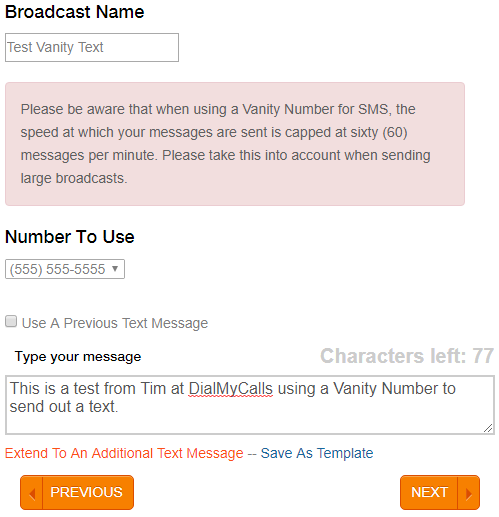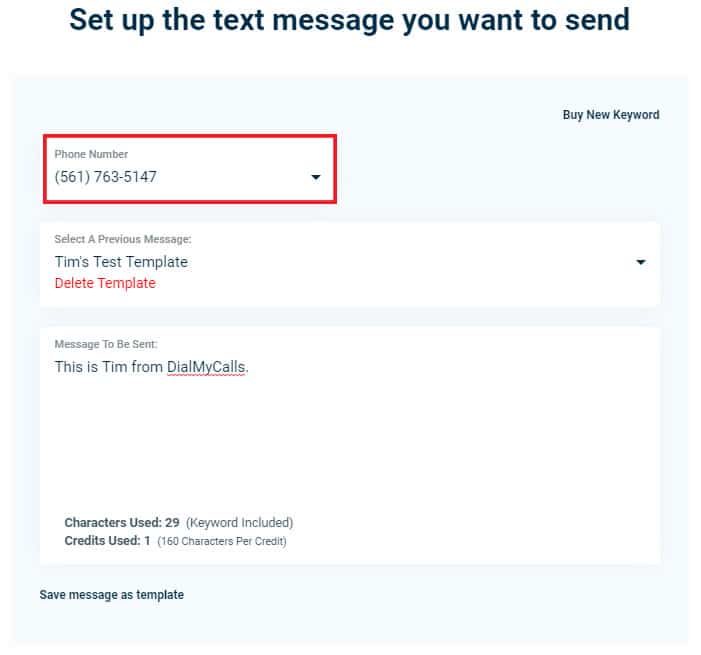 Auto-Response Text Message
Set up an auto-response text message for when people send a text to your long code SMS vanity number. For example, when someone sends you a text, it could send a reply back with "Thank you for your reply! Someone will contact you momentarily."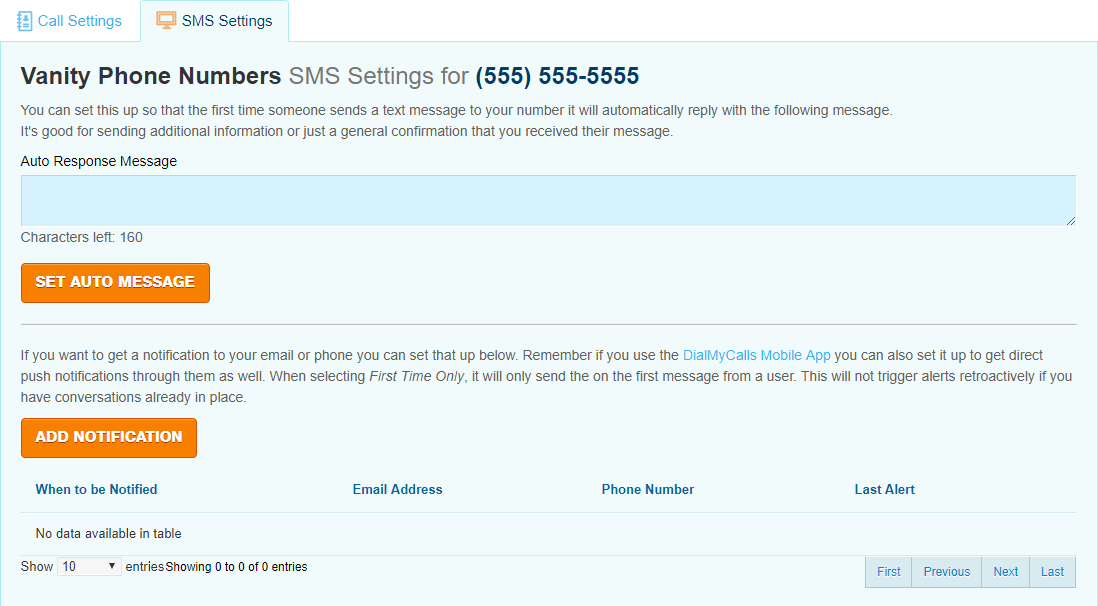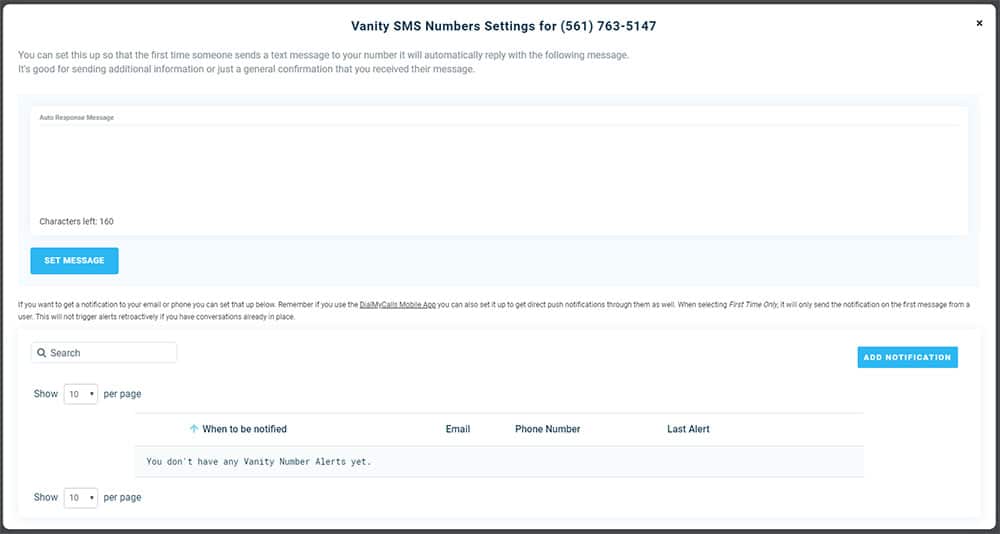 Email and Text Message Notifications
Do not miss an incoming reply to your long code SMS number by setting up automated notifications — you are able to receive a notification via email and/or text message.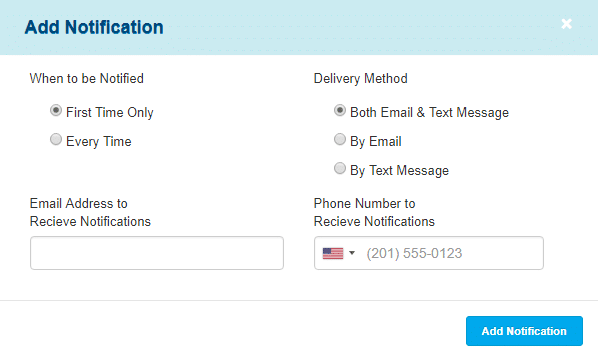 Advanced SMS Analytics
Stay on top of all text messages sent to and from your DialMyCalls vanity number with our advanced analytics. Members can view both incoming and outgoing text messages as well as incoming calls to their personal vanity number — you are able to export a CSV of your messages as well.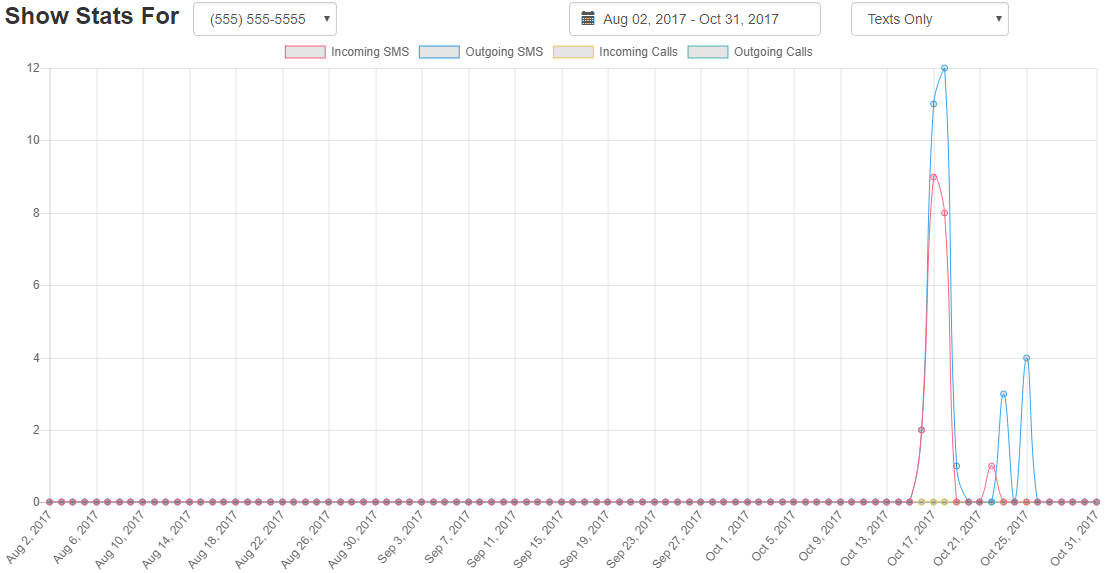 How Can You Use Long Code SMS?
Many businesses and organizations can utilize the power of Long Code SMS and Two-Way Text Messaging. Below are a few examples of how different organizations are able to use our complete Business SMS solution:
Businesses – Customer support is the most important part of any business and DialMyCalls can help you keep in touch with your clients. Setting up Long Code SMS and Two-Way Texting will allow your customers to send in a support request via text message – you will then be able to respond instantly to their request from within your DialMyCalls account. Our threaded two-way text message chat window will allow you to easily communicate with customers that require assistance.
Churches – Give members of your congregation a direct link to the pastor at your church via text message. Churches can also utilize our business SMS platform for prayer requests and to ask for volunteers for upcoming events. Mention that you are in need of volunteers for a church event and have your congregation members text into your long code SMS number, letting you know if they are able to help out.
Sports Leagues – Coaches and league managers have a lot to handle when it comes to sports leagues, especially when it involves younger kids. Give out you local vanity number to every parent and player before the season begins and let them know that if they ever have a question regarding game times or practices, to simply text that Long Code SMS number — quickly and easily reply to parents or players, anywhere, from your DialMyCalls account.
Nonprofits – Are you looking for volunteers for an upcoming food drive? Maybe you need to assemble a team to work a local charity event. By signing up for Long Code SMS and Two-Way Texting you are able to easily communicate and recruit volunteers for your nonprofit. Give out your vanity number and have volunteers text in to you, letting you know if they will be able to help out at your upcoming food drive or charity event – view responses in real-time from within your DialMyCalls account.
Real Estate Agents – Real estate agents can utilize Long Code SMS and Two-Way Texting to communicate instantly with potential home buyers. A client that is looking at a specific house can simply text into the realtor's long code SMS vanity number, asking for more information. The realtor can then reply instantly from within their DialMyCalls account, sending the requested details.
Is Long Code or Short Code SMS Text Messaging Better for Me?
Long Code SMS Text Messaging
Long code SMS text messaging is easy to set up and affordable, but it's not perfect. Let's talk pros and cons now.
Long Code Pros
More affordable – Registering and using a long code SMS number is very inexpensive, making it a good choice for small businesses.  You can register a long code SMS vanity number to use with our 2-Way SMS text messaging platform for only $19.99 per month.
Instant setup time – Upon registering a Long Code SMS number, it will be immediately available in your DialMyCalls account to begin sending and receiving text messages.
Supports voice calls and SMS – Long codes support basic phone functionality, including voice broadcasts and text messaging.
Use a local phone number – You can register a 10-digit number with a local area code when using long code text messaging. This can help you if you run a local business – customers are more likely to read a message from their own area code, even if they're unfamiliar with the number. Churches and schools can benefit from a local number as well – congregation members, students, and their parents can be made aware of your number so text messages do not get ignored.
Long Code Cons
Limited number of messages can be sent per minute – Long code SMS numbers are not designed for mass messaging of hundreds or thousands of customers. They're intended for 1-on-1 conversations.Because of this, long code SMS numbers can only send 1 message per second – 60 per minute. While this is fine if you are only using your number to communicate with customers, it's far from ideal if you need to send hundreds of messages instantly.
Short Code SMS Text Messaging
Short code SMS text messages are typically a better choice for businesses with large-scale marketing needs. Let's take a look at their pros and cons now.
Short Code Pros
Can send up to 40 messages per second – Short codes have been purpose-built for high-volume texting applications, so you can send many more messages with a shortcode – 40 per second, adding up to around 2400 per minute. This is more than enough for almost every business using SMS marketing.
Keyword integration – Short codes allow customers to opt-in to future messages with a specialized keyword. This allows you to more quickly gain a larger customer phone number list, and makes it easier to market your company.For example, a user could sign up by texting the keyword "FORSALE" directly to your custom SMS shortcode.
Short Code Cons
Much more expensive – Short codes are tightly regulated, and very expensive to use. "Shared" codes are cheaper than dedicated shortcodes, but the average price ranges from $3,000-$4,500 a month for a short code.
Requires a waiting period for activation – It may take several business days, or even weeks, for your short code to approved, due to the tight regulations surrounding SMS shortcodes.
Only capable of SMS messaging – Standard short codes cannot receive phone calls, so they're only useful for SMS text messaging.
Not available internationally – Each country has different regulations for SMS short code use, so short codes cannot be used internationally.
Set Up Your Own Long Code SMS Texting Solution Today!
Create an account with DialMyCalls today to set up your own Long Code SMS texting solution today. Start off by selecting your very own local vanity phone number and then purchase 2-way text messaging to start interacting with your customers or members today immediately.
Create An Account Today And See Why 1,000s Of People Rely On Us