Text Message Polling and Survey Software
High quality text message polling software is hard to come by. Try DialMyCalls' text polling software that makes a text to vote service a reality with a user friendly service for organizations of any size.
About Our Text Message Polling and Survey Software
DialMyCalls' text message survey tool is ideal for a variety of polls and organizations. Our text polling software is easy to use, affordable, and versatile. The DialMyCalls' text survey app allows users to send out polls from a browser or on the go.
If you're looking for a text survey poll, then we have the best option for you.
Easy to Use. DialMyCalls' text polling software is user-friendly in that no technical expertise is required. Every step of setup and sending is simple to do. The platform can be accessed by multiple users, meaning that a single account is all it takes for multiple senders to collaborate on a message or contact list.
Affordable. A text message survey tool doesn't have to break the bank. You only pay for the messages you send, making it especially ideal for those sending out text surveys sporadically or to groups of varying sizes.
Versatile. DialMyCalls is also versatile in that messages can be sent via text, voice call, or email. While text polling software is important, the follow-up from such communication can be just as important, and may be more suited to a phone call, email, or additional text message.
How a Text to Vote Solution Works
Vote SMS technology should never be more of a hassle than it is a benefit. DialMyCalls' SMS voting system is simple, and can be broken down into three easy steps.
Follow these three steps to send out a text message survey:
Create a list of contacts to receive the text message survey. You can import contacts upon making your account, or manually add them as time goes on. This full contact list can then be divided into smaller, more specific lists who may need to receive specified text surveys.
Draft your poll. DialMyCalls' text polling software allows you to write your message in advance or at the spur of the moment, making sure you can send a survey when it's most convenient for both you and your recipients. Be sure to include the voting options in your message so that recipients know how to reply.
Wait for results. You'll receive up-to-the-minute responses compiled right into your DialMyCalls dashboard. As your audience replies to your text with the answer, these responses will be presented to you so that you know what your audience is thinking as soon as possible.
Create Text Message Surveys and SMS Polls
DialMyCalls' text polling service can be used to conduct both surveys and polls, depending on your need. What's the difference between a text polling service and a text message survey?
Text message polling allows your audience to vote on their answer to a question. This could include players voting on a practice schedule, employees voting on a new policy, or neighbors voting on a new head of the homeowners association.
Text message surveys, on the other hand, allow your audience to provide their own answer instead of choosing one that you supply. These could include more open-ended questions, such as asking teachers for recommendations for student of the month or donors if they have any questions for your nonprofit.
How to Send a Survey Via Text Message
DialMyCalls' text survey tool allows recipients to simply reply to a text poll or survey just as they would a regular text.
Their response ⁠— either a single letter or number to vote in a poll, or a full response to a survey question ⁠— is compiled with those of other recipients within the DialMyCalls online text polling software dashboard.
Personalize Text Polling Replies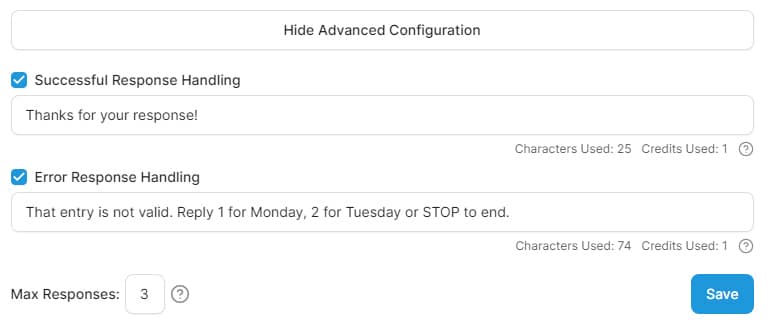 Take your text polling one step further by personalizing the response your recipients receive when they answer your poll — set an automatic reply for a successful response and you can also set an error message that will be sent if they choose an incorrect reply.
SMS Text Survey Examples
For the recipients of a text poll survey, the poll or survey itself appears as just a normal text message. While the text polling software allows the user to format messages a little differently, the messages themselves send like regular texts.
This is part of what makes text message surveys so simple. While there's a slight learning curve for the sender, recipients need only know how to text to respond to an SMS poll or survey.
Multiple Choice Text Message Poll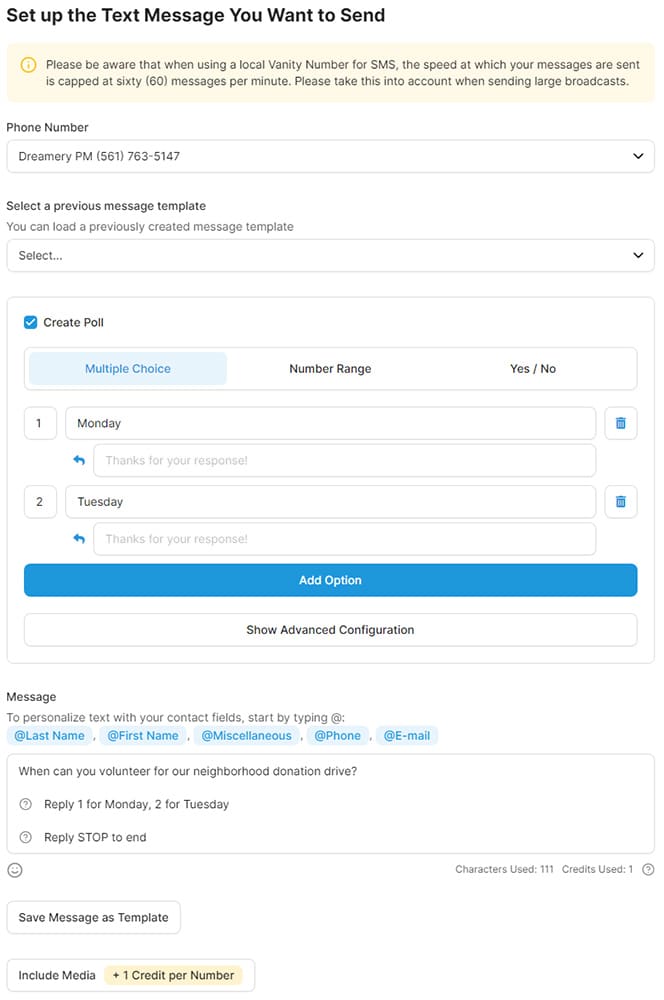 Multiple Choice Text Message Poll (Recipient)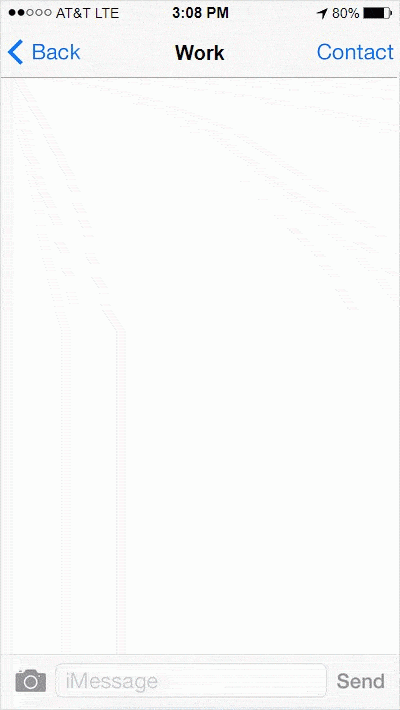 In your DialMyCalls account, you can choose the multiple choice option to create a list of responses for your recipients to choose from. Ask a question via mass text message and then have your opted-in customers or text message list subscribers send their reply back — all replies will be available from within your DialMyCalls account. Personalize your text message poll by utilizing variable messaging – add your contact's first and last name to the text message to make it unique for every individual that receives it.
Number Range Text Message Poll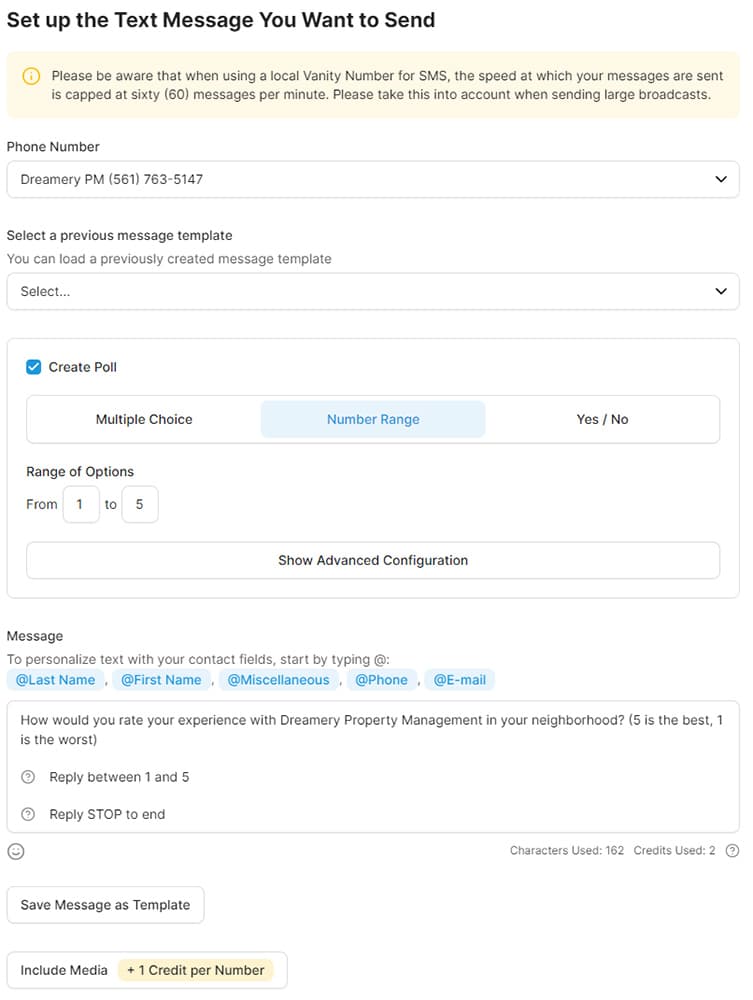 Number Range Text Message Poll (Recipient)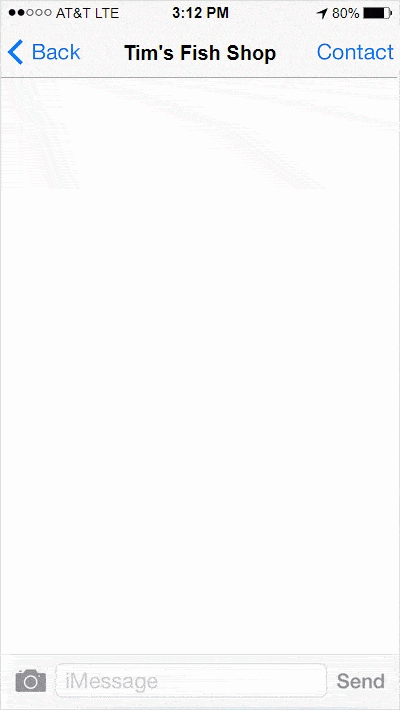 Number Range Text Message Poll (Report)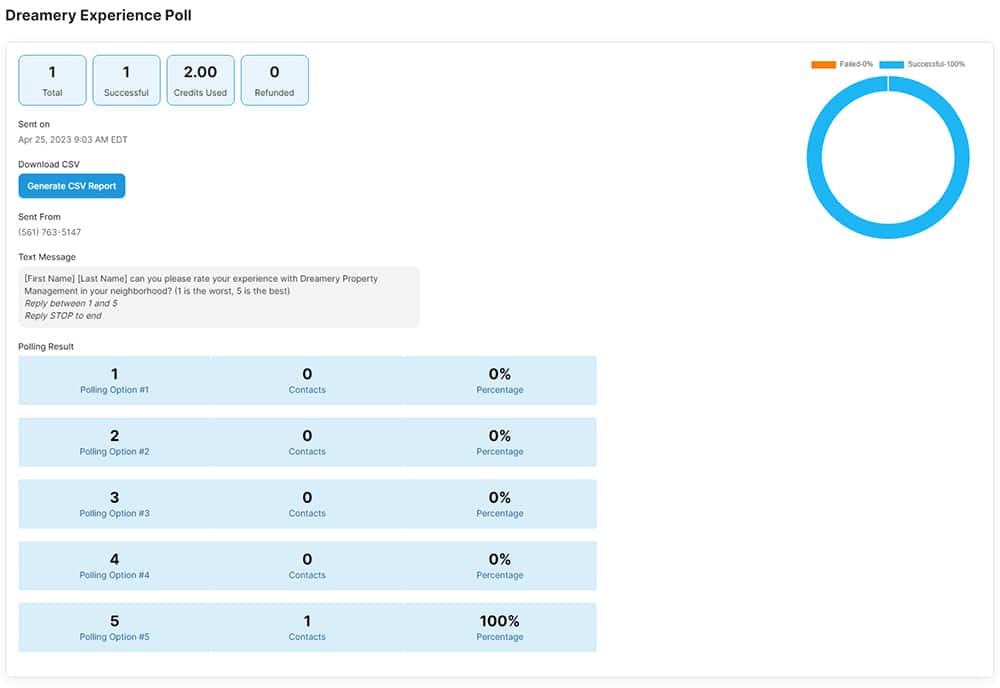 The number range option is perfect for sending out text message polls in regards to customer satisfaction. Create an SMS poll asking your customers how their experience was with your small business. They can reply a rating from 1-5 with 5 being the best and 1 being the worst. Make sure you are always offering the best customer experience possible by collecting feedback from your customers via text polling — learn and grow from any bad experience that a customer may have.
Yes/No Text Message Poll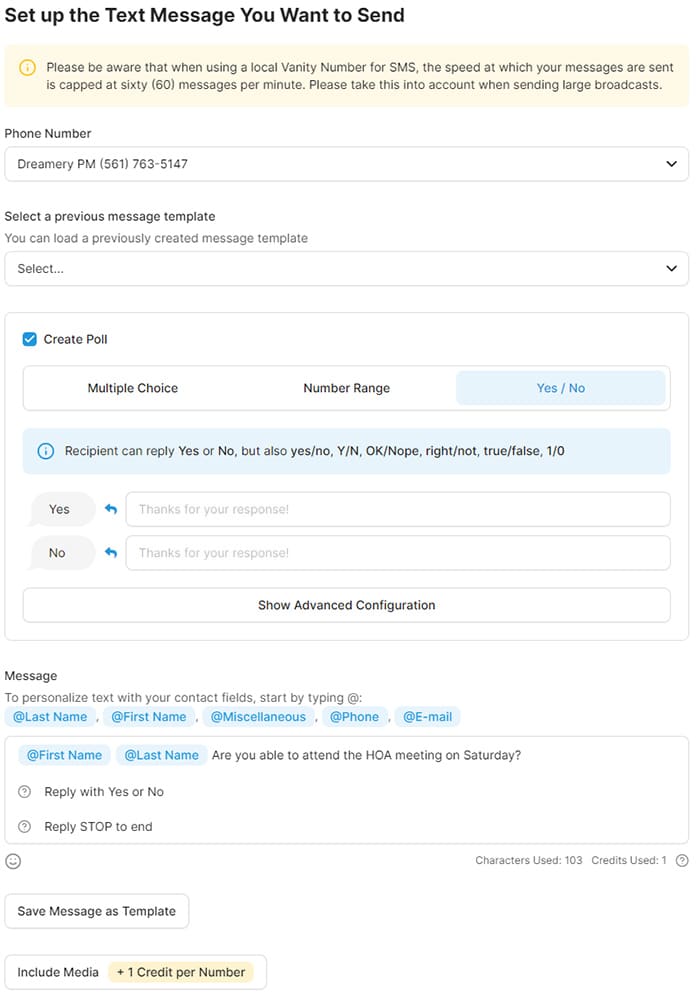 Yes/No Text Message Poll (Recipient)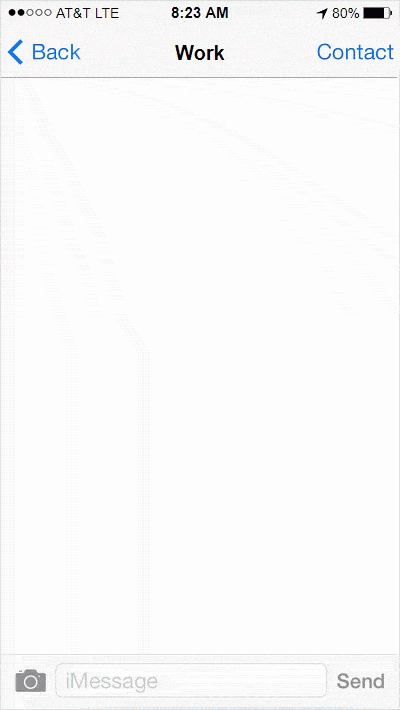 Keep it simple with DialMyCalls' Yes/No poll. This is by far the quickest way to set up a text message poll and get results instantly. Your recipients will be given the option to reply with Yes or No. These variations of Yes or No: yes/no, Y/N, Ok/Nope, Right/Not, True/False, 1/0 also work as replies for this type of texting poll.
Why Conduct Live SMS Polling?
Live text polling can be a particularly daunting concept. Is it even worth it? What are the benefits of live polling facilitated by text polling software?
A live audience polling text is exactly what it sounds like. It allows the sender—and in many cases, the recipient—to see results of a poll in real time.
Often, this poll is conducted in a group setting, such as during a conference. Attendees are told to send a message with their answer to a specific number, which allows the results to be compiled by DialMyCalls' text polling software and displayed by the organizer.
However, the poll can also be done with recipients in various locations. To do so, the user can send their audience a message as a prompt, and watch the results come in live as recipients respond from their own phones.
Live text polling provides the benefit of immediate feedback. Not only the user knows what options are most popular, but the voters themselves if needed. Both organizers and responders know which answer is winning and how many people have contributed answers.
Types of SMS Polls Sent by DialMyCalls Customers
Text message based surveys have a variety of uses in a variety of fields. DialMyCalls' text polling software can be used to send text message surveys to employees, donors, volunteers, church congregations, students, faculty, event attendees, and more.
Consider the following uses for our text polling software:
Nonprofits can use text message surveys to reach out to the communities they serve and find out what new needs have arisen or how their current programs are performing.
Project teams in the workplace can use text message polls to find times when all members are available for meetings.
Conference presenters can use live text message surveys to field questions from attendees in real time, adding relevance to their presentations and leveraging the power of data.
Employers can use text polls to take a quick survey of all employees at a particular location in the aftermath of a natural disaster or other emergency.
Coaches can use text polling software to help coordinate team schedules for practices or games.
Teachers can use live SMS polling in the classroom to test student knowledge or ask for immediate feedback on lesson comprehension. The entire poll can be accomplished with cell phones, saving the cost of extra devices.
Receive Thousands of SMS Text Survey Responses in Minutes!
Another benefit of DialMyCalls' text polling software is the sheer number of messages that can be sent and the sheer number of replies that can be received, all in a matter of minutes.
It's easy to vote with SMS. This ease of use allows recipients to get their responses in quickly. Because thousands of replies can be processed in just minutes, you can have your answers and feedback almost instantly.
Getting such quick feedback via DialMyCalls' text polling reports allows you to make decisions quickly while still taking everyone's opinion into consideration.
Additionally, your decisions can be made more accurately. There's no reason to lower your sample size when you can poll everyone at once, allowing you to get a more complete look at your data sets.
What's more, the ability to send all of the surveys simultaneously ensures that all recipients feel equally valued. You don't have to choose whose opinion is more important or who should receive it first, as the difference between delivery time should be negligible.
When more people can provide input faster, your decision making process can move quickly while also taking into account the opinions or knowledge of your audience.
Why Use DialMyCalls As Your Text Message Survey Tool?
We think it's clear that DialMyCalls' text polling system is the easiest to use text to vote app and web-based system. Text message surveys can be tricky, but our SMS text polling software makes it simple.
With a user-friendly interface and both desktop and mobile capabilities, DialMyCalls' text polling software is easy to learn and to master.
In addition to sending out a traditional text message poll, DialMyCalls offers the ability to use MMS to send images alongside the text portion of the poll. Spice up your poll by adding an image that will draw attention from your recipients.
The program can also handle thousands of text message surveys at once, allowing you to get quick, accurate results. This improves your decision-making process.
DialMyCalls offers a fast, accurate, and affordable text polling software that makes text message surveys and SMS polls a breeze. Sign up for an account today to send out your first SMS poll!