Landline Texting Service Provider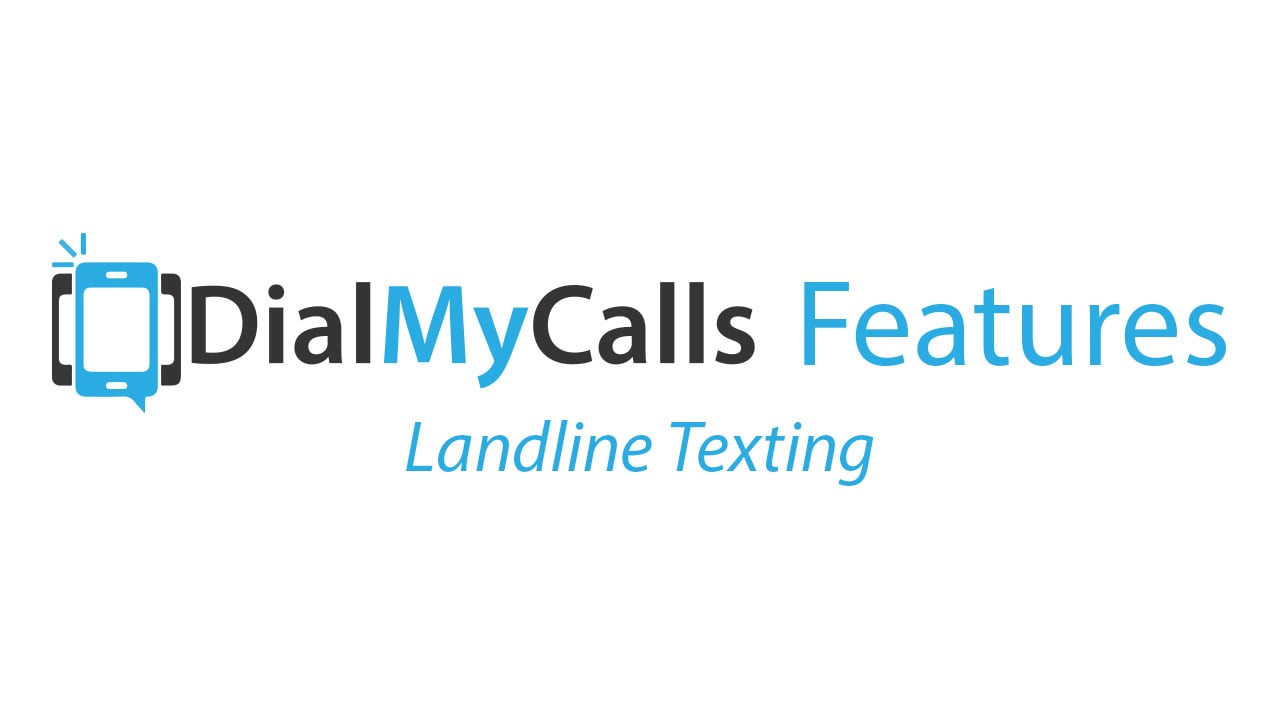 How can you send a text message to a landline? Using modern technology, DialMyCalls lets you easily both send and receive messages to your existing landline number.  We're simply able to text-enable your existing landline number, without needing to change your phone service or modify anything with your current provider. Let's break down how you can set up and use a text to landline service for your business or organization using DialMyCalls' business texting solution.
Landline Texting for Business Solutions
If you have an existing landline for your business you're mostly likely missing text messages from them.  Some people prefer texting over calls so will automatically try to text your number before ever calling it.  Do you wish that you could have 1-on-1 conversations with your customers via text message? In today's day and age, mobile phones are the go-to communication device for a majority of the population, with text messaging quickly outgrowing traditional phone calls.
How To
Receive

and Send Text Messages From A Landline Phone Number (Video)

Adding our text to landline solution to your business would help increase profits as well as create a more seamless experience for customers – give them the option to choose to contact you via phone call or text message.
Text Enable Your Business Phone Number
DialMyCalls has made the process of adding texting to your business phone number, quick and easy. With a few simple steps, you can bring your old business landline number into the age of text messaging. Customers with a toll-free or local landline number can add texting at no additional cost.
Send Landline Text Messages Now
Sign Up For An Account Today!
Sign Up Now!
Using our existing 2-way business texting software, DialMyCalls can enable text messaging on your business phone number within 24 hours. Now instead of having to purchase a completely new phone number that supports SMS, you can keep your existing landline number – this makes it easy for existing customers of yours to keep in touch with you while giving them the new option of sending you text messages.
Text to Landline Works for Any Business or Organization
Who can use a text-enabled landline? Everyone can benefit from adding the ability to send SMS from landline phone numbers already established by a business or organization. Give your customers or members the choice of contacting you via phone call or text message. Below are a few ways various businesses and organizations can benefit from DialMyCalls' text message delivery with your landline:
Employee Alerts: Connect your landline number to DialMyCalls and enable text messaging to set up an employee alert system – allow employees to communicate with managers and other employees via text message in addition to traditional phone calls.
Customer Feedback: Use a text-enabled landline number to increase the amount of customer feedback you receive and boost your company's overall customer satisfaction rating.
Appointment Reminders: Send out appointment reminders from your office landline number as both a text message and a phone call to ensure your message is received.
Prayer Requests: Have congregation members text into your church's landline number for prayer requests. Church officials can respond back using DialMyCalls' two-way texting platform to let your congregation members know the prayer request was received.
School Cancellations: School officials and teachers can quickly send out a mass text message to all parents and students from their school's landline phone number using DialMyCalls and our landline text message service.
Have a Text Messaging Option for Customer Support
Business phone text messages are changing the way in which customer support is handled. Adding the ability to send and receive text messages from business landline numbers increases the amount of customer support your company can offer. Traditional phone calls can be extremely time-consuming, depending on the length of each phone call.
A text to landline for customer support will not only allow your employees more time to focus on the growth of your company but it will also allow them to take care of more customers, ensuring your company stays in good standards. Let your customers know that any time they have a question they can simply text your company's phone number and a member of your support team will contact them within a few minutes, right from your DialMyCalls account – the turnaround time when using customer support texting is extremely quick and efficient.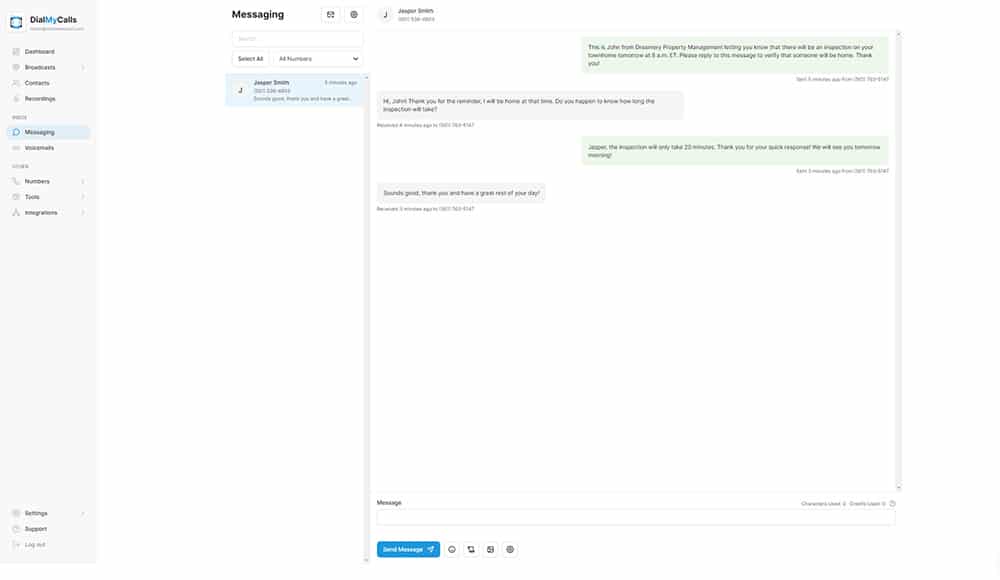 You can also add your SMS-enabled landline phone to Google My Business. The listing that appears in Google will show customer's, both old and new, the option to send you a message in addition to calling – receive those text messages from Google right into your DialMyCalls account and then you can begin a 1-on-1 conversation with that particular person that is interested in your company.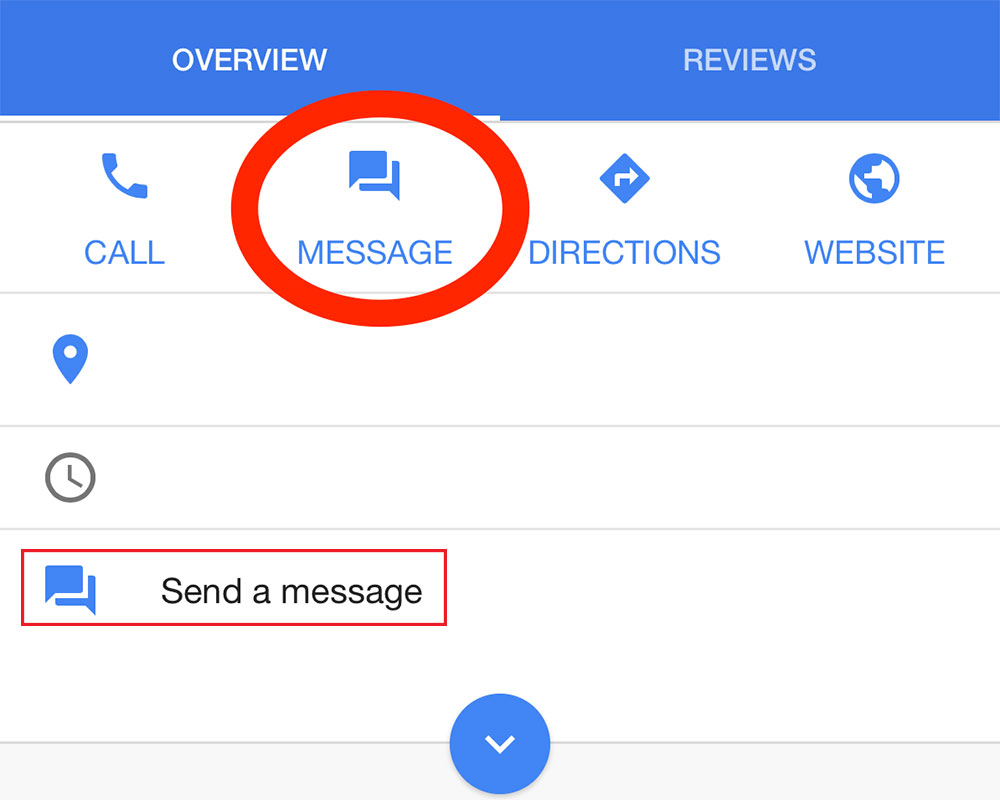 Use Your Existing Phone Number for Text to Landline
Customers that would like to enable text messaging on an existing landline phone number can do so within 24 hours. Traditional landline number providers do not exclusively control both phone calls and text messages like a mobile phone provider does. Phone calls and texting are completely separate which means that your landline phone calls will still be through your main provider while the texting option will be through DialMyCalls.
To send out and receive text messages on your existing landline phone number you will need to log into your DialMyCalls account. All text messages received will be viewable in our existing two-way texting platform and you are able to send out text messages to your contacts by choosing your landline phone number as the caller ID on a text broadcast through our system.
How to Text-Enable Your Existing Landline Number
DialMyCalls' new landline texting service offers customers the ability to text-enable their existing landline phone number right from their account. Once you have logged into your account, click on "Tools" on the left of your screen and from the menu, click on "Text-Enable Landline".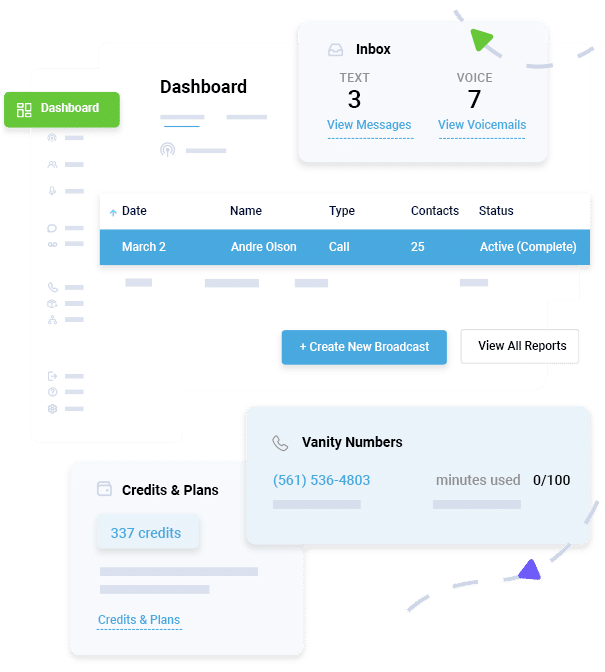 You will now be asked to input the Landline number you'd like to text-enable – please keep in mind that it must be a landline, it can NOT be a cellphone number.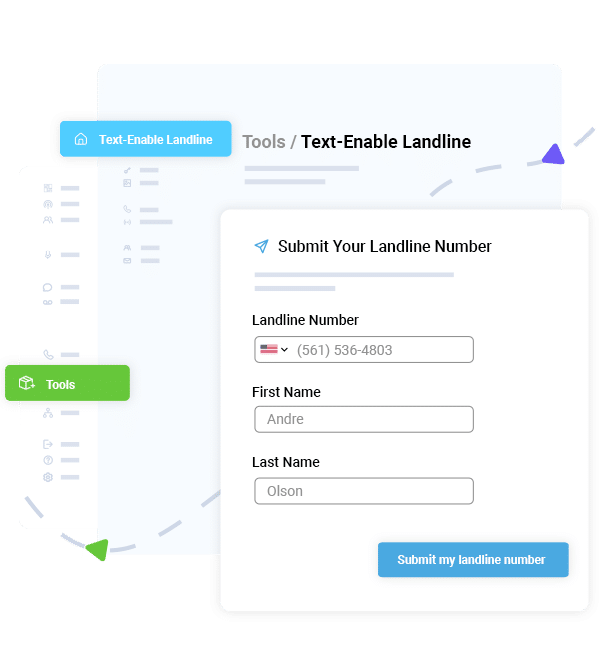 Once you've submitted your request to text-enable your landline phone number, you will receive an email from our support team – upon approval your landline number will be automatically added to your DialMyCalls account to be used with our mass texting service as well as our 2-way texting.*
*While our service to text-enable your landline number is 100% free, you must have credits or a monthly plan to send out mass texts using our system – creating 1-on-1 text message conversations with your text-enabled landline number requires our 2-way texting service to be activated.
How to Text From a Landline to a Cell Phone
Once text-enabled, you will now be able to not only receive text messages to your existing landline phone number but you will also be able to send out SMS broadcasts from that number to your contacts. DialMyCalls' web-based service makes sending out a mass text to all your contacts, from your text-enabled landline number, a breeze!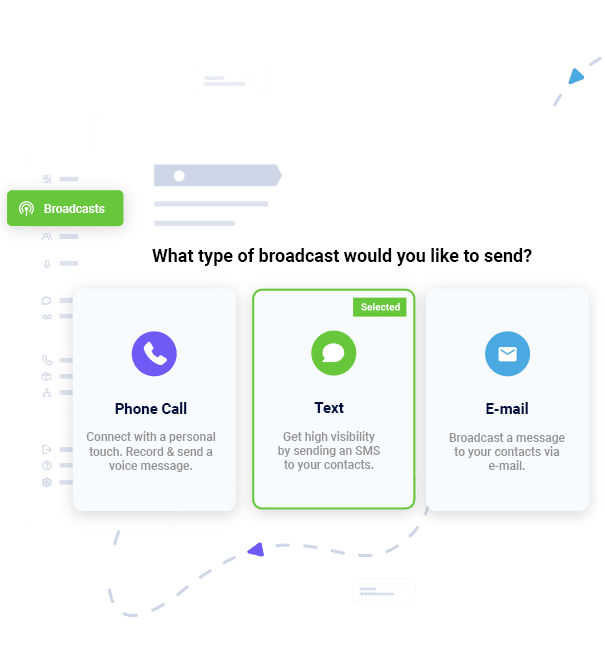 Simply log into your DialMyCalls account and within a few minutes you are able to send out a text message, from your business' landline number, to all your contacts at once. Start a new broadcast, select the contacts you want to receive your text, choose your business landline number as the caller id, type out your text message, and hit send! That's it!
Your text message will now be sent out to every contact you selected and will show up as coming from your business' or organization's phone number. All landline text message replies will be available in your DialMyCalls account and can be viewed if you have our 2-way texting option enabled.
Set Up Your Own Text to Landline Service Today
DialMyCalls' business texting solution makes it easy for you to upgrade your landline phone number to be able to send and receive text messages. Landline texting is the perfect tool for businesses of all shapes and sizes – step up your communication game by adding texting to your business phone number today!
Sign up for a free account with DialMyCalls and set up your own text-enabled landline phone number today!
*You'll be able to remove our "text-enable" feature at any time through the DialMyCalls control panel. You will still have full ownership and control of your phone number. This form simply lets us temporarily allow text messaging until you no longer need it.