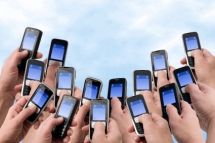 Businesses using text messaging for promotional use are required to follow all the FCC and your state laws regarding sending automated phone calls or texts. Your customers are required to opt in to receive any kind of message from you, and you must never send any kind of unsolicited message. For texting you can have your customers opt-in to a list via text message, for example text COMPANY NAME to 80123 (our short code), which will opt them in to texts from you.
DialMyCalls is pleased to announced that we now offer our customers the ability to create an SMS reply service – most commonly known as two-way text messaging or inbound texting.
Along with our voice broadcasting services, we have offered text message alerts for quite some time now. Those text message alerts just got a complete overhaul as we now offer the ability to set up an SMS reply service (2 Way SMS). What exactly is two-way text messaging and how can it benefit you and your business or organization?
An SMS reply service, otherwise known as two-way text messaging allows you to send out thousands of text messages and then receive replies to those messages within your DialMyCalls control panel. Let's use a church in our example at how this brand new inbound texting service can be extremely beneficial.
Your church is throwing a charity picnic over the weekend and you want to text message your entire congregation. If you already have a DialMyCalls account then you should have your churchgoers' phone numbers already imported into your contact list. Once you make sure you have enough credits to send everyone a text message (1 credit = 1 140 character text message) then you will need to sign up for our inbound text messaging service – it only costs $19.99/month for an unlimited amount of SMS replies)
Upon adding the new two-way text messaging service to your DialMyCalls account, you are now ready to go. Write up a text message that you would like to send out to your entire church congregation, for example: "We are hosting a charity picnic this Sunday at our church, please reply if you are coming and what you are able to bring." Since you just signed up for our new inbound text message feature, you will now start receiving replies from everyone that you sent your message to.
All your church members have to do is simply reply to your text message and the results will show up in your DialMyCalls control panel. You can now keep track of how many people will be attending your charity picnic as well as who is bringing what!
Don't waste any time, sign up for the brand new SMS Reply Service, Two-Way Text Messaging (Inbound Texting) and start reaping the benefits today!
← Previous Article
Next Article →
Sign up now and try our services for free!
Use the promo code DMCBLOG and get 25 free extra credits