DialMyCalls Bulk SMS Chrome Extension
With the DialMyCalls Chrome Extension, anyone can send SMS (text) messages right from their computer. You can easily create a text message and send it out!
Sends Texts From Chrome
Dial My Calls mass texting app can now be added directly to your web browser using the brand new bulk SMS Chrome extension. Sending SMS on Chrome has never been easier with our free extension – add it today and start messaging all of your contacts!
Bulk SMS Chrome Extension (Video)
How to Send Bulk SMS Through Google
To get started with the new bulk SMS chrome extension by DialMyCalls, simply go to the Chrome Web Store and install the DialMyCalls extension to add the power of our mass texting service to your desktop.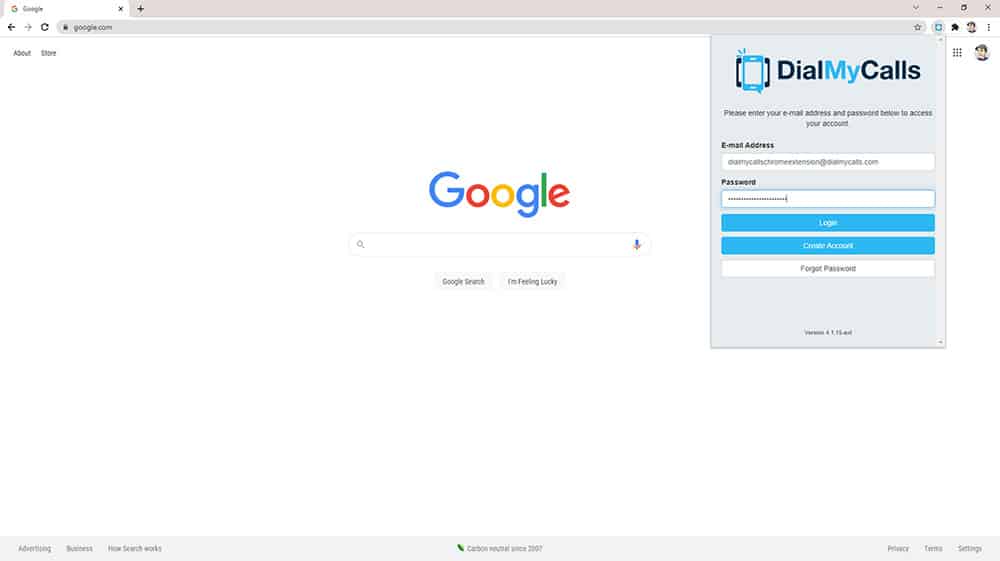 Once added, you will be able to access your DialMyCalls account, or create a free account, and then you will add the functionality to text from Chrome – it really is that easy!
Access Your DialMyCalls Account
Now that you have successfully installed the DialMyCalls Chrome extension, simply click on the icon in the top-right hand corner of your browser.
You will see the login screen appear directly in the corner of Chrome and you can enter your login information or sign up for a new account. Logging in is a breeze and you are now ready to send out a text message right from Chrome.
Name Your SMS Text Message Broadcast
How can you send a text from Chrome? With the DialMyCalls extension open, click on "Setup A Broadcast" to send a broadcast.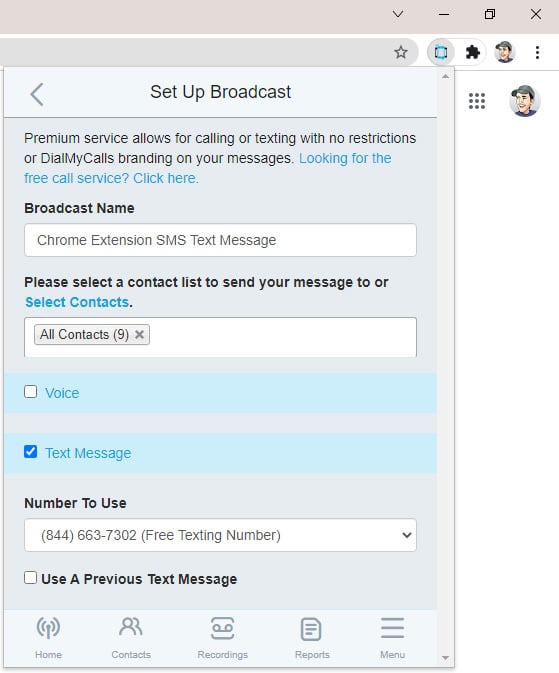 The first thing you want to do is give your text broadcast a name so you can go back and check the detailed reports to see the status of every text you sent through the Chrome extension.
Select The Group of Numbers to Send it to
Whether you are sending your SMS text message to one person or an entire group of people, DialMyCalls allows you to select your contacts right from within the Chrome extension. You no longer have to text hundreds of people individually with your important message.
Create Your Text (SMS) Message
It is now time to type out your text message to send out. Click on "Text Message" and then select the number you want to use to send out your text message. Once selected, type out the message to send.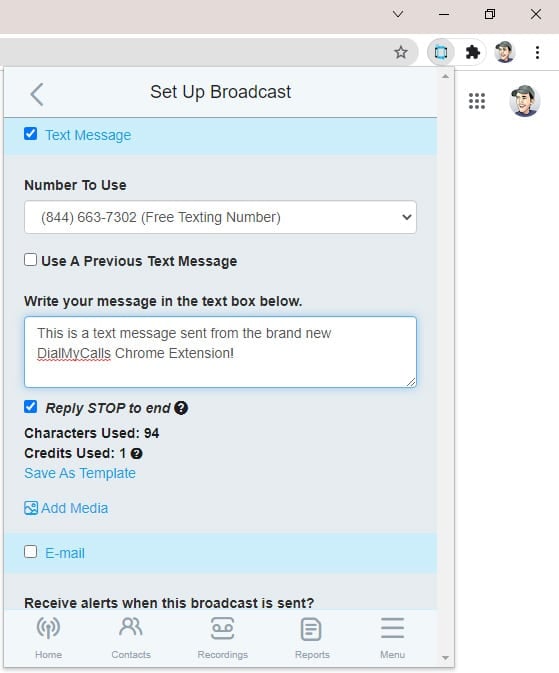 If you would like to send out an MMS message, click on "Add Media" to add a photo to your text – please note this is an additional charge.
Pick a Time & Date to Send Your Message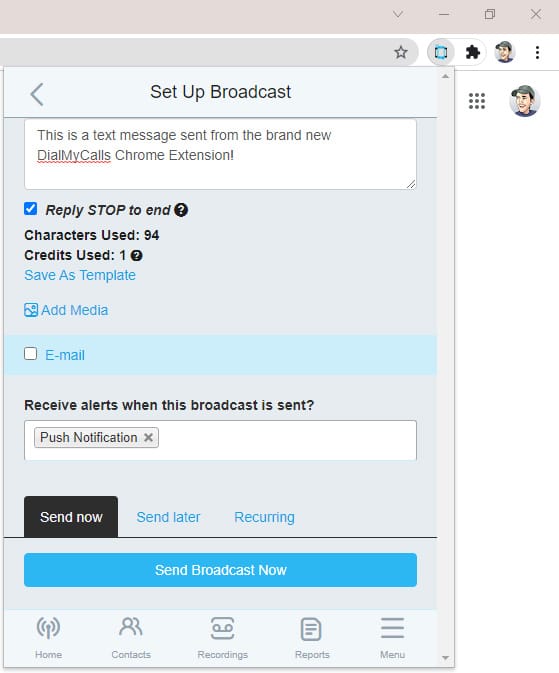 The last step will be to select a date and time to send out your text from Chrome. You are able to send your text message broadcast immediately or schedule it for a later date and time. Once you have selected your option, click "Send Broadcast Now" and you are finished!
Why Use DialMyCalls as Your Chrome Extension for Texting?
The answer is quite simple – DialMyCalls is an industry-leading provider of both mass text messages and voice broadcasts! The brand new bulk SMS Chrome extension now adds the power of our mass notification system to your desktop.
In addition to being able to send a text from Chrome, here are the features included with the DialMyCalls Chrome Extension:
2-Way Texting: With 2-way texting you can create 1-on-1 text message conversations with your customers. This feature is perfect for businesses who want to go above and beyond with customer support.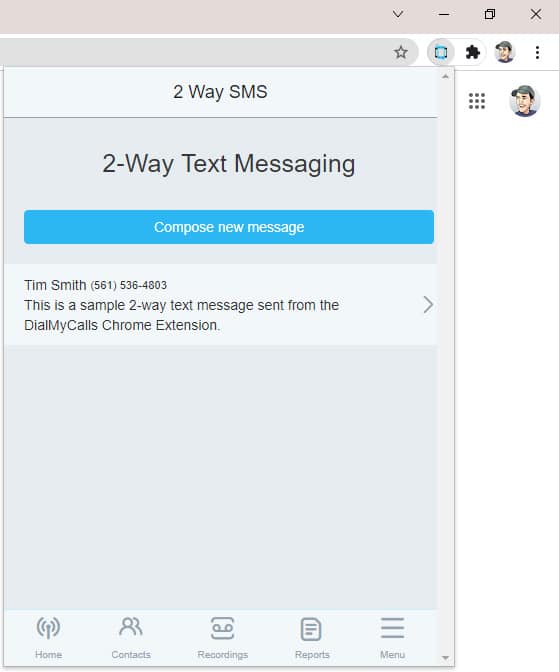 Tell your customers to text you at your 2-way texting phone number and you will see their messages right from the bulk SMS Chrome extension. You can even reply right from your browser!
Voice Broadcasts: Do you want to send a personalized recording to your contacts? DialMyCalls not only offers bulk SMS broadcasting but we also specialize in voice broadcasting.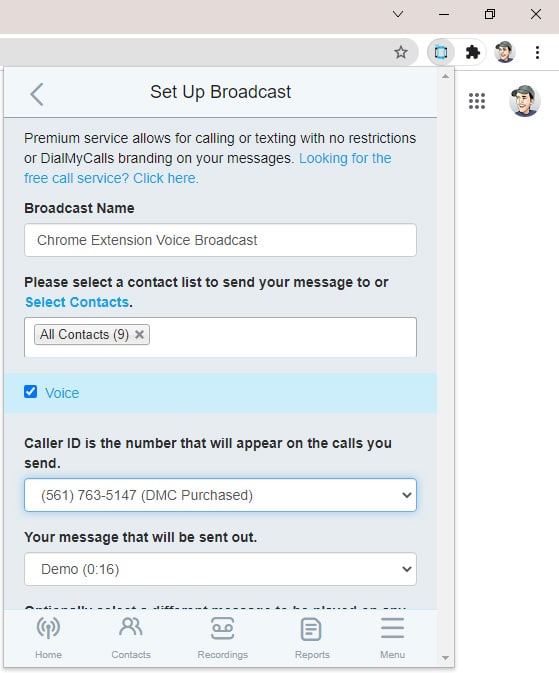 With the new Chrome extension, customers can take advantage of both; calling and texting! Record a message right from your phone and send it to every contact at once, right from your Chrome browser!
MMS: Adding media to your bulk SMS text message is a breeze! Simply click the "Add Media" button when sending out a text broadcast and you are able to upload a new image or select an image from your account's Media Library.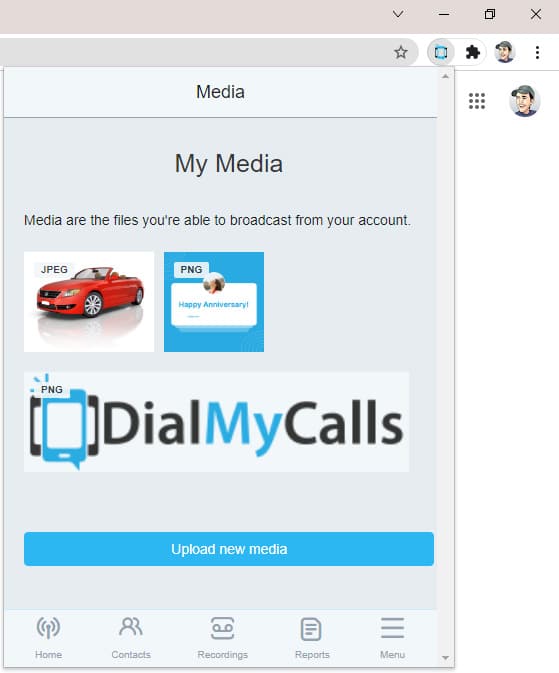 Push Notifications: In addition to being alerted via text message or email, the bulk SMS Chrome extension offers push notifications. Receive a desktop notification when you send a broadcast, when there are new 2-way text messages or when you have a new voicemail.
Conference Calling: Quickly and easily set up a conference call for your congregation if you are a church or for your small business. DialMyCalls offers a simple conference calling system that can be utilized right through the Chrome extension.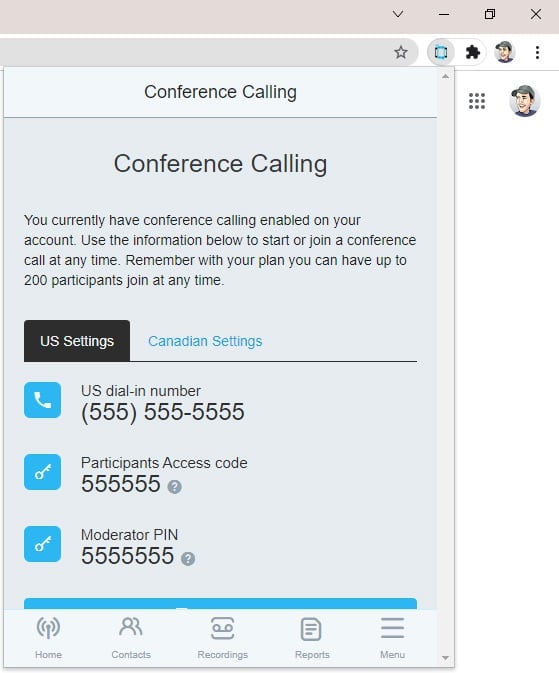 Are you ready to add the power of mass texting and voice broadcasting to Chrome? Our brand new bulk SMS Chrome extension is free and allows you to do just that! Go to the Chrome Web Store, search for DialMyCalls and sign up for a free account today – if you are already a member of DialMyCalls then just sign into your existing account.