How Do The New DialMyCalls Text Message Keywords Work?
DialMyCalls is excited to announce that SMS keyword opt-ins are officially coming back! We have revamped our keyword system and customers now have the ability to receive opt-ins using our shortcode, 80123, toll-free vanity numbers, text-enabled landlines, and local vanity numbers.
Let's take a look at just how the new keyword texting works and how you can start receiving opt-ins for your text broadcasts:
Register Keyword – Register a new keyword for $4.95/month and once registered you can select the number to use to opt into the keyword as well as the number associated with the keyword.
Number To Use – Select the number to use to receive opt-ins for specified keyword(s). This number CAN be 80123, toll-free number or texting-enabled landline number.
Number Associated – The number associated will be the number that replies back to keyword text messages. You must associate a number to a specific keyword – replies will NOT be sent from 80123.
 Can I Use 80123 For Text Message Opt-Ins?
If you choose to use our short code, 80123, as the number to use for SMS keyword opt-ins then here is a list of rules:
You must pick an associated number (texting-enable landline or toll-free number) to go along with 80123 and your keyword.
Our system will send a default message once a person opts into 80123 using your keyword. The default system message is as follows:
Default Opt-In System Message for 80123 – "OTT Alerts: You will receive msgs for [Keyword] up to 5msgs/wk. Reply HELP for help, STOP to cancel. Msg&Data rates may apply. [Number Associated]"
Can I Use My Vanity Number For Text Message Opt-ins?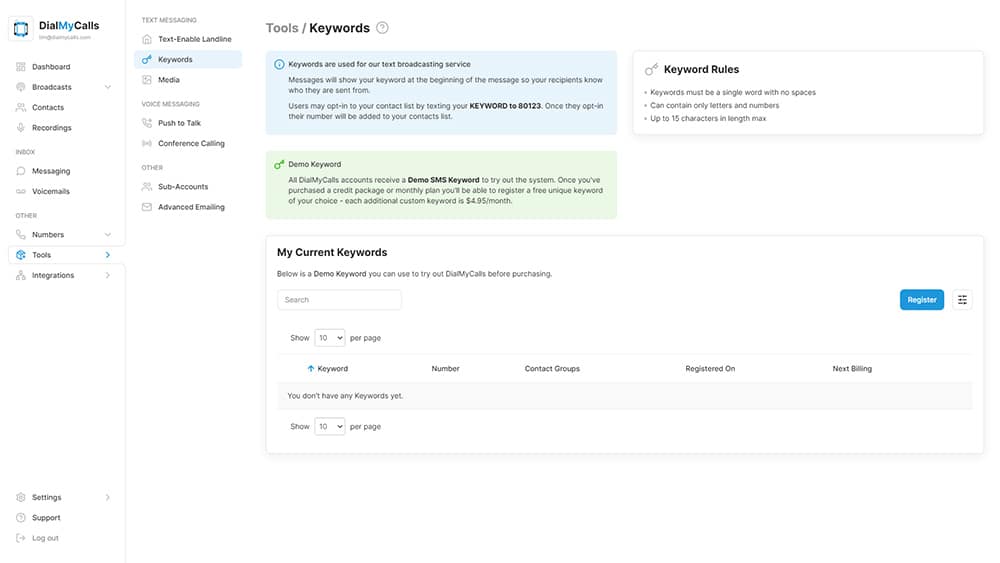 Our new keywords allow you to register a keyword on a specific toll-free vanity number or local vanity number. How much does it cost to purchase a keyword on vanity phone numbers?
As for keywords on 80123, members must purchase each keyword for $4.95/month. There are a few exceptions to this pricing:
Premium Monthly Plan: If a customer is on a premium monthly plan then they will be able to register ONE free keyword to use with 80123 – additional keywords will cost $4.95/month.
Local Vanity Numbers: If you purchase a local vanity number for $5.99/month then you will have the ability to register as many keywords on that number as you need.
Upgraded Free Toll-Free Texting Number: Customers who choose to upgrade their free toll-free number that comes with their account can then utilize our opt-in keywords. The fee to upgrade the complimentary toll-free texting number is $5.00/month and will unlock both calling and unlimited text message opt-in keywords.
Paid Toll-Free Vanity Number: Our paid toll-free numbers cost $9.99/month and included as many keywords as you need.
Text-Enabled Landlines: Once you text-enable your landline phone number with DialMyCalls you will be able to register as many keywords as you'd like for that number at no additional cost.
What Are The Benefits of DialMyCalls' SMS Text Message Opt-in Keywords?
Keywords offer a better way to set up and send out targeted mass text messages to all of your contacts at once. Below are a few of the features that are available when utilizing our brand new texting keywords:
Unlimited SMS Keywords
For those customers that have an upgraded toll-free number, text-enabled landline number, paid toll-free vanity number, or local vanity number, can create as many unique keywords as you'd like.
Since the different numbers listed above are unique to each customer, DialMyCalls can offer unlimited SMS keywords at no additional charge.
Please keep in mind that when using 80123 for opt-ins you must purchase keywords for $4.95/month, each.
Assign Contact Groups to Keywords
Customers can assign contact groups to each keyword they create. When a user opts into a specific keyword then they will automatically be added into that contact group within DialMyCalls.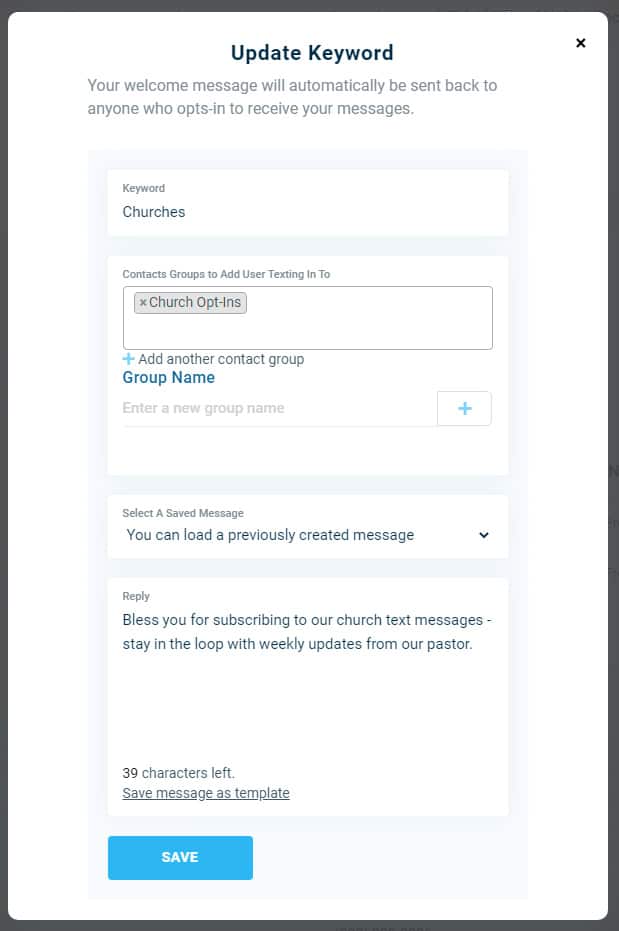 This feature will help customers keep all contacts organized within their DialMyCalls account.
Build A Text Message Marketing Subscriber List
The benefit of having a keyword to receive opt-ins is to create a text message subscriber list. Send opted-in customers a specific text message that contains a promo code or send out a text to all of your volunteers at church in regards to an upcoming charity event.
The possibilities are endless when it comes to text message keywords being used to send out mass texts.
Send Personalized Mass Texts To Specific Contacts
Utilize DialMyCalls' variable messaging in conjunction with our new keyword texting to send out personalized mass texts with ease. Type out a message to each of your customers with a special coupon and send it out to your "DEALS" SMS keyword opt-in list – this will send a personalized text broadcast to all of your customers that have opted in to receive deals from your small business.
We are excited that SMS keywords are back at DialMyCalls and our customer support team is here to help you get started. Quickly and easily build up opted-in contacts lists today by utilizing our brand new text message keywords.
If you have any additional questions regarding SMS keywords, please contact us today!