How to Send Text (SMS) Message Party Invites
Everyone loves a party, and there are reasons year-round to throw one. Whether you're organizing a small, intimate group for a simple social night out or a big bash to celebrate a 50th anniversary, sending text message party invites can help you ensure that all the important guests are notified of the small or big event.
Sending text message party invites is the cool way to organize a celebration today. Paper invitations can be expensive and slow while email boxes sit unchecked more frequently these days. On the other hand, nearly everyone has a phone and loves to keep up on their text messages. Text message invitations are more likely to be seen and responded to than other forms of communication.
Party planners have several options to send invitations via text from simply writing a group text message to organizing a big party using personalized key words and segregated respondent lists.
The Benefits of Sending Invitations Via Text
In today's fast-paced, last-minute world, throwing a little party whenever you feel like it should be simple. For instance, if you are inspired on Friday morning to have some friends over for an evening barbecue, just send a quick party invite text message to get the word out.
Although speed is obviously one of the biggest benefits of sending text message party invites, there are many other advantages as well. Paper invitations, which can be creative and fun, take some foresight and planning. You have to remember to buy, order, or make them well ahead of your events. Then, you'll either need to hand deliver them or invest a small fortune to mail them. They may also get lost or forgotten at the recipient's home in the end.
Email invitations have grown in popularity over the past few years. Several online sites will send and manage email invitations for you. However, most people's email boxes are very full and frequently direct messages to a spam folder. As a result, it's just as easy for your email invitation to get lost as it is for your paper invitation to be misplaced.
With an open rate of 98%, a party invitations text message is an excellent way to let friends and family know about a celebration. Today, many online services encourage creativity, allow setting up a party-specific keyword, and help you segregate your invitation list for follow-up communications.
How to Send Party Invitations Through Text Message
If you're ready to plan your next party, you basically have three options to send invitations via text.
First, you can simply create text message party invites that will be sent to a contact list, just as you would for any other group text. This method is simple and requires no extra services or effort. Such brief SMS messages are perfect for a last-minute mom's night out, potluck dinner, or any other spur-of-the-moment celebration.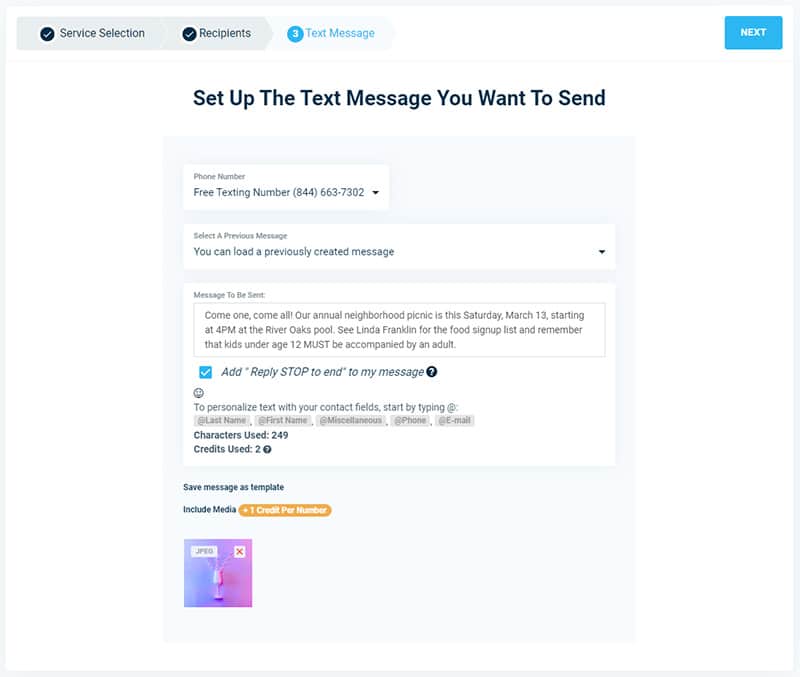 For larger or more formal events, you may want to consider an online text service. Simply establish an account with an online text provider. These services are extremely robust and affordable.
They allow you to set up a keyword specific to your party, such as JOEJILL25TH. Invited guests who would like to attend simply text that keyword to your number. As you build your party subscriber list, you have the ability to send follow-up communications such as requests to bring food to share, meal choices, venue directions, or any last-minute news such as construction updates.
Gathering RSVPs on Your SMS Message Invites
If you're planning a large party, one of the most time-consuming and potentially frustrating aspects of invitation management is collecting RSVPs. The bottom line is, many people simply do not reply and often decide what they want to do in the moment.
When you send paper or email invitations, it's highly unlikely that guests will RSVP immediately. That simply leaves more time for the invitation to get misplaced. However, when you send text message party invites, the text itself is very immediate. Even if your guests do not RSVP immediately, you have the opportunity to schedule reminders for those who have not responded several times before the actual event.
This can be especially important when you're ordering food or cooking a meal yourself. As RSVPs come in, you can place those names on a separate list. This allows you to send reminders to those who have not yet responded as the event gets closer.
Text Message Party Invitation Ideas
Text message party invites are extremely flexible and can be used for a wide variety of events. Whether you're hosting an informal birthday party for a child, a formal dinner party for work colleagues, a Halloween bash for the neighbors, or a bachelor or bachelorette party for your college roommate, text message invitations can work perfectly.
Once you've established your theme and your guest list, simply create your text message party invites through an online provider and send your invitations immediately.
Birthday Party Text Message Invitations
Everyone looks forward to celebrating the birthdays of friends and family. If you're planning a birthday party for a child, teen, or adult, sending a birthday invitation message is an easy and fun way to include all your loved ones for the big event.
Once you've decided on a time, date, and place, simply create your birthday party text invitation and guest list. It's easy to include details such as how to dress, things to bring, and if a donation should be made in lieu of gifts.
Remember that RSVPs are easy to gather when you're sending a birthday invitation message.
Dinner Party Text Message Invitations
Dinner parties can be informal potluck events or fancy formal affairs. Regardless of your favorite style of dinner party, sending text message party invites is a great way to organize your event.
If you opt for a large potluck type of dinner party, using an online text service is even more beneficial. Since you're able to segment your guest list, you have the ability to organize respondents by type of food they may be contributing. It's easy to ensure that you have the right number of appetizers, entrées, side dishes, and desserts.
On the other hand, if you are planning an elegant affair, you will certainly want an accurate RSVP list. Formal dinner events can be quite expensive, and sending a dinner party invitations text message will mean you can send personalized invitations and reminder updates to those guests who have not responded.
Halloween Party Text Message Invitations
For many people, Halloween is one of the best holidays of the year. The autumn weather brings a relief from the summer heat, and the holidays are just around the corner. Hosting a Halloween party can be especially fun when you consider all the activities, games and food that can be incorporated. Sending  text message party invites is a great way to make sure all those important friends and family get included.
Send a party invite text message to your guest list and include details about costume requirements or contests, things to bring, or whether there will be special entertainment such as apple bobbing or hayrides. Communicating all these details in text message invitations is easy and fast.
Besides collecting RSVPs efficiently, you can also send any party updates such as a change in venue or time or parking directions quickly and easily when you send text message party invites.
Bachelor & Bachelorette Party Text Message Invitations
Hosting a bachelor or bachelorette party for a sibling or best friend can be a fun and exciting event. Whether you're planning an intimate gathering with just the wedding party or a big bash, including all friends and acquaintances, sending text message party invites is the way to go.
Besides including the basic details of where and when the celebration will take place, be sure to specify other party details such as themed gifts, contributions for roasting the soon-to-be bride or groom, or a little note of wisdom to be shared at the party.
Be sure to collect RSVPs after you send text message party invites and you'll be able to post reminders one week and one day before the big event. This is a great way to ensure that everyone invited remembers the special occasion.
Choosing the Right Platform to Send your SMS Invitations
If you're ready to send your text message invitations, it's time to explore the platforms available to help you do just that.
Obviously, if you're looking to host just a small party, you can simply send out a group text message. However, if you're planning a larger event, it's well worth the effort to find an online platform to not only send invitations but to help you organize and manage your guest list.
Be sure that your online provider can import your contact list easily and will allow you to subdivide that list as you see fit. You also want to be able to set up keywords for your events and possibly even short codes for respondents to use.
Once responses come in, you'll want to edit your sublists so that you can send targeted messages up until your big event. For example, you may want to send a reminder to the list of people who have not RSVP'd. However, you don't want to send a venue change text message to those people who have already told you they cannot attend.
Check to see whether your online provider also gives you flexibility and creativity to include graphics and special fonts for your text message party invites.
Check out DialMyCalls where you can sign up for an account and try the platform for free during a trial period. Our platform allows you to send text message party invites quickly, easily, and affordably. We can't wait to help you celebrate.
Send Thousands Of Phone Calls, Text Messages, or Emails Per Minute!