Birthday Party Text Message Invitations
What's the best way to invite friends and family to a birthday party? The fastest and easiest way these days are text birthday invitations. Nearly everyone has a cell phone, and if you're inviting loved ones, you probably already have their numbers conveniently on hand. Planning a fun event like a birthday party can be done months in advance or on the spur of the moment when you use text birthday invitations.
Simply create a short SMS text message with the basics of time, date and place and hit "send." Or, if you want to be more creative, you can come up with a personalized, fun way to advertise your birthday party to those on your guest list. Use an online texting service or consider adding images, animations or fun designs. These can be incorporated into a longer MMS text to spruce up your invitation.
Why Send Birthday Party Invitations via Text?
Besides the ease of sending text birthday invitations, this channel of communication is much less expensive than old-fashioned paper invitations that need to be mailed. If you're hosting a large birthday party, you could rack up a significant bill just in cards and postage. Send SMS invitations instead and redirect those funds to food, beverages, entertainment or gifts instead.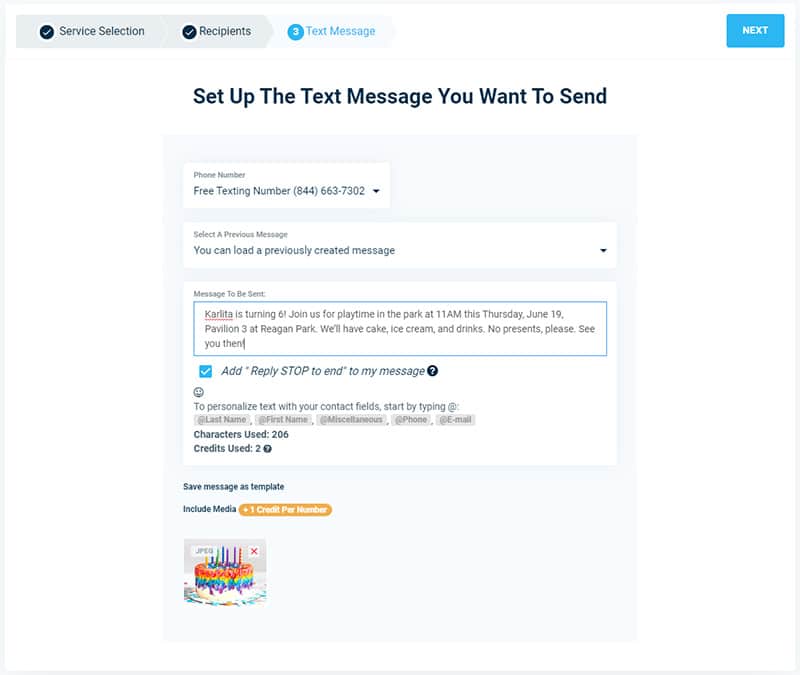 One of the other benefits of text message invitations is the fact that they are environmentally friendly, generating no waste products to be tossed into our landfills. Although email birthday invitations provide similar "green" and cost-saving benefits, they frequently can get buried in over-worked inboxes or accidentally re-routed to a spam folder. Some recipients may also consider them old-fashioned and passé. Make sure your guests see your big event by sending text birthday invitations instead.
Besides these benefits, you will also be able to send follow-up reminders and personalize invitations easily, giving you a great deal of flexibility when it comes to planning your big birthday bash.
Ease of Use (compared to paper invitations)
Text birthday invitations are easier to send compared with paper cards. You don't need to worry about shopping for the perfect card, purchasing enough invitations, handwriting all the relevant information repeatedly, locating physical addresses of guests, or purchasing postage.
Simply put together easy-to-send text birthday invitations that include all the important information and send it to as many people as you want to invite. If you think of new guests the next day, it's easy to add them to the invitation list.
Send Follow Up Texts
Another nice feature of text birthday invitations is the fact that you can schedule as many follow-up text messages as you'd like.
Send out your initial birthday SMS invitation as soon as you set the date for your big event. Then, as your event gets closer, remind your friends and family of the big event with follow-up text birthday invitations. You can even choose to send out personalized reminders to those who remembered to RSVP and those who have not yet responded.
Personalize each message
Although some people may believe that text birthday invitations are impersonal, it's easy to address individual guests by name with SMS text messages. In addition, you can incorporate specialty designs and themes, making your party communications more unique than ever.
Consider using MMS text messages for extra room and the ability to incorporate images, videos or more text into your invitations.
Birthday Party Text Invitation Examples
If you're ready to get started, here are some party text invitation examples. Use a sample verbatim, by just changing time, date and location, or just as a little inspiration for your own unique birthday invitation.
Birthday Text Message Invite Sample #1
Join us in celebrating Joe's Birthday! 5 p.m to 10 p.m., Saturday, June 5 - My home - Let me know how many are coming!
Birthday Text Message Invite Sample #2
It's party time! We want to invite you! Stop by to wish Marsha Happy Birthday! 1 p.m. to 4 p.m., Saturday, June 5 at the Community Church Gathering Hall. Please RSVP!
Birthday Text Message Invite Sample #3
Sam is celebrating the Big 5-0! Share in the fun. 2 p.m. to 7 p.m., Saturday, June 5 - Light dinner, please text back how many will come!
How to Send Party Invitations via Text
Although you can simply send a group text message from your phone for smaller parties, you may want to look into using an online texting service for larger ones.
Any of these party text invitation samples above can be easily set to a subset contact list. You can even ask those who would like to attend to opt-in using a special keyword so you can more easily track RSVPs.
Once you have an online account, simply set up your subscriber list and send invitations and follow-up reminders at will. It's a good idea to make sure your friends and family are open to accepting text birthday invitations.
Requesting RSVPs via Text Message
After invitations are sent out, be sure to let people know how to RSVP to a birthday party by text. The easiest way is to ask friends and family to simply hit the reply button to let you know. However, you can also incorporate a link to a separate area that can record things like number of guests, meal choices, dietary restrictions or signing up to bring a dish.
If you're interested in sending your first text birthday invitations, visit DialMyCalls. Our service  makes it easy, quick and affordable to send invitations for birthdays or any other events you may be hosting in the future. Sign up for a free account, and you'll be able to try the service at no charge during a free trial.
Send Thousands Of Phone Calls, Text Messages, or Emails Per Minute!