Active Shooter Alert System
It's a nightmare situation, but a reality for more and more businesses, companies, and schools — an active shooter in the building. Everyone on campus, including your employees and clients, are in danger. What do you have planned to keep them safe?
Whatever your business continuity protocol, SMS text messaging and voice broadcasting could help you and those you work for and with communicate and stay safe.
How Can Mass Text Messaging and Automated Call Systems Help During a Shooting?
In keeping track of and taking care of those in danger, communication is key. Thankfully, communication is easier than ever now that the vast majority of people are reachable at all times via their cell phones. Mass texting and voice broadcast services like DialMyCalls can serve as an active shooter alert system in the following ways:
Notifying staff. As soon as someone is aware that there is an active shooter, there should be a quick way to notify others. One way to do this is by supplying employees with a short code to text in case of an active shooter. This can notify administrators or the head of security, who can verify the threat. Then, a message relaying the threat and its location can be sent to all contacts on the list.
Tracking the threat. As the shooter moves throughout the building, his or her location can be reported and communicated through text message. This allows employees to prepare or plan to leave safely.
Reminding staff. While your staff have likely been involved in active shooter drills, many will panic when faced with a real situation. Mass messages can remind them to lock and barricade doors, hide away from windows, or otherwise follow pre-established protocol.
Checking in. It's vital to keep track of staff and others in the building. Mass messaging services allow text recipients to respond, allowing administrators, security, or others who are in charge to keep track of who's safe and who's not. If an employee is not responding, you'll know as soon as possible that they may be injured or in danger.
Relaying instructions. As soon as law enforcement is on the scene, they'll likely have further instructions. Mass messaging allows you to relay this to everyone on campus to make the law enforcement officers' jobs as easy as possible.
Sending an all clear. Once the shooter has been stopped, by law enforcement or otherwise, those on campus need to know that it's safe to come out. Mass text messaging can get everyone on the same page so that no one is relying on shouting in the hallways to tell them when to emerge.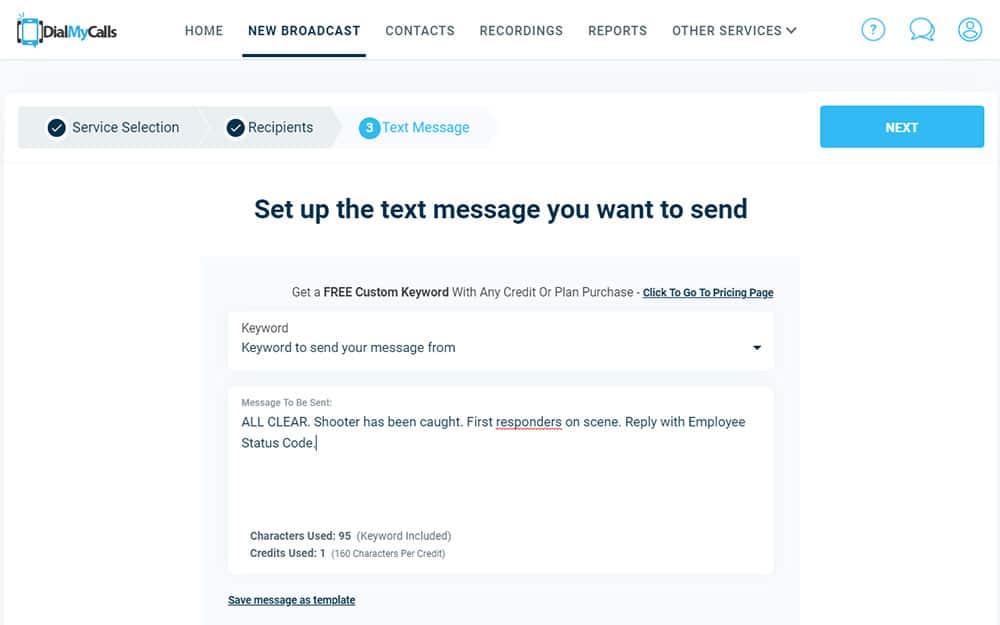 Following up. In the hours and days following an active shooter, it's important to keep an open line of communication with affected employees and clients. Whether it's telling all employees that they're free to leave, that free trauma counseling is available on the second floor, or that you're proud of them for a job well done, mass text messaging or calls can keep communication constant.
Send Thousands Of Phone Calls, Text Messages, or Emails Per Minute!