Outage Communication Plan and Notification System
Even the best-run systems are sometimes unavailable. Whether a natural disaster knocked out your server or the system is down for routine maintenance, it's important to let those affected know what's going on. Mass SMS text messaging and voice broadcasting can help you communicate these outages quickly and clearly.
Send System Outage Notifications via Automated Calls
One of the benefits to call broadcasting during system outages is the ability to provide your audience with more information. This is also possible with mass text messages, but the additional information is limited to 160 characters unless the recipient is linked to wifi or data to follow a link. But call broadcasting allows your audience to:
Speak with a live representative. Those who answer the call before it is directed to voicemail can, after listening to the message, press a key to be directed to an employee if they need more information.
Select a button to request more information. If there are specific questions you expect, you can also give your audience the option to be redirected to more recorded messages that answer specific queries.
Leave a message. If you're looking for feedback from your audience about the outage or your communication, you can provide them with the option to leave an audio message for you to refer to later.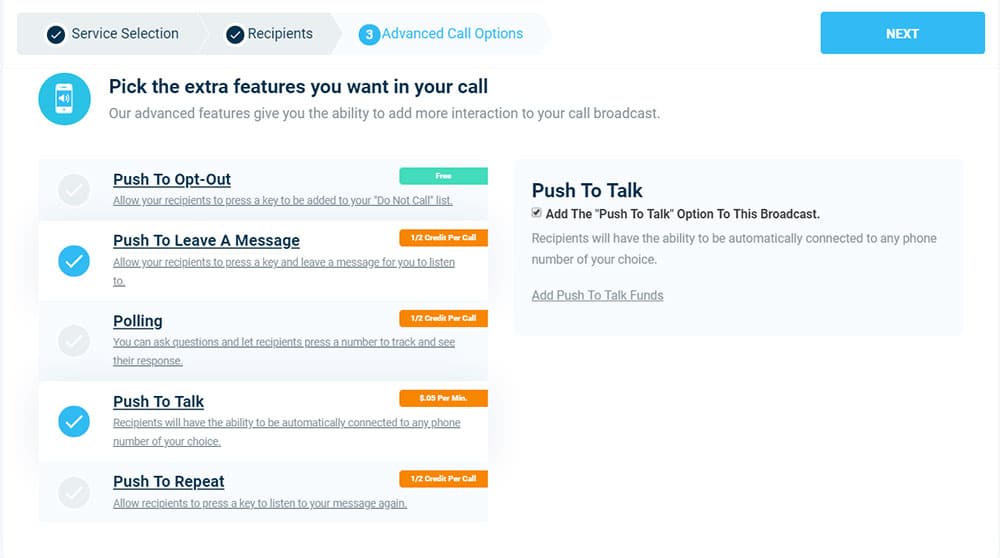 Send System Outage Notifications via SMS Text Messages
When a system is down, one of the most important aspects of your business continuity communication plan is speed. SMS text message notifications provide this speed, which is why they can be so useful in situations where the system is down.
There are several aspects of text communication that make it so quick to use, even in situations where many, many people need to be communicated with. These include:
Presence. Cell phones are everywhere. Nearly all Americans have cell phones, and the vast majority of these are able to send and receive text messages. What's more, cell phone users often carry their phones with them everywhere. This means that everyone involved can be notified of a system outage as soon as a message is sent, with no need to wait until they're back at their computer.
Silence. Of course, cell phones can also receive calls. But one advantage to text notifications is that the user can read and respond to a text message without making noise. This means that a recipient could be in a meeting, holding a sleeping baby, or watching a movie, but they're still likely to see the text message. This way, they know of the system outage regardless of their surroundings.
Connection. If a system outage is due to some sort of technological failure caused by weather or a natural disaster, it's likely the phone lines will be busy. In that case, it may be hard to maintain a connection long enough to communicate a system outage. As long as there's enough of a signal to send a text message, however, your audience can stay in the loop. And in a single message, you can communicate everything you need without worrying about breaking up.
Send Thousands Of Phone Calls, Text Messages, or Emails Per Minute!