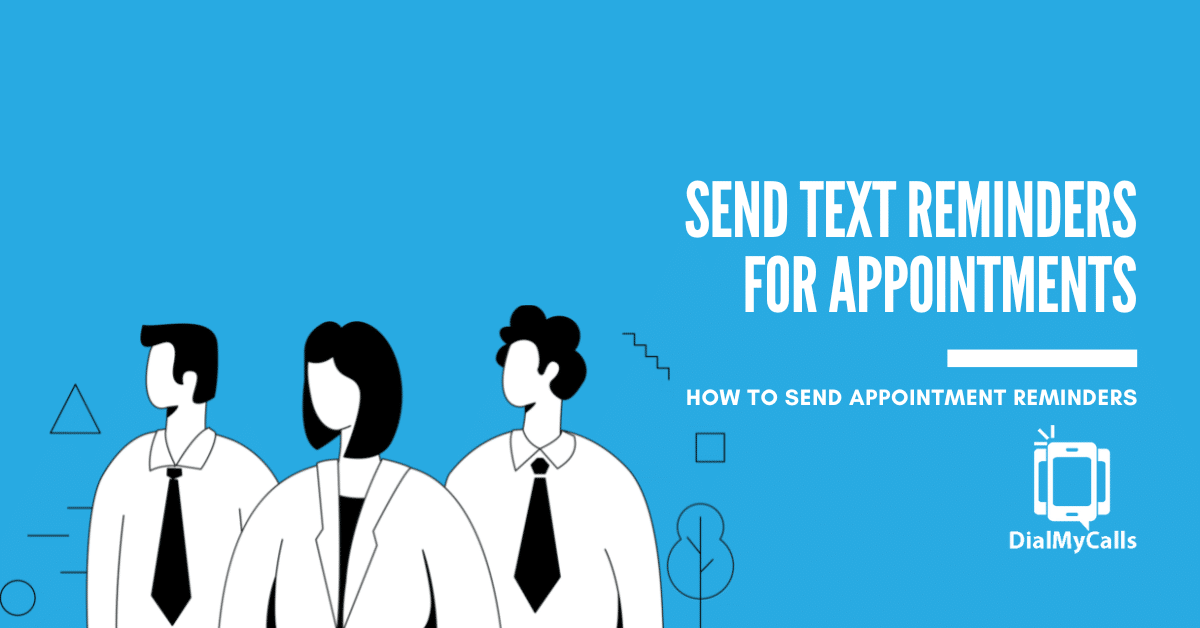 If you run any kind of practice that requires making appointments, using text reminders for appointments is an excellent method to help streamline your schedule. Not to mention, it can also help you retain patients and clients. Maybe you've already integrated text reminders into your practice. But maybe you haven't, and want to understand how they could help you. If that sounds like you, you've come to the right place for an overview of text appointment reminders!
Most simply, a text appointment reminder is an SMS message sent on behalf of an organization or business that reminds a customer or client of an upcoming appointment. They're usually quite short, and only contain the essential details of the appointment. This includes a way to confirm or cancel that appointment as well. Most businesses who use text reminders automate them, to make them even easier to use for their staff.
Why are Text Appointment Reminders Important?
One of the key reasons why it's so important to use text reminders for appointments is that people actually read them. In fact, with texts' 98% open rate, your clients or customers are far more likely to see and respond to text reminders than phone calls or emails. This, in turn, reduces no-shows and cancellations, which is a huge plus for your business or practice.
Appointment text reminders are also important to have in your arsenal because of their automated nature. Meaning, setting up automated reminder texts is a low-cost action that pays off for you and your business. And beyond their cost-effectiveness, they're generally well-received by customers – even preferred!
What are the Benefits of Text Appointment Reminders vs Call or Email Reminders?
The massive open rate for text messages is just one of the many benefits of using text appointment reminders. They can also help you cut down on time spent scheduling and moving people's appointments around on the calendar. Though, that said, you may not have to move people around much: less than 5% of appointments have been shown to be canceled or rescheduled after a text confirmation.
---
"less than 5% of appointments have been shown to be canceled or rescheduled after a text confirmation."

---
You might not have thought of this additional benefit, but it can help you keep track of your clients and customers as well, including any repeat offenders when it comes to cancellations or showing up late. Having a better idea of who is making this a habit can help you decide whether or not to keep those clients.
How to Write Text Reminders for Appointments
So you've decided you're ready to give appointment text reminders a go. It's a great decision, and one that will make running your practice so much easier. The first step, when you're ready to start using text reminders for appointments, is writing them concisely and well, and in a way that prompts your customers and clients to respond. Here are some key tips on how to write text reminders:
Be concise and clear. As you draft your text reminders, pay attention to your tone and language, making sure to keep things brief, bright, and friendly. You'll also want to make sure that follow-up reminders – including about missed appointments – come across as understanding and helpful. That way you're far more likely to receive the response you need.
Consider your timing. Even the most well-concocted text messages will get ignored if you send them at the wrong time. So what's the right time? Generally speaking, people are most likely to read text messages that are sent during regular working hours. (So rush hour or late at night should definitely be off the table!)
Make it a conversation. While you may not expect a response from your customers or clients, you should plan in case they try. Be sure to use a business number that allows replies, and consider including calls-to-action in your texts that prompt confirmations and verifications. The back-and-forth will create more of a solid connection.
Apply a sense of urgency. This means stressing the importance of the appointment to your customer or client, as well as emphasizing the significance of their response. And you can always express urgency without being too pushy – being personable is a great way to do this in your appointment text reminders.
Beyond the drafting of the message itself, though, what else should you remember about text reminders for appointments? Read on for a few more details that you definitely won't want to forget.
Make Sure Contacts Have Opted-In
Opting in is huge when it comes to automated text message reminders for appointments. When it comes to messages from a business, in fact, it's legally necessary to verify that customers have opted in. Beyond that, though, it's just a good marketing practice that establishes trust.
Generally speaking, a good way to give your contacts the chance to opt in is to make it an option when they give you their phone number. Once you have consent, you must include the following in your first message to new SMS contacts:
Your business's name.
Expected message frequency – meaning, how often, generally speaking, that you intend to send messages each month.
Potential SMS carrier fees and costs.
Your value proposition. This means that, if you've offered any kind of reward for opting in, you have to deliver that in the first text message you send.
Instructions to opt-out or receive more information. This is essential; some people do not want to keep using texts to stay organized. So you need to make sure you give them the option, even if they've already opted in.
Finally, while it's not a requirement, it is a good idea to have customers confirm that they want to continue receiving SMS messages from your business. This ensures that they're fully on board.
Only Use When Necessary
The last thing you want to do is alienate your client base by bombarding them with text messages. People are sent so many kinds of messages and notifications as it is; when it comes to text reminders for appointments, less is more. So a few good rules of thumb are to be sparing, only send the essential details, and – as noted above – do your best to only send texts during regular business hours.
Personalize Where Possible
You should always include a client's name in auto text appointment reminders. If your message is impersonal, you and your business can come across as negative or even alienating, and ultimately lower the chances of engagement or response. Being personal shows that you're willing to go the extra mile to develop long-term relationships with your customers or clients.
Include a Call to Action
Including a strong call-to-action is one of the best practices you can use when sending text reminders for appointments. When you give people a clear and obvious way to confirm, cancel or reschedule their appointments, you greatly reduce no-shows, which is a huge plus for you and your staff. Make sure your call-to-action is a straightforward instruction, such as, "Reply 'Y' to confirm or 'N' to cancel."
Examples of Automated Text Reminders
Once you get a feel for what makes great, effective text reminders for appointments, it's time to draft your message. If you have a strong template ready ahead of time, it makes sending your messages out that much easier. Here are a few sample templates for you to use to get started!
Appointment Confirmation
Hi, [FIRST NAME]! This is [BUSINESS NAME], confirming your appointment on [DATE] at [TIME]. Thank you for scheduling your appointment with us! If you have questions or need to reschedule, please call or text us at 800-928-2086.
Appointment Reminder
Hi, [FIRST NAME]. This is a reminder from [BUSINESS NAME] that your appointment is coming up on [DATE] at [TIME]. Please reply 'Y' to confirm or 'N' if you wish to cancel. If you have questions or need to reschedule, please give us a call at 800-928-2086.
Missed Appointment
Hi, [FIRST NAME]. We missed you at your appointment that was scheduled for [DATE] at [TIME]. We'd love to schedule a new appointment for you right away! Please reply here to give us a call at 800-928-2086 and we'll get you on the calendar.
Reschedule Appointment
Hi, [FIRST NAME]. This is a reminder that, due to [EVENT], we will need to reschedule your appointment originally scheduled for [DATE] at [TIME]. We apologize for the inconvenience. For more information, please reply to this message, or call us at 800-928-2086. We look forward to hearing from you!
Appointment Starting Soon
Hi, [FIRST NAME]. Just a reminder that your appointment is coming up at [TIME] today! Please reply to this message or use the following link if you need to reschedule: [URL].
Appointment Feedback
Hi, [FIRST NAME]. We'd love to follow up on how your experience with us went today. Please take 5 minutes to fill out the linked survey, and let us know your thoughts: [URL].
Easily Automate Your Text Appointment Reminders with DialMyCalls
If you're ready to take the next step in streamlining client communications for your business, now is a great time to explore your options. DialMyCalls is an automated texting, calling and emailing platform that has a great deal of capabilities when it comes to messaging customers, including automated text reminders for appointments, two-way messaging, and broadcast options for texts, email, and voice calls. Give us a call to learn more about how adding DialMyCalls to your communication strategy can help you stay organized and in touch with your client base today.