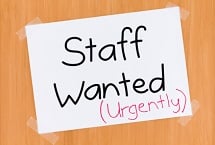 Save time and money by setting up automated staffing notifications with our completely web-based voice broadcasting service.
Managing employees is a daunting task for companies both large and small and can cause quite a lot of stress for the person in charge. DailMyCalls looks to alleviate the stress of management by automating staffing notifications and employee reminders – notify your entire staff instantly with the click of a button.
Employee calling trees are a thing of the past as modern technology has helped improve how companies can interact with their staff. Staffing notifications allow management to send out alerts via voice + SMS regarding shift availability, schedule changes, emergency alerts, event reminders, and much more – it's an extremely versatile system that can help companies and their employees keep in contact.
Malisa is one of our members who utilizes DialMyCalls for staffing notifications and here is what they had to say about the service:
"WOW! I need all the help I can get in simplifying my life. I use DialMyCalls to remind my employees of our regular weekly meetings. I set the call for 15 minutes before meeting time and since I started using this service, we are able to now start meetings on time!"
What are you waiting for? Sign up for a free account today and set up automated staffing notifications for your company – quickly learn why tens of thousands of people use DialMyCalls to make their lives easier!
← Previous Article
Next Article →
Sign up now and try our services for free!
Use the promo code DMCBLOG and get 25 free extra credits