Staff Notification System For Emergency Weather Alerts
DialMyCalls allows you to send automated voice calls or mass text staff notifications concerning incoming weather, keeping them safe and sound.
Planning For Inclement Weather
When harsh weather strikes, you will be faced with myriad challenges concerning your employees. Of course their safety will be your number one concern but you also must consider the logistics of your business and human resource issues. A staff notification system is key.
Hurricanes, blizzards, and even torrential downpours can all have an effect on your employees' ability to work, especially if they have to travel far to get there or if their position involves traveling to other locations or working outdoors. Having a plan and policies in place before an inclement weather event threatens your area is important if you want to effectively manage your business.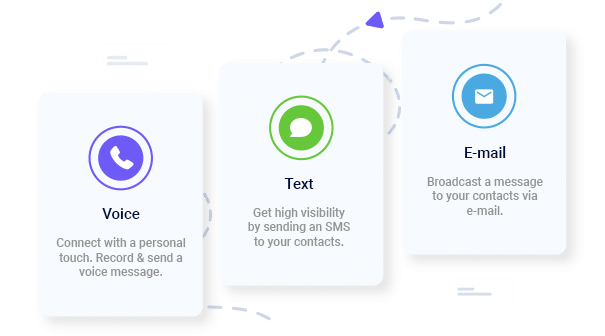 While you want to keep your employees at home when the conditions are dangerous, you also need to be protecting your business by making sure that your employees know when they should be reporting back to work.
Formulating Your Weather Emergency Response Plan
No matter how big or small, every business should have a plan or inclement weather policy. This should detail what you would consider to be a severe weather emergency and what happens to your company and employees in the event of one.
It's also important to keep in mind your business liability and the risks you could be facing if you choose to stay open when other local businesses are closing down for the severe weather event.
When formulating your plan, you need to be creative in thinking of all the severe weather events your business can face. While a business on the South Carolina coast should mention what to do when a hurricane is imminent, an Ohio valley company should be prepared to handle tornado warnings. Businesses in the San Francisco Bay Area should plan for earthquakes.
Part of your planning should include getting your DialMyCalls' staff notification account ready for a storm. Make sure that your contact list is updated and sorted into pertinent groups. Set up a vanity number and SMS text keyword that will make you easy to identify to your employees when you send a message via phone call or SMS text message.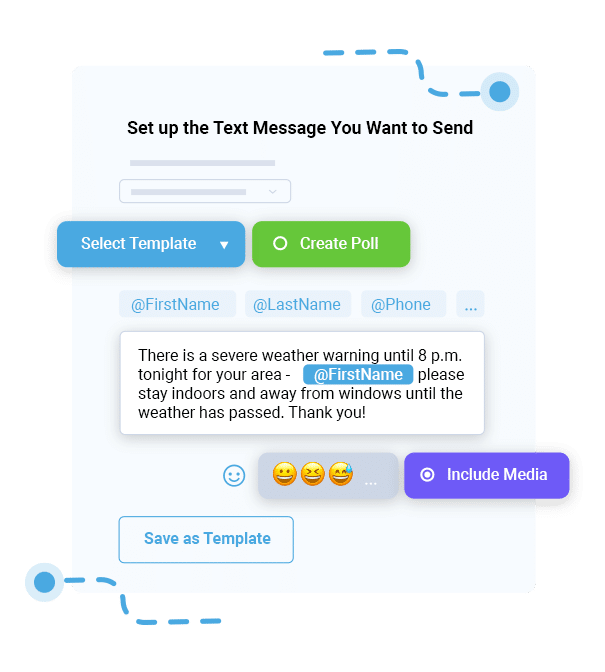 Send Automated Weather Alerts
Another important part of your plan should include how you will remain accessible during a weather event and how you will communicate with your employees.
Instead of having to rely on an old fashioned phone tree or even email notifications, use your DialMyCalls' staff notification system to send automated weather alerts to let all of your employees know when you are going to close for bad weather conditions and when they should return to work.
DialMyCalls' staff notification system will allow you to take advantage of the fact that just about everyone in your company probably has a cell phone. With a phone always in their reach, you know that your message is going to be received quickly. This will keep your employees off the road and safe from harm during bad weather and back to work on time when you need them.
Send Thousands Of Phone Calls, Text Messages, or Emails Per Minute!