Office Notification System for Businesses
Every business needs an office notification system in place. With DialMyCalls, help everyone stay informed and in the loop easier than ever before. Our web-based system lets you communicate with all your employees in seconds.
Schedule Phone Calls and Text Reminders
Your office has probably realized the potential of teamwork and uses this strategy to help meet the needs of your business.
Being the overseer of many teams, you have the tough task of managing them all from a distance while making sure they are remaining focused on their objectives. In order to accomplish this quickly and successfully, use DialMyCalls' office notification system to help you communicate with your teams.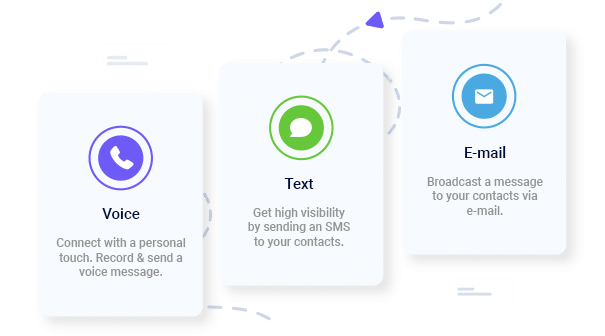 Send Messages to Team Members
Being able to effectively communicate your wants and needs to multiple teams is a key element to a successful business. Once you get their goals to match yours, you are in the fast lane to becoming a highly profitable enterprise.
Send messages to all members of your team daily via your office notification system to remind them of their objective and offer your assistance if needed. Make this easy on yourself by having your DialMyCalls contact lists divided into the same teams you have working on your various projects.
Have a vanity number set up where each team leader can call in and leave you a detailed message at the end of the workday, highlighting the group's progress and voicing any concerns. You can log in to DialMyCalls and access these messages at your convenience. These daily updates can help you to identify runaway projects early and rein them in before they become completely ineffective.
Send Weekly Reminders
Most of your teams are working on a deadline. There is no need to remind them of this daily, but you should send out a weekly reminder of those deadline and your expectation for how far along in the project they should be. Your office notification system can be set up beforehand to send messages at a later date.
Listen in on that day's messages carefully and make sure that your expectation matches the progress of each team. If not, it might be time for you to involve yourself more directly to ensure that the project is completed on time.
Like the deadline, the teams should also be aware of any client or upper management meetings in the near future. Since they are ultimately representing you, you should also be sending out SMS text message reminders to the team members a week ahead of time making sure that they are aware of the meeting.
Remember, it is their job to be using teamwork to create solutions in your business, your job is to manage the details. An office notification system can help you with that.
Communicate with Your Team Effectively
When you are sending out messages to groups of people at a time that are essentially to remind them of their work responsibility, you don't want to come off as sounding like you have no confidence in them. This could easily ruin morale and, ultimately, performance.
Let your tone be friendly and helpful rather than authoritative. This will convey your faith in the team while still making sure that they are aware of the important deadlines and meetings in their future.
It is a hard task to juggle multiple team projects at the same time and you will need every available resource to be successful at it. Save the time-consuming one-on-one communications for when they are absolutely necessary, and use your DialMyCalls staff notification service when you need to relay information or make gentle reminders.
Send Thousands Of Phone Calls, Text Messages, or Emails Per Minute!