Reminder Systems in The Workplace - Staff Scheduling System
For companies with employees on rotating or flexible schedules, having reminder systems in the workplace can help you embrace the power of text messaging (SMS) to notify staff of schedule or shift modifications and workplace matters.
Employee Schedule Change Notification Via Text Message
Managers of most service-based industries have the unique task of having to balance the availability of employees with the needs of the customers. Constructing weekly schedules and daily assignments is a stressful task which can be somewhat alleviated by tools like a staff scheduling system.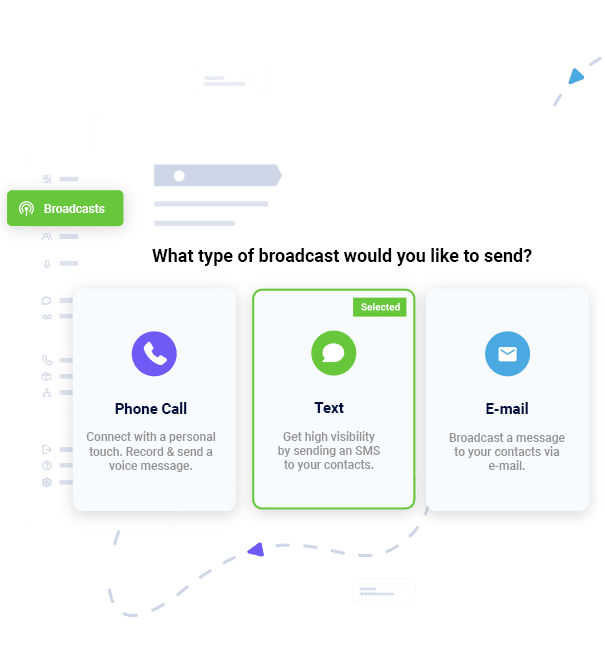 Send Schedule Change Notifications via Text Message
Managers spend a lot of time sorting through employees' needs and availability to come up with weekly schedules that please everyone. In some instances, this could take hours.
Then comes the hard part, when you have to make sure that all of the employees have easy access to the schedule so that they show up for their appointed shifts on time.
To save you the hassle of distributing paper copies or hanging the schedule on the wall, set up DialMyCalls staff notification system to send out an SMS text message staff notifications to all of your employees. These messages can contain each employee's individual work schedule.
After making the work schedule, some managers have the additional task of creating daily assignments which could be anywhere in or outside of the building.
Cleaning services for example need to make daily assignments for which homes or business their crews will go to each day. Not only is it important that they show up at the right locations, but their timing must also be perfect to avoid any conflicts with business or home activities.
To help in streamlining this process and keeping your labor costs down, broadcast these daily assignments via text message staff notifications each morning. This saves you time and money by keeping them out of the office and instead heading straight to their first assignment.
Cable installation companies and lawn maintenance services could also handle daily schedules this way.
The Benefits of Reminder Systems in The Workplace
There is more benefit to using your DialMyCalls employee schedule change notification service as a schedule messenger than simply keeping employees out of the office. That could be done with a phone call. 
What makes the text message stand out is that there is no room for miscommunication. Your employee has a visual message on his or her cell phone that tells them where to go to work that day. This will help your business cut down on delayed or missed service calls due to a verbal misunderstanding.
You can also incorporate this method into sending shift reminders to those employees who are not scheduled regularly.
You can send staff notifications in the afternoon for shifts that are expected to begin the next morning. With a shift reminder, you are going to want to take advantage of the DialMyCalls 2-way texting feature and ask the employee to verify that he will be able to work that shift. This will give you enough time to cover the shift if his or her availability has unexpectedly changed.
Running a successful service-oriented business can be challenging when trying to balance the needs of your customers with the availability of your employees. Eliminate the hassle of handing out schedules and shift assignments by taking advantage of the easy-to-use features that DialMyCalls' staff notification service offers.
Send Thousands Of Phone Calls, Text Messages, or Emails Per Minute!